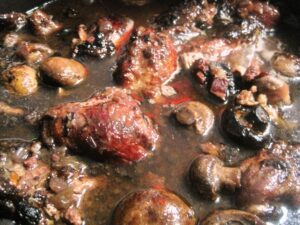 When the weather gets colder, it's time for slow cooked and braised dishes.   Coq a Vin with Bordeaux wine is one of our favorite dishes to make at home. And it's easy to make too. Plus it pairs with almost any wine.  Bordeaux wine works. But so does Chateauneuf du Pape, Cote Rotie, Burgundy and a myriad of other great wines.
The trick to great Coq a Vin is getting a good sear on the chicken before cooking it. Add chicken stock and wine when making the sauce to cook the chicken in. Red or white wine works. I use red. It produces a darker color and flavor.
Do not skimp on the wine in the sauce. Or in your glass!