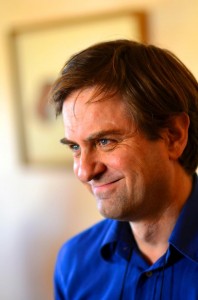 Domaine de la Mordoree, Chateauneuf du Pape, Rhone wine producer profile with wine tasting notes, wine ratings, a history of the property, information on wine making and terroir, along with wine tasting reviews and images. If you want to read about other important wineries and wine makers from the Rhone valley: Links to all Rhone Valley Wine Producer Profiles
Domaine de la Mordoree is a relatively recent property in Chateauneuf du Pape. It was founded in 1986 by Fabrice and Christophe Delorme with a total of 5 hectares of vines. By 1989, the industrious brothers managed to expand the holdings of Domaine de la Mordoree to 60 hectares located in 8 different regions in the Southern Rhone valley. Domaine de la Mordoree takes its name from a wild game bird, known as a woodcock, hence the logo on the wine bottle's label. In keeping with that same tradition, their high end, luxury cuvee which made its debut in 2003 was called La Reine des Bois, which is translated into Queen of the Woods.
At Domaine de la Mordoree, they practice sustainable, organic farming of their vineyards in all their locations including Chateauneuf du Pape, Lirac, Tavel and Cotes du Rhone. They are working on earning the rights to be certified agriculture biologique. They have old vines. On their property in the rocky terroir of La Crau, their plantings are over 100 years of age. The fruit is destemmed before fermentation. The wines are aged in a combination of enamel coated, temperature, stainless steel tanks and small oak barrels.
Domaine de la Mordoree produces 2 red Chateauneuf du Pape wines and a myriad of outstanding wines from Lirac and Cotes du Rhone.
Domaine de la Mordoree Reine du Bois is a blend of 70% Grenache 10 % Mourvedre, 5% Cinsault, 5% Syrah and 5% Vaccarese. The wine is produced from vines that average 60 years of age.
Domaine de la Mordoree La Plume du Peintre is not produced every vintage. La Plume du Peintre is only made in great vintages. But interestingly, it's not made in every great vintage. In fact, so, they have only produced the wine in 2 years, 2003 and 2005. According to the owner, Fabrice Delmore, the choice not to make the wine in 2007 was because they did not want to reduce the quality of the 2007 Reine des Bois. Mordoree La Plume du Peintre is made from 100% old vine Grenache that averages over 100 years of age. Production of the wine is very small. On average, about 125 cases are produced for the world! This is an outstanding, rich, intense, concentrated, ripe, lush style of Chateauneuf du Pape. While difficult to find, it's worth the effort to try and locate a bottle or two.
Wine Tasting Notes
Displaying 8 vintages | 27321 Views Sorted by vintage
2009 Domaine de la Mordorée Châteauneuf-du-Pape Cuvée de la Reine des Bois

Deep in color, this lush, rich, concentrated wine is filled with ripe black cherries, plum, spice and black raspberry jam. Suave, lush and long, the wine ends with a beautiful sensation of fresh dark, red berries and kirsch. Drink it now, or age it. This is such a great style of Chateauneuf du Pape.

95

points - Tasted

May 5, 2013

598 Views

2007 Domaine de la Mordorée Châteauneuf-du-Pape Cuvée de la Reine des Bois

I love the texture of this rich, velvety, kirsch, black raspberry, pepper, anise and earthy wine. It's long, deep and concentrated, but there is a touch of oak, that should become better integrated with time in this modern styled Chateauneuf du Pape.

95

points - Tasted

Jun 7, 2012

3047 Views

2005 Domaine de la Mordorée Châteauneuf-du-Pape Plume du Peintre

Deep, dark and rich in color, this stunning wine knocks on perfection. With incredible levels of concentration, the unctuous wine completely coats your palate with flavor. Thick, rich and intense, yet, everything is harmonious. The finish lasts for close to 60 seconds with its licorice, coffee bean, black, red and blue fruit, liqueur like profile. Impossible to find, yet worth the effort and expense to track a bottle or two of this majestic elixir of Chateauneuf du Pape.

100

points - Tasted

May 22, 2013

36 Views

2003 Domaine de la Mordorée Châteauneuf-du-Pape Plume du Peintre

If you've ever been curious as to what a 100 Pt Chateauneuf du Pape tastes like, one sniff, swirl and sip will explain it all. Inky in color, with aromatics packed with stone, pepper, earth, garrigue, licorice and kirsch liqueur, the wine is fat, rich and incredibly concentrated. This Chateauneuf du Pape paints your palate with waves of perfectly ripe, black cherry, herbs and dense, intense fruit. The finish lasts for more than 60 seconds!

100

points - Tasted

Nov 5, 2012

1431 Views

La Plume du la Pientre. Boom! That's what happened when the cork popped and the perfume blew out of the bottle. Jammy blackberries, truffle, licorice, spice, pepper, molten cherry and blueberry liqueuer caught your attention and kept it there. The mind-blowing levels of perfume was intoxicating to smell. Massive, with insane levels of concentration, this wine coated your palate with flavors and textures for over 60 seconds. But don't let the size fool you. Everything was in perfect balance. Only 1,500 bottles of this wine was produced for the world! This was bottle #521.

100

points - Tasted

Sep 27, 2011

2188 Views

Intense does not begin to describe the explosion of flavor this wine offers. Massive concentration, dense, rich, ripe, spicy, jammy berries, pepper, earth and fennel scents are all over the place. This opulent wine coats your mouth and feels like molten berries. The long finish lasts close to 60 seconds. This is not your grandma's Chateauneuf du Pape. But I loved it!

98

points - Tasted

Jan 20, 2011

1947 Views

2003 Domaine de la Mordorée Châteauneuf-du-Pape Cuvée de la Reine des Bois

From an assemblage of 70% Grenache, 10% Mourvedre, 5% Cinsault, 5% Counoise, 5% Syrah, and 5% Vaccarese, this rich, ripe wine pops with its licorice, black pepper, cherry liqueur, blackberry jam and gariggue filled nose. Thick, plush and intense, the wine is lush, round and packed with layers of sweet, ripe, spicy fruit. This is ready to drink.

94

points - Tasted

Mar 3, 2012

1704 Views

2001 Domaine de la Mordorée Châteauneuf-du-Pape Cuvée de la Reine des Bois

Cherries, blackberry, blueberry, cassis, black raspberry, spice, earth, jam and smoke filled aromatics make up the perfume. The fireworks continue as the wine fills your mouth with deep fresh flavors. This concentrated wine offers a lot of purity and freshness with ample length. At 10, this is drinking beautifully today. With another year or two, this might get even better!

97

points - Tasted

Jan 20, 2011

3895 Views

2000 Domaine de la Mordorée Châteauneuf-du-Pape Cuvée de la Reine des Bois

Powerful aromas filled with ripe black raspberries, cherries, licorice and earth are made all the better by layers of rich, ripe, concentrated, round spicy fruits. From start to finish, this is drinking in the perfect, sweet spot.

95

points - Tasted

Nov 24, 2012

1489 Views

This concentrated Chateauneuf du Pape shows a lot of jammy red and black fruits, pepper, spice and a hint of oak. Richly textured, if the oak fades with time, this will be an even better wine.

95

points - Tasted

Jan 20, 2011

3630 Views

1998 Domaine de la Mordorée Châteauneuf-du-Pape Cuvée de la Reine des Bois

Ppacked with sweet, black raspberry jam, black cherry, pepper, spearmint and oak aromas, the wine is full bodied and offers mouth coating textures. The wine ends with a long cherry and fennel filled finish.

95

points - Tasted

Aug 6, 2010

2658 Views

Blackberry jam, black cherry liqueur, earth and garrigue aromas were all over the room. The oak seemed completely integrated in the nose. The palate presence was incredibly lush. Wave after wave of rich, ripe Grenache poured over your palate. The wine continued evolving for 2 hours! This is a very, sexy, stylish Chateauneuf.

98

points - Tasted

Apr 21, 2007

3150 Views

Very dark color. Black raspberries, pepper, plums, anise, herbs and brown sugar were easy to discern on the nose. This is a massive, very concentrated wine. Multiple layers of deep, ripe fruit fill your palate. This is a very serious wine and demands more time in the cellar.

97

points - Tasted

Feb 12, 2005

1548 Views