2009 Shafer Cabernet Sauvignon Hillside Select Stags Leap District Wine Tasting Note
Almost too much of a good thing. The massive wall of fruit coats your palate, teeth and gums with perfectly ripe, dark black and blue fruits. The tannins are soft. The wine is concentrated, intense long and powerful.

96

points - Tasted

Feb 11, 2018

573 Views

Dark in color, with an intense concentration of flavor that serves up layers of fat, juicy, ripe, blackberries, plum, jam, coffee bean, dark bitter chocolate, smoke and licorice. Mouthfilling, powerful and long, each swirl, sniff and sip delivers the goods!

97

points - Tasted

Feb 3, 2014

5612 Views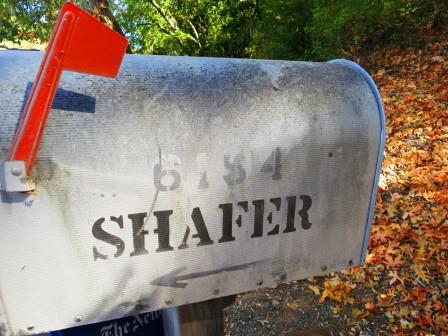 Shafer Vineyards, Wines, Winemaking
Shafer Vineyards produces multiple different wines using the following grapes; Cabernet Sauvignon, Merlot, Chardonnay, and Syrah. Their top wine is the sublime Shafer Hillside Select. Shafer Hillside Select, with its sensation levels of ripe fruit and intense purity rivals many of the best California Cult wines. While it's expensive, when compared to the Cult wines, it's fairly priced. On average Shafer Vineyards produces close to 32,000 cases of wine per year.
Shafer Vineyards practices sustainable farming in all their vineyards. Standard vineyard management practices which are now in use includes only organic treatments and natural fertilizers.
Today, Shafer is one of the few California wineries that combine quantity with quality, which has made them extremely popular with consumers. The Shafer family has continued increasing their holdings since their initial purchase in 1972. Currently, they own vines in a myriad of sites all over the valley with their largest acreage in the Stags Leap Appellation with 79 acres. They also have 60 acres in Napa Valley, just south of Stags Leap District in the foothills of the Vaca Mountains as well as 66 acres in the Carneros Appellation.
[caption id="attachment_18782" align="alignleft" width="236" caption="Shafer Vineyards"][/caption]
In 1983, the same year Doug Shafer was promoted to head winemaker, the family produced their first vintage of Shafer Hillside Select. The grapes are from the estates best hillside parcels in the Stags Leap appellation. The wine is aged in up to 32 months in 100% new, French oak barrels. The wine is big in size and personality and due to the power, tannins and amount of new oak barrels, it requires several years of aging. Close to 2,000 cases are produced of Shafer Hillside Select each year.
Shafer introduced the One Point Five Cabernet Sauvignon in 2004. This replaced their previous bottling of Cabernet Sauvignon. Part of the reason for the change was the increase in production. Previously, the wine was produced from grapes grown in Stags Leap that were not used in their Hillside Select. As the vineyard sources expanded, the wine was reinvented and labeled as Napa Cabernet Sauvignon. Shafer One Point Five is an alternative to the more expensive Shafer Hillside Select wine. The One Point Five Cabernet Sauvignon is aged in 100% new, French oak barrels for an average of 22 months.
Shafer Vineyards also produces a Merlot. The blend varies from vintage to vintage. Between 85% to 90% is dominated by Merlot. The rest of the blend is Cabernet Sauvignon and Malbec. The wine is aged in 75% new, French oak barrels for an average of 20 months. Shafer Vineyards Merlot made its debut in 1990.
Shafer is of course best known for their Cabernet Sauvignon wines. But Shafer also produces a Chardonnay from the Red Shoulder Ranch in the Caneros appellation that is vinified in a combination of 25% stainless steel and 25% in new, French oak barrels. The wine does not go through malolactic fermentation. This is a recent change, as previous vintages were completely barrel fermented. Shafer Red Shoulder Ranch Chardonnay made its debut in 1994.
From 1991 to 2003, Shafer produced Firebreak, a blend of Sangiovese and Cabernet Sauvignon that was never quite successful. Showing a good sense of humor, the final vintage of the wine was named, Shafer Firebreak Last Chance. Their next effort proved popular with consumers and critics, Shafer Relentless. Shafer Relentless, a blend of normally 80% Syrah and 20% Petit Sirah is aged in 100 new, French oak barrels for up to 32 months. Relentless is named as a tribute to their wine maker, Elias Fernandz and his Relentless search for quality.
In 2001, Shafer made a special wine to celebrate their 25th anniversary, Shafer Sunspot. The 100% Cabernet Sauvignon wine was only sold in magnums. As the name suggests, the grape source came from their Sunspot vineyard. In keeping with the 25th anniversary theme, a total of 25 barrels from 25 year old vines were used to produce the wine.
In 2014, Shafer Vineyards introduced "Eight Four Wines", a new wine that is a joint venture between John Shafer and their long time vineyard manager, Elias Fernandez.
Serving and Decanting Shafer wines with Wine, Food, Pairing Tips
Shafer Vineyards wines are best served at 15.5 degrees Celsius, 60 degrees Fahrenheit. The cool, almost cellar temperature gives the wine more freshness and lift. Young vintages of their red wine can be decanted for 1-3 hours, depending on the character of the vintage. This allows the wine to soften and open its perfume. Older vintages might need very little decanting, just enough to remove the sediment.
The red wine of Shafer Vineyards is best served with all types of classic meat dishes, veal, pork, beef, lamb, duck, game, roast chicken, ribs, hamburgers, barbecue, roasted, braised, grilled dishes and stews. Shafer Vineyards is also good with Asian dishes, hearty fish courses like tuna, salmon, mushrooms and pasta.
The white wine of Shafer Vineyards is best served with all types of seafood and shellfish, sushi, sashimi, chicken, veal, pork and cheese.
Shafer Vineyards is a very large producer in the Napa Valley making several different wines. By grape varietal, their most popular grape is Cabernet Sauvignon, with 97 acres under vine. This is followed by 66 acres of Chardonnay, 24 acres of Syrah, 12 acres of Merlot and 6 acres of Petite Sirah.
Shafer Vineyards has close to 205 acres under vine. The Napa Valley vineyards are in various appellations: Hillside Vineyards 54 acres, Borderline in the Stags Leap appellation 25 acres, La Mesa 18 acres, Ridgeback and School Bus, 42 acres and Red Shoulder Ranch with 66 acres. Cumulatively, with all their brands, they produce close to 32,000 cases of wine per vintage.