2003 Château Bellevue Mondotte St. Émilion Grand Cru Bordeaux France Wine Tasting Note
35322 Views
2003
Château Bellevue Mondotte (St. Émilion Grand Cru)

With just a few weeks to go before its 20th birthday, the wine has shed its former, oaky shell, which has been replaced by waves of ripe, lush, opulent fruits, crushed stone, smoke, licorice, and black cherries. Drink from 2022-2035.

2,117 Views

Tasted

Nov 28, 2022

Voluptuous, rich, powerful, full-bodied, concentrated, lushly textured wine that delivers an ocean of ripe, black cherries, plums, blackberries, licorice, smoke, crushed stone and espresso on the nose and palate. No sensation of overripeness, heat, or jam, but the finish still shows oak as part of its character. This is a good time to be drinking this, if you have a bottle or two in your cellar. A brief 30 minute decant was all it needed.

3,320 Views

Tasted

Jul 11, 2020

Deep in color, with lightening at the edges, the wine is powerful, concentrated and deep. There is an intense mineral element to the layers of perfectly ripe, exotic fruits. This is one of the wines of the vintage. Unlike many 2003 wines, this will enjoy a long life.

5,539 Views

Tasted

Dec 18, 2014

Smoke, caramel, coffee bean, blackberry liqueur, flowers, earth and tobacco open the perfume. This is so packed with fruit, tasters need to decide if they should eat it or drink it. The finish must last for more than 60 seconds with its endless array of dense layers of plum, blackberry and cassis.

5,831 Views

Tasted

Oct 23, 2013

Licorice, coffee bean, truffle, chocolate and black raspberry liqueur scents open to a flashy, fleshy, fun, full bodied wine that is a joy to drink. Still incredibly young, this is an intensely concentrated, lush, mineral driven, hedonistic St. Emilion.

5,065 Views

Tasted

Dec 12, 2012

Still deep, ruby in color, incense, smoke, black and blue fruits, licorice, mineral, coffee, caramel and truffle aromas, layers of fat, sexy, plush, ripe, polished, sweet and opulently textured fruit is found in the finish. This is developing into a beautiful St. Emilion. Give it a few more years for the tannins to continue melting away.

4,405 Views

Tasted

May 30, 2012

The incredibly inky, purple, black robe is as dark as night. Aromatics of melted blackberry liqueur with doses of coffee, cinnamon, licorice, blueberries and chocolate. The palate is thrilled as this amazingly concentrated, opulent wine spills over your senses. This is incredibly rich and sexy juice. The finish gives a text book example of plush. Still young with a big future ahead, when this wine matures, it's will offer an unbelievable tasting experience. This is the third time I've tasted this wine and each time it reminds me of 00 Pavie. I popped and poured the wine allowing it to develop in the decanter and glass for several hours. With air, it kept getting better and better. This is definitely sex in a bottle!

4,398 Views

Tasted

Jun 1, 2007

The perfume smells like molten, liquefied, blackberry liqueur with doses of coffee, cinnamon, licorice, blueberries and mocha. On the palate, this amazingly concentrated wine is so opulent, it's hard to believe. This is incredibly rich and sexy juice. Next to decadence in the new Websters, they have a picture of 03 Bellevue Mondotte. The finish is very, very plush.

4,647 Views

Tasted

Jun 12, 2006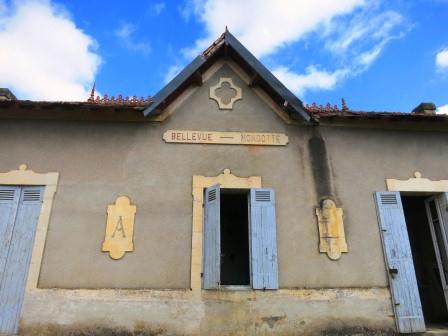 When to Drink Chateau Bellevue Mondotte, Anticipated Maturity, Decanting Time
Chateau Bellevue Mondotte is much better with at least 10-15 years of aging in good vintages. Young vintages can be decanted for 2-3 hours or more. This allows the wine to soften and open its perfume.
Older vintages might need very little decanting, just enough to remove the sediment. Chateau Bellevue Mondotte offers its best drinking and should reach peak maturity between 15-30 years of age after the vintage.
Serving Chateau Bellevue Mondotte with Wine, Food, and Pairing Tips
Chateau Bellevue Mondotte is best served at 15.5 degrees Celsius, 60 degrees Fahrenheit. The cool, almost cellar temperature gives the wine more freshness and lift.
Chateau Bellevue Mondotte is best served with all types of classic meat dishes, veal, pork, beef, lamb, duck, game, roast chicken, roasted, braised, and grilled dishes. Chateau Bellevue Mondotte is also a perfect match with Asian dishes, hearty fish courses like tuna, mushrooms, and pasta as well as a myriad of various cheeses.