1989 Château de Beaucastel Châteauneuf-du-Pape Hommage à Jacques Perrin Châteauneuf-du-Pape Rhône France Wine Tasting Note
28750 Views
1989
Château de Beaucastel Hommage à Jacques Perrin (Châteauneuf-du-Pape)

Vibrant, fresh and crisp, peppery, smoked red, black, and blue fruits are all over the place here on the nose, accompanied by dried flowers, pepper, mesquite, and Indian spices, and on the full-bodied, concentrated, zesty palate. The finish, with its olive and paprika-tinged red berry character, goes on and on. Drink from 2022-2032.

3,334 Views

Tasted

Aug 10, 2022

At 30, this is in the sweet spot. If you are lucky enough to have a bottle, this gem rocks! The spicy peppery, floral, earthy, kirsch and herbal nose could keep anyone busy. But the purity of the fruity, the non-stop energy, the length and complexity found in the soft, silky, peppery kirsch that sticks with you for over 60 seconds is profound. Due to their scarcity and high price, it is close to impossible to score these older bottles. If you have the time, patience, cold cellar and disposable income to purchase these young, you will be well-served and glad you made the initial sacrifice.

4,533 Views

Tasted

Nov 20, 2019

It's hard to believe this is closing in on 30 years of age, with all its vibrancy and fresh fruit. There are more than enough secondary characteristics to keep you busy here, with its barnyard, animal, spice, smoke, earth, garrigue, pepper and red berries. Powerful, focused, fresh and long, drink this now or age it for 10-20 more years. This is almost immortal.

4,909 Views

Tasted

May 30, 2017

Off the charts in every way, shape and form, this is stunning from start to finish. Blend intoxicating aromatics, intense concentration of pure fruits, and a rich, pure, fresh, vibrant finish that stick with you for 60 seconds or longer and you're almost there.

5,078 Views

Tasted

Nov 6, 2015

1989 Beaucastel Hommage should carry a G rating. Garrigue, Griotte and Grenache shine though. In addition,the debut vintage for this wine is filled with peppery black cherry fruit, minerality and spice. Rich, and full bodied, but not over the top, this intense wine is powerful and refined. The finish ends with a long, ripe, fresh sensation on black cherries and fresh ground pepper.

10,896 Views

Tasted

Oct 25, 2010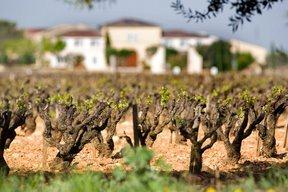 When to Drink Chateau Beaucastel, Anticipated Maturity, Decanting Time
Chateau Beaucastel is a much better wine with age. Young vintages can be decanted for 2-3 hours, give or take. This allows the wine to soften and open its perfume. Older vintages might need very little decanting, just enough to remove the sediment.
Chateau Beaucastel is better with 6-10 years of bottle age. Of course, that can vary slightly, depending on the vintage. In the best vintages, the wine should be consumed within 10-35 years after the vintage.
Serving Beaucastel with Wine, Food, Pairing Tips
Beaucastel is best served at 15.5 degrees Celsius, 60 degrees Fahrenheit. The cool, almost cellar temperature gives the wine more freshness and lift.
Beaucastel Rouge is best served with all types of classic meat dishes, veal, pork, beef, lamb, duck, game, roast chicken, roasted, braised, stewed, grilled dishes, sausage, tomatoes, and cassoulet. Beaucastel Rouge is also good with Asian dishes, hearty fish courses like tuna, mushrooms, and pasta.
The white wine of Beaucastel is best served with a myriad of different seafood dishes, shellfish, crab, lobster, sushi, sashimi, chicken, pork, and veal, as well as Asian cuisine and cheese.
Other wines from the Perrin family.
The Perrin family also maintains a partnership in California with Robert Haas called Tablas Creek. Formed in 1989, the California winery focuses on producing Rhone-style wine with both red and white Rhone varietals.
In 2013, the Perrin family entered into a partnership with Brad Pitt and Angelina Jolie to produce Miraval, an organic Rose' wine from their Provencal estate. Miraval also produces 2 white wines, a blend of Grenache Blanc and Rolle, as well as a wine from 100% Rolle. Needless to say, Miraval is now the world's most popular Rose and wine from the Cotes de Provence.
In 2015, Miraval became the first rose' as well as the first wine in the entire Provence appellation to add anti-counterfeiting measures to their bottle. To prevent the type of forgeries that anything to do with Brad Pitt and Angelina Jolie attracts, Miraval comes in a unique curve-shaped bottle. The bottle is also etched with the word Miraval at the bottom of the bottle.
Starting with the 2009 vintage, Beaucastel became one of the first wines outside of Bordeaux to be sold on the Place de Bordeaux by Bordeaux negociants. The Perrin family also produces one of the best red and white wines from their 30 hectares of vines in the Cotes du Rhone.