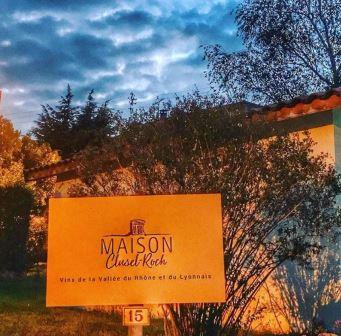 Learn everything about Clusel Roch, Cote Rotie with wine tasting notes, wine and food pairing tips, best vintages, a history of the property, information on the vineyards and winemaking. If you want to read about other important wineries and wine makers from the Rhone valley: Links to all Rhone Valley Wine Producer Profiles
Clusel Roch History, Overview
The birth of what we know as Clusel Roch dates back to the mid 1930's when Baptiste Clusel first began to plant a small parcel of vines in the Cote Rote appellation. However, the actual founding of the domaine took place in 1969.
That is the year when Rene Clusel took control of 1 hectare of vines. Those vines included a small parcel in Les Grandes Places lieu-dit. The oldest vines were planted in the late 1930's by the father of Rene Clusel, Baptiste Clusel. Clusel Roch became one of the first growers in the region to bottle their own wine, which took place for the first time in 1969.
Clusel Roch is named after its owners, Gilbert Clusel and Brigitte Roch. The name first came into use in 1989. Gilbert Clusel and Brigitte Roch started out with only a small parcel of vines they inherited from Rene Clusel in 1987.
To allow them to produce more wine and actually make money with a full time career in the wine business, they also entered into leasing agreements with other vineyard owners to increase production. They began a program of massale selection in 1991.
Today, they have close to 4 hectares of vines in the northern Rhone. Their largest holdings are in the La Vialliere vineyard. Those vines range in age from 30 to 50 years of age.
Starting with the difficult 2002 vintage, Clusel Roch began to practice biodynamic farming techniques in their Northern Rhone Valley vineyards. Their most prized wine comes from a small .7 hectare plot of old Syrah vines on Grandes Places.
These old vines were planted in 1935 by the grandfather of Gilbert, Baptiste Clusel. The domaine is a true family affair as their young son, Guillaume Clusel has recently joined the estate.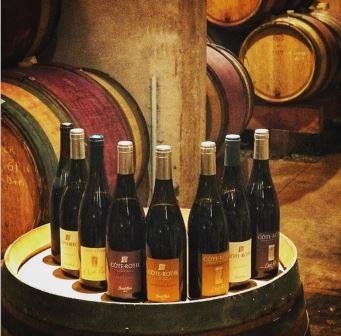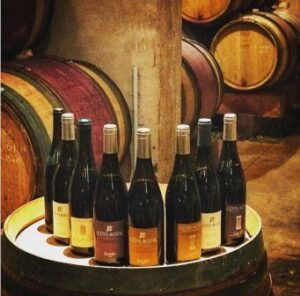 Clusel Roch Vineyards, Wines, Winemaking
Clusel Roch owns 5.5 hectares of vines in Cote Rotie and 1/2 hectare of vines in Condrieu. They have a terroir of steep hillside vineyards on the Cote Brune in the in the lieux-dits of Vialliere, LEs Grandes Places, Verenay and Champon.
The terroir is schist and mica soils. Planted to 96% Syrah and 4% Viognier, they have a mix of old and young vines. Since the 2002 vintage, Clusel Roch has been using only biodynamic farming techniques in their vineyards. They were have been certified by Ecocert since 2005.
The best vintages of Clusel Roche are: 2022, 2021, 2020, 2019, 2018, 2017, 2016, 2015, 2012, 2010, 2009, 2007, 2005, 2003, 2001, 1999, 1998, 1997, 1995, 1991, 1990 and 1989.
Domaine Clusel Roch produces a Condrieu and 3 Cote Rotie wines. To produce the wine, following a partial destemming of approximately 35% of the grapes takes place.
The wines of Clusel Roch are vinified in a combination of concrete tanks and steel vats. The wines are aged in 20% new, French oak barrels for up to 24 months before bottling.
Clusel Roch Cote Rotie Les Schistes comes from about 4 hectares of vines on the lower Cote Brune slopes. The blend is about 4% Viognier with 96% Syrah in the blend. However, that can vary a bit. On average, 50% of the grapes are whole cluster fermented.
Les Schistes spends close to 2 years in oak, of which 20% are new. The wine is made from estate owned fruit and purchased grapes. While the estate owned vines are always organic, that is not always the case with purchased fruit.
The remaining barrels range from one to five years of age. The last vintage for this wine sold under the original Classique moniker was 2015. In 2015, the wine took on a newly designed label and was renamed Les Schistes. The production is generous as close to 1,500 cases are produced each year.
Clusel Roch Les Grandes Places is their smallest holding, with about 1 hectare of vines placed in the middle to the top of slopes. The wine is made from 100% Syrah planted that is planted in a terroir of mica, schist and iron soils.
The wine is aged in 35% new, French oak barrels for close to 18 months. Les Grandes Places is a small production wine. Less than 250 cases are produced in each vintage of this stunner. It's a beautiful style of Cote Rotie.
Clusel Roch La Vialliere made its debut with the 2011 vintage from about 1.5 hectares of vines. The vines as you might guess are planted in La Vialliere, which is located just a bit lower on the slopes than their holdings on La Grandes Places.
The vines are on average 25 years of age. The wine is aged in 25% new, French oak barrels for up to 24 months before bottling. Not much of this Cuvee is produced as only 250-300 cases are offered in a vintage. The remaining wine is added to Les Schistes.
Clusel Roch La Petite Feuille was their entry level Cote Rotie. La Petite Feuille is produced from the estates youngest vines that range in age from 4 to 10 years of age. The wine is no longer in production. The grapes are now used in Les Schistes.
When to Drink Clusel Roch, Anticipated Maturity, Decanting Time
Clusel Roch, when young, should be decanted at least 1-2 hours, give or take, allowing the wines to soften and open their perfume. Older vintages might need very little decanting, just enough to remove the sediment.
Clusel Roch is usually better with 7-9 years of cellaring and should be at its best between 8-18 years of age, depending on the wine and the vintage.
Serving Clusel Roch with Wine, Food, Pairing Tips
Clusel Roch is best served at 15.5 degrees Celsius, 60 degrees Fahrenheit. The cool, almost cellar temperature gives the wine more freshness and lift.
Clusel Roch is best served with all types of classic meat dishes, veal, pork, beef, lamb, duck, game, roast chicken, roasted, braised and grilled dishes. Clusel Roch is also good with Asian dishes, hearty fish courses like tuna, mushrooms and pasta.
Condrieu, the white wine of Clusel Roch is best served with a myriad of different seafood dishes, shellfish, crab, lobster, sushi, sashimi, chicken, pork and veal, as well as Asian cuisine.
Clusel Roch also produces wine in the Coteaux-du-lyonnais appellation. At the end of the day, not much wine is produced here. On average, slightly more than 1,250 cases of wine are produced each year at Domaine Clusel Roch.
Clusel-Roch Wine Tasting Notes
12 Vintages 50,835 Views Sort by Vintage-Rating
2019
Clusel-Roch Les Grandes Places (Côte-Rôtie)

Perfectly ripe, red and black cherries, smoke, and floral aromas get your attention quickly. The palate, with its layers of vibrant fruit, salt, spice, and thyme, along with its silky, refined tannins and energetic, supple finish, steals the show. Drink from 2025-2042.

2,815 Views

Tasted

Oct 10, 2022

2017
Clusel-Roch (Condrieu)

Crisp, white peach, melon, citrus and stones are what you find here. The wine is rich, sweet, vibrant and fresh.

1,664 Views

Tasted

Feb 9, 2019

2016
Clusel-Roch La Viallière (Côte-Rôtie)

Herbs, flowers, pepper and wild, sweet, fresh cherries are the first thing you notice. When the wine hits your palate, its vibrant, juicy and fresh, tannic and stony, with loads of fruit that sticks with you. This needs some time in the bottle before you pull a cork.

1,904 Views

Tasted

Feb 9, 2019

2016
Clusel-Roch Les Grandes Places (Côte-Rôtie)

Smoked thyme, olives and pepper add to the juicy, kirsch and black raspberries. On the palate, the wine is precise, fresh, juicy, long and clean. Give this at least 5-7 years in the cellar before popping a cork.

2,620 Views

Tasted

Feb 9, 2019

2016
Clusel-Roch Les Schistes (Côte-Rôtie)

The debut vintage for the new name and label for this cuvee, the wine is peppery from the get go. Medium bodied, clean and energetic, the wine displays it vibrant, spicy red berries with ease. Give it a few years to develop before pulling a cork.

2,517 Views

Tasted

Feb 9, 2019

2015
Clusel-Roch Les Grandes Places (Côte-Rôtie)

Deep, rich, smoky, and peppery, the juicy red fruits show a lot of rocks and gravel notes. Rich, sensuous, sexy and complex, the purity of the fruit, coupled with the olive notes and elegant textures really grabs you.

2,917 Views

Tasted

Feb 10, 2019

2015
Clusel-Roch La Viallière (Côte-Rôtie)

Energy galore in the red fruits that work perfectly with the supple textured, fresh, ripe red berries, flowers, smoke and spice make this a turn on. The wine is lush, juicy and fresh, with length and purity, leaving you with kirsch and black raspberries in the endnote.

3,035 Views

Tasted

Feb 10, 2019

Kirsch, flowers, wet earth, smoke, spice box and black raspberries open the nose. On the palate, the wine is silky soft, fresh and loaded with sweet, dark red fruits that deliver freshness, juicy fruits, dusty tannins and kirsch in the plummy, elegant, sensuous finish.

3,066 Views

Tasted

Sep 17, 2018

2015
Clusel-Roch (Côte-Rôtie)

Earthy, stony, fresh and herbal, the wine pops with sweet, red berries, pepper and spice. Luscious, elegant and already charming, you can drink this young, or give it a decade for secondary nuances. This is the final vintage for the Classique. While the parcels will stay the same, the name was changed starting with the 2016 vintage to Les Schistes to coordinate with the terroir..

2,939 Views

Tasted

Feb 10, 2019

2012
Clusel-Roch Les Grandes Places (Côte-Rôtie)

Still a bit young, but it was hard not to enjoy the bright, crisp red fruits, cracked pepper, earth and kiss of smoke. Polished and classy, this elegant, medium/full bodied, kirsch packed wine needs a few more years in the cellar before it really pops.

3,389 Views

Tasted

Mar 8, 2019

2005
Clusel-Roch Les Grandes Places (Côte-Rôtie)

Crisp, fresh, pure, silky and vibrant, with a beautiful purity to the ripe, black and red berries, spice, earth and elegant, kirsch sensations. Hard to find, but fans of Cote Rotie should look for a bottle.

3,251 Views

Tasted

May 31, 2013

2003
Clusel-Roch Les Grandes Places (Côte-Rôtie)

Clearly drinking in the sweet spot, the fruit is ripe, round, sweet and satisfying. The texture is soft, round and even slightly voluptuous, with no sensation of heat, or jammy notes. The finish is sweet, pure and supple. Popped and poured, the finish was a bit shorter than I would have liked, else my score would have been higher.

1,786 Views

Tasted

Oct 6, 2018

Drinking in the sweet spot, with all its kirsch, floral, smoke, flint, black raspberry, earth and licorice notes in full force. Soft, focused, long and fresh, the elegant, floral, sweet, and tart black raspberry finish hits the spot. Sadly, so little of this wine is made, after release, it's impossible to find. If you see bottle, grab it!

2,448 Views

Tasted

Jan 31, 2014

This is so deep in color, it looks a 2009. With a nose filled with bacon fat, overripe cherry, licorice, earth, flowers, smoke and coffee, supple textures and a long, fresh, spicy finish, this is drinking great today.

3,146 Views

Tasted

Jul 5, 2012

2003 Clusel Roch Grande Places offers compelling aromas of black raspberries, strawberry, dark cherry and bacon fat with hints of vanilla. Richly textured and filled with layers of pure, ripe, juicy red and black fruits, this suave, enticing and exciting Cote Rotie is ready to drink.

3,060 Views

Tasted

Dec 24, 2010

1990
Clusel-Roch Les Grandes Places (Côte-Rôtie)

It's always good when your last bottle was the best bottle from the case, especially shared with friends. This perfectly mature Cote Rotie offered an earthy, spice box, cherry, floral, stone and pepper perfume. Pure silk in texture, the wine finished with minerality and pure, ripe, red berries.

3,466 Views

Tasted

Jul 5, 2012

Kirsch, spice, tobacco, earth and strawberry aromas open to an elegant style of Cote Rotie. Earthy, cherries and silky textures finish this fully mature wine. Previous bottles displayed more richness and darker fruit. This is probably slightly past full maturity and should be enjoyed over the next few years

3,339 Views

Tasted

Mar 8, 2011

Sexy aromatics paired with opulent, kirsch, black raspberry, spicy palate presence, this magic elixir delivers all its ample, full bodied, silky charms

3,473 Views

Tasted

Nov 18, 2008