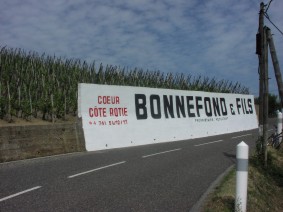 Learn everything about Bonnefond, Cote Rotie with wine tasting notes, wine and food pairing tips, best vintages, a history of the property and information on the vineyards and winemaking. If you want to read about other important wineries and wine makers from the Rhone valley, Links to all Rhone Valley Wine Producer Profiles
Bonnefond History, Overview
Bonnefond is a family owned Cote Rotie vineyard. The estate is relatively new in the Northern Rhone Valley. It was started in 1955 with the purchase of one hectare of vines. The estate began to expand thanks to purchases in the early 1980's by Charles Bonnefond.
During the 1980's, they sold their crop to negociants. By 1990, they started to bottle a portion of their harvest. With time, they managed to make additional purchases so that by 1995, they owned 5.5 hectares of vines in the Cote Rotie appellation. Today, have close to 7 hectares of vines in the appellation.
Today the property is managed by two brothers, Patrick Bonnefond and Christophe Bonnefond. Patrick Bonnefond and Christophe Bonnefond have managed the domaine since 1990.
The best vintages of Bonnefond Cote Rotie are: 2022, 2021, 2020, 2019, 2018, 2017, 2016, 2015, 2012, 2010, 2009, 2007, 2005, 2003, 2001, 1999, 1998, 1997, 1995 and 1991.
Bonnefond Vineyards, Wines, Winemaking
Bonnefond harvests late, to obtain maximum ripeness. The entire crop is destemmed. Bonnefond can use between 8% to 10% Viognier, blended with the Syrah for their top wines. Their terroir is mostly schist, mica and granite soils. The vines average roughly 30 years of age.
Vinification takes place in stainless steel tanks. Malolactic fermentation takes place in a combination of vessels with 40% done in barrel and the remainder fermented in tank.
For Les Rochains and Cote Rozier, the wines are aged in as much as 90% new, French oak barrels, with the remaining 10% of the harvest aged in new, American oak barrels for between 18 to 24 months. The aging program gives the wine a modern style.
The wine displays rich textures, good freshness and lush textures, Of the three wines, Les Rochains is the finest. Cote Rotie is always expensive, due to its high quality and low production. However Bonnefond still remains well priced for a wine at this level of quality.
The small Rhone Valley estate produces 3 Cote Rotie wines.
Bonnefond Colline de Couzou was first produced in 2009. Made from 100% Syrah, that is completely destemmed, the wine is aged in 10% new, French oak barrels for 18 months before bottling. This wine replaced the classique Cote Rotie. The average annual production is close to 1,000 cases of wine per vintage.
Bonnefond Cote Rozier – The wine made its debut with the 2000 vintage. Produced from 100% Syrah on the Cote Brune, next to La Landonne, the wine is aged in an average of 25% new, 400 liter barrels for about 18 months before bottling. The production of this cuvee is quite small, as it runs about 125 cases per year.
Bonnefond Les Rochains comes from 100% old vine Syrah from the Les Rochains vineyard, that is well placed, right next to La Landonne. The vines as we mentioned are old, most were planted back in 1955.
The grapes are completely destemmed. The wine is aged in 25% new, 400 liter barrels for up to 20 months before bottling. This can be difficult to find as the production is limited to an average of 300 cases per vintage. Les Rochains remains my favorite Cote Rotie wine from Patrick Bonnefond and Christophe Bonnefond.
They also produce 2 wines in Condrieu, a traditional cuvee and Cote Chatillon as well as a 100% Viognier Vin de Pays, and a 100% Syrah, Vin de Pays, from vines close to Mornas.
Bonnefond Cote Rotie Classique is no longer in production, as it was replaced in 2009, by Bonnefond Colline de Couzou. Bonnefond also produces a small amount of Vin de Pays.
When to Drink Bonnefond, Anticipated Maturity, Decanting Time
Bonnefond, when young, should be decanted at least 1-3 hours, give or take, allowing the wines to soften and open their perfume. Older vintages might need very little decanting, just enough to remove the sediment.
Bonnefond is usually better with 7-8 years of cellaring and should be at its best between 10-20 years of age.
Serving Bonnefond with Wine, Food, Pairing Tips
Bonnefond is best served at 15.5 degrees Celsius, 60 degrees Fahrenheit. The cool, almost cellar temperature gives the wine more freshness and lift.
Bonnefond is best served with all types of classic meat dishes, veal, pork, beef, lamb, duck, game, roast chicken, roasted, braised and grilled dishes. Bonnefond is also good with Asian dishes, hearty fish courses like tuna, mushrooms, cheese and pasta.
Condrieu, the white wine of Bonnefond is best served with a myriad of different seafood dishes, shellfish, crab, lobster, sushi, sashimi, chicken, pork and veal, as well as Asian cuisine.
Patrick & Christophe Bonnefond Wine Tasting Notes
11 Vintages 35,884 Views Sort by Vintage-Rating
2017
Patrick & Christophe Bonnefond Côte Rozier (Côte-Rôtie)

Black cherries, black plums, licorice, flowers, and spice notes open the perfume. Fresh, round and silky, with an endnote loaded with cherries and a touch of bitter chocolate. Drink from 2022-2035.

1,745 Views

Tasted

Oct 10, 2022

2016
Patrick & Christophe Bonnefond Les Rochains (Côte-Rôtie)

Salty blackberries, plums, flowers, and smoke open the wine before you move to the round, silky, lush, cherry, cocoa-packed, vibrant palate. This is just entering its drinking window. Drink from 2022-2039,

1,580 Views

Tasted

Oct 10, 2022

2015
Patrick & Christophe Bonnefond Les Rochains (Côte-Rôtie)

Full-bodied, fresh, vigorous, meaty and with loads of smoke, dark raspberry, earth and red, juicy, sweet plums. The finish continues that same theme, with the addition of saltiness in the tannins that gets you ready for another sip.

2,434 Views

Tasted

Feb 15, 2019

2010
Patrick & Christophe Bonnefond (Côte-Rôtie)

The aromatics deliver floral notes with fresh cherries, black raspberry and spicy characteristics. The texture is silky, soft and inviting, finishing with fresh, ripe red berries.

1,614 Views

Tasted

Nov 11, 2015

2010
Patrick & Christophe Bonnefond Les Rochains (Côte-Rôtie)

Still so young, but it's impossible not to get the sensuous textures, freshness, purity and peppery, spicy red fruits, licorice, earth, ripe tannins and fresh, red fruit finish. This should be much better in 4-6 ore years.

1,944 Views

Tasted

Mar 12, 2018

2009
Patrick & Christophe Bonnefond Les Rochains (Côte-Rôtie)

Rich, supple textures, fresh, bright, dark red berries, smoke, earth and floral notes and a long, sweet, fresh, pure finish. So young, but so good... Perhaps the best value in Cote Rotie today.

2,431 Views

Tasted

Dec 12, 2014

2009
Patrick & Christophe Bonnefond Colline Couzou (Côte-Rôtie)

The debut vintage for the newest addition to the Bonnefond lineup is elegant, fresh and filled with spring flowers, black raspberry, earth and kirsch. Lushly textured, medium bodied and approachable, there is freshness in the bright red fruit, and thyme filled finish.

2,982 Views

Tasted

Feb 22, 2017

2007
Patrick & Christophe Bonnefond Les Rochains (Côte-Rôtie)

It's nice when a high quality Cote Rotie can be found at a fair price. It doesn't happen much these days. 2007 Bonnenfond Rochains delivers the goods with its round, silky textures and fresh black raspberry, fennel, plum, mineral and bacon fat filled nose.

3,396 Views

Tasted

Jun 7, 2012

2005
Patrick & Christophe Bonnefond Côte Rozier (Côte-Rôtie)

Masculine, meaty, crisp, peppery and fresh, the wine is full bodied, with a firm structured character. It's a good wine, but more intellectual than fun. I was expecting a bit more from the wine.

3,397 Views

Tasted

Oct 4, 2015

2003
Patrick & Christophe Bonnefond Les Rochains (Côte-Rôtie)

Deeply colored with licorice, smoke, coffee bean, blackberry, incense, earthy, blueberry and spice. Modern style of Cote Rotie, with very ripe berries, spice and coffee bean in the finish. This was more interesting a few years ago. It is a bit too oaky for me at this stage of the game.

3,516 Views

Tasted

Jul 5, 2012

With scents of roasted black cherry, bacon fat, caramel, herbs, smoke and sap, this full bodied, opulently textured wine finishes with sweet, black raspberry and fresh cut Provencal herbs. This wine is ready to drink

1,840 Views

Tasted

Jul 16, 2010

1999
Patrick & Christophe Bonnefond Les Rochains (Côte-Rôtie)

Once again, the last bottle from the case proved to be the best. Cote Rotie lovers lucky enough to have a bottle or two stashed away of this gem are lucky indeed. Smoky, fresh, spicy, earthy, stony and with ample, bright red fruits and soft tannins, this rich, lifted, focused wine is what Northern Rhone Syrah is all about.

1,816 Views

Tasted

Aug 3, 2020

Floral, black cherry, liqueur, pepper, white peach and orange peel in the nose pop with no trouble. In the mouth, silky smooth sensations of sweet, ripe, black cherries, thyme and dusty cocoa flavors mesh perfectly with supple textures. This is right where it needs to be. It could get better, but why wait?

1,972 Views

Tasted

Jan 19, 2015

Flowers. cherries, smoke, kirsch, cherry girotte, stone and bacon fat aromas permeate the perfume. Rich, lush and luscious in texture, this sublime Cote Rotie is a stunner, ending with a long, fresh, pure, opulent, ostentatious licorice, spice and cherry liqueur finish. Drink this over the next decade and enjoy the fireworks.

2,127 Views

Tasted

Dec 16, 2011

Aromas of red, black and blue fruit simmered in bacon fat with dashes of earth, vanilla and flowers. Plush and sexy on the palate. Liqueur of molten, kirsch and raspberry licorice coat your mouth for :40 of divine pleasure. Tannin and acidity keep it fresh. Sill young, but developing nicely.

1,489 Views

Tasted

Oct 5, 2005

Deeply colored. The very dense texture with perfume of black fruits, herbs and a floral component was intense. Give it another 5 years as it's still bright and primary.

1,601 Views

Tasted

Jul 11, 2003