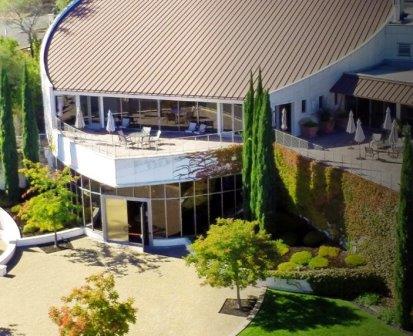 Everything about Vineyard 29 Napa Valley California Cabernet Sauvignon wine producer profile, wine tasting notes, wine and food pairing tips, best vintages, history of the property, information on their wine making techniques, terroir and soil. You can also read about the Grapes used for California wine and learn about the extensive History of Napa Valley, California Wines
Vineyard 29 History, Overview
Tom Paine and Teresa Norton purchased what would become Vineyard 29 in 2000, when they obtained 3 acres of land in Napa. As you might surmise, the estate took its name from the famous highway that runs through all of Napa Valley, Highway 29. Making the number even more important to the estate, their address is 2929, Highway 29! You cannot make this stuff up. They brought in David Abreu to plant the vineyard, using cuttings from Grace family, which is close to Vineyard 29. The new winery released their first vintage in 1992.
In the formative years for Vineyard 29, they did not yet have their own winery. The wines were instead produced at Grace Family. This took place for 6 years. At that point, for the 1999 vintage, they began making their wine at Miner Family Vineyards. In 2000, they sold Vineyard 29 to Chuck McMinn and Anne McMinn. In that same year, the initial 3 acres of vines were expanded to almost 4 acres, and this included a small parcel, about .7 acres of vines that were devoted to Sauvignon Blanc.
Chuck McMinn and Anne McMinn increased the size of Vineyard 29 when they purchased more than 14 acres of vines from the Aida vineyard in 2001. At the time of the purchase, the vineyard had 6.6 acres of old vine Petite Sirah vines, but those have since been removed and replaced with Cabernet Sauvignon and a small amount of Petit Verdot. That same year, they completed construction on their showplace winery for Vineyard 29 as well. The cellars are environmentally friendly. They have the ability to generate all their own electrical needs while simultaneously using the warm and cold water to keep the caves at their much needed, cool temperatures.
For the initial startup of Vineyard 29, the winery has gone through 3 different wine makers, starting with Gary Galleron, who was replaced by Heidi Barrett. Philippe Melka took over in 1999, and remains with the estate today.
Vineyard 29 Vineyards, Wines, Winemaking
The Vineyard 29 Aida vineyard is planted as follows. 8 3/4 acres are Cabernet Sauvignon. 2 acres are planted to Merlot. 4 acres are planted to Zinfandel.
The original Vineyard 29 vineyard, which is now 4 acres is planted to 2.75 acres of Cabernet Sauvignon and 1.25 acres of Cabernet Franc.
Vineyard 29 produces 9 wines; Vineyard 29 Cabernet Sauvignon, which is aged in an average of 85% new, French oak barrels for 20 months, Cabernet Franc and Sauvignon Blanc.
Vineyard 29 makes 3 wines from their Aida vineyard, Cabernet Sauvignon, which is aged for an average of 19 months in 75% new, French oak barrels, Zinfandel and a late harvest, multi-vintage Zinfandel.
Vineyard 29 began production of an entry level series of wines called Vineyard 29 Cru Series from purchased grapes starting with the 2004 vintage. This line up of wines made from non estate grown grapes now includes; Cabernet Sauvignon, Sauvignon Blanc and Pinot Noir. They clearly have good fruit sources, as these wines are quite tasty.
Serving and Decanting with Wine, Food, Pairing Tips
Vineyard 29 wines are best served at 15.5 degrees Celsius, 60 degrees Fahrenheit. The cool, almost cellar temperature gives the wine more freshness and lift. Young vintages of their red wine can be decanted for 1-3 hours, depending on the character of the vintage. This allows the wine to soften and open its perfume. Older vintages might need very little decanting, just enough to remove the sediment.
The red wine of Vineyard 29 is best served with all types of classic meat dishes, veal, pork, beef, lamb, duck, game, roast chicken, ribs, hamburgers, barbecue, roasted, braised, grilled dishes and stews. Vineyard 29 is also good with Asian dishes, hearty fish courses like tuna, salmon, mushrooms and pasta.
The white wine of Vineyard 29 is best served with all types of seafood and shellfish, sushi, sashimi, chicken, veal, pork and cheese.
Vineyard 29 is a very elegant, polished, stylish expression of Napa Valley Cabernet Sauvignon.
Vineyard 29 Wine Tasting Notes
9 Vintages 23,798 Views Sort by Vintage-Rating
2015
Vineyard 29 Cabernet Sauvignon Estate (St. Helena)

Loads of licorice, black cherry, cocoa, vanilla bean and smoke pop as soon as the wine hits the glass. Silky, lush and rich, the finish is all about the layers of ripe, sweet, black and blue fruits and licorice. Very suave and rich, you can enjoy this young, or age it.

2,746 Views

Tasted

Feb 22, 2019

2015
Vineyard 29 Cabernet Sauvignon Aida Estate (St. Helena)

Elegant, silky, refined, ripe and fresh, there is ripe, dark fruits, soft tannins and a finish replete with sweet, ripe, velvet-textured fruit. This should drink well on release.

2,977 Views

Tasted

Feb 22, 2019

2015
Vineyard 29 Zinfandel Aida Estate (St. Helena)

The silkiest, refined, elegant Zinfandel I have ever tasted. There is ample, peppery, spiced, black raspberry from start to finish. But the polished texture was as enjoyable as it was startling.

2,426 Views

Tasted

Mar 15, 2018

2015
Vineyard 29 Cabernet Sauvignon Cru (St. Helena)

Medium bodied, early drinking, finesse styled, smoky, black raspberry oriented wine that is already open for business. Soft and polished this is ready for drinking.

2,373 Views

Tasted

Mar 15, 2018

2015
Vineyard 29 Sauvignon Blanc 29 Estate (St. Helena)

White peach and grapefruit with hints of florality are the stars of the show. The wine is fresh lively and vibrant, with crisp citrus in the finish.

2,113 Views

Tasted

Mar 15, 2018

2012
Vineyard 29 Cabernet Sauvignon 29 Estate (St. Helena)

This remains such a great style of wine. It's finesse driven, but still has weight, density, concentration and ripe, sweet, fruits, with silky, polished tannins, freshness and purity. What's not to like?

2,993 Views

Tasted

Nov 29, 2016

2010
Vineyard 29 Cabernet Sauvignon Cru (St. Helena)

Elegant, soft, refined, fresh, and ripe, the medium/full bodied, wine is forward in style, with a red and black plum palate of fruit, with added nuances of thyme and tobacco .

3,654 Views

Tasted

Nov 29, 2016

2009
Vineyard 29 Cabernet Sauvignon 29 Estate (St. Helena)

With textures of polished silk, layers of plush, opulent, ripe, black and blue fruits, hints of licorice, flowers and black cherry liqueur, this is my style of wine. Forward in style, drink this sexy little number young.

1,813 Views

Tasted

Dec 18, 2012

2009
Vineyard 29 Cabernet Sauvignon Aida Estate (St. Helena)

Earth, truffle, black and blue fruit, silky, polished textures and a long, plush, sweet, ripe black cherry finish are the hallmarks of this delicious, forward styled wine.

2,703 Views

Tasted

Dec 18, 2012