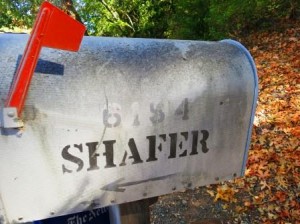 Everything about Shafer Vineyards, Napa Valley wine producer profile, wine tasting notes, wine, and food pairing tips, best vintages, history of the property, information on their wine-making techniques, terroir, and soil. You can also read about the Grapes used for California wine and learn about the extensive History of Napa Valley, California Wines
Shafer History, Overview
John Shafer founded Shafer Vineyards back in 1972. But what we know of as Shafer Vineyards has one of the longest histories in the Napa Valley. The vineyards were first planted in the early 1880s. Due to devastation from phylloxera, in 1898, the vineyard was sold for $10 to the Security and Savings Bank of San Francisco. Sold and resold again, the property was sold to Batista Scansi in 1920 who planted the vineyard, ostensibly to produce wine for his own consumption.
The land was bought in 1961 by Al Phillips who tried in vain to sell the vineyard for 3 years until John Shafer agreed to buy the property. Born in 1924, John Shafer gave up a successful career as a book publisher to become a winemaker. Moving his family from Chicago, Illinois in 1973, John Shafer created the estate from a large purchase of 210 acres of vineyards in the Stags Leap Appellation. Much of the land had to be replanted as it had become completely dilapidated.
Large sections of the vineyard had not been tended since the days of Prohibition as the vineyard was abandoned. Coupled with those issues was the fact that the vines were mostly Carignane and Zinfandel. Many of those old vines were probably planted by Batista Scansi in the early 1920s.
The soil at Shafer Vineyards, with its volcanic stone terroir was perfect for Bordeaux varietals. With the right weather, which the Napa Valley often experiences, the vineyards were hot during the day, but cooled down at night. John Shafer knew what he wanted and that was to produce world-class Cabernet Sauvignon wine.
After the extensive replanting was completed, Shafer made his first efforts to produce the debut wine from Shafer Vineyards with the 1978 vintage. Their total production that year of Shafer Vineyards was about 1,000 cases. Having tasted that wine recently, I was surprised at how young and vibrant the wine was at 35 years of age!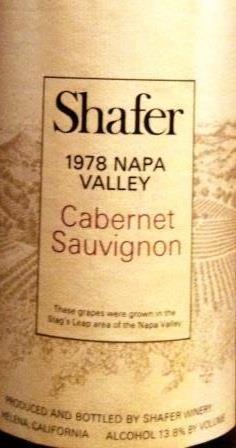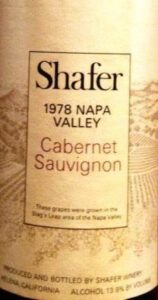 In 1983, Doug Shafer, the son of John Shafer was promoted to the head winemaker of Shafer Vineyards after graduating from the University of California at Davis with a degree in enology. Shortly after Doug was promoted to winemaker, the family hired Elias Fernandez as the assistant winemaker. Fernandez was eventually promoted to winemaker in 1994 and Doug Shafer was named company president.
In 1994 Shafer Vineyards became one of the earliest converts to working exclusively with solar power in the Napa Valley. At Shafer, they view this as the next step in being green and environmentally conscious. The first step was practicing sustainable farming techniques at Shafer Vineyards.
In March 2019, John Shafer, the patriarch of the Shafer family, and a beloved and respected figure as a pioneer in the modern age of Napa Valley passed away at 95 years of age. He lived an incredible life and remains one of the key figures in the modern history of Napa Valley.
In February 2022, Shafer Vineyards was sold to the massive Korean conglomerate Shinsgae for $250,000,000! One of the Shinesgaes entities L&B is a large wholesaler and distributor of wines in Korea.
Shafer Vineyards, Wines, Winemaking
Shafer Vineyards produces multiple different wines using the following grapes; Cabernet Sauvignon, Merlot, Chardonnay, and Syrah. Their top wine is the sublime Shafer Hillside Select. Shafer Hillside Select, with its sensation levels of ripe fruit and intense purity, rivals many of the best California Cult wines. While it's expensive, when compared to the Cult wines, it's fairly priced. On average Shafer Vineyards produces close to 32,000 cases of wine per year.
Shafer Vineyards practices sustainable farming in all its vineyards. Standard vineyard management practices which are now in use include only organic treatments and natural fertilizers.
Today, Shafer is one of the few California wineries that combine quantity with quality, which has made them extremely popular with consumers. The Shafer family has continued increasing their holdings since their initial purchase in 1972. Currently, they own vines in a myriad of sites all over the valley with their largest acreage in the Stags Leap Appellation with 79 acres. They also have 60 acres in Napa Valley, just south of Stags Leap District in the foothills of the Vaca Mountains as well as 66 acres in the Carneros Appellation.
In 1983, the same year Doug Shafer was promoted to head winemaker, the family produced their first vintage of Shafer Hillside Select. The grapes are from the estate's best hillside parcels in the Stags Leap appellation. The wine is aged in up to 32 months in 100% new, French oak barrels. The wine is big in size and personality and due to the power, tannins and amount of new oak barrels, it requires several years of aging. Close to 2,000 cases are produced of Shafer Hillside Select each year.
Shafer introduced the One Point Five Cabernet Sauvignon in 2004. This replaced their previous bottling of Cabernet Sauvignon. Part of the reason for the change was the increase in production. Previously, the wine was produced from grapes grown in Stags Leap that were not used in their Hillside Select.
As the vineyard sources expanded, the wine was reinvented and labeled as Napa Cabernet Sauvignon. Shafer One Point Five is an alternative to the more expensive Shafer Hillside Select wine. The One Point Five Cabernet Sauvignon is aged in 100% new, French oak barrels for an average of 22 months.
Shafer Vineyards also produces a Merlot. The blend varies from vintage to vintage. Between 85% to 90% is dominated by Merlot. The rest of the blend is Cabernet Sauvignon and Malbec. The wine is aged in 75% new, French oak barrels for an average of 20 months. Shafer Vineyards Merlot made its debut in 1990.
Shafer is of course best known for their Cabernet Sauvignon wines. But Shafer also produces a Chardonnay from the Red Shoulder Ranch in the Caneros appellation that is vinified in a combination of 25% stainless steel and 25% in new, French oak barrels. The wine does not go through malolactic fermentation. This is a recent change, as previous vintages were completely barrel fermented. Shafer Red Shoulder Ranch Chardonnay made its debut in 1994.
From 1991 to 2003, Shafer produced Firebreak, a blend of Sangiovese and Cabernet Sauvignon that was never quite successful. Showing a good sense of humor, the final vintage of the wine was named, Shafer Firebreak Last Chance. Their next effort proved popular with consumers and critics, Shafer Relentless. Shafer Relentless, a blend of normally 80% Syrah and 20% Petit Sirah is aged in 100 new, French oak barrels for up to 32 months. Relentless is named as a tribute to their winemaker, Elias Fernandz, and his Relentless search for quality.
In 2001, Shafer made a special wine to celebrate their 25th anniversary, Shafer Sunspot. The 100% Cabernet Sauvignon wine was only sold in magnums. As the name suggests, the grape source came from their Sunspot vineyard. In keeping with the 25th-anniversary theme, a total of 25 barrels from 25-year-old vines were used to produce the wine.
In 2014, Shafer Vineyards introduced "Eight Four Wines", a new wine that is a joint venture between John Shafer and their long-time vineyard manager, Elias Fernandez.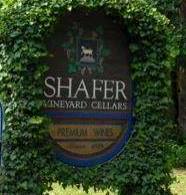 Serving and Decanting Shafer wines with Wine, Food, Pairing Tips
Shafer Vineyards wines are best served at 15.5 degrees Celsius, 60 degrees Fahrenheit. The cool, almost cellar temperature gives the wine more freshness and lift. Young vintages of their red wine can be decanted for 1-3 hours, depending on the character of the vintage. This allows the wine to soften and open its perfume. Older vintages might need very little decanting, just enough to remove the sediment.
The red wine of Shafer Vineyards is best served with all types of classic meat dishes, veal, pork, beef, lamb, duck, game, roast chicken, ribs, hamburgers, barbecue, roasted, braised, grilled dishes and stews. Shafer Vineyards is also good with Asian dishes, hearty fish courses like tuna, salmon, mushrooms and pasta.
The white wine of Shafer Vineyards is best served with all types of seafood and shellfish, sushi, sashimi, chicken, veal, pork, and cheese.
Shafer Vineyards is a very large producer in the Napa Valley making several different wines. By grape varietal, their most popular grape is Cabernet Sauvignon, with 97 acres under vine. This is followed by 66 acres of Chardonnay, 24 acres of Syrah, 12 acres of Merlot, and 6 acres of Petite Sirah.
Shafer Vineyards has close to 205 acres under vine. The Napa Valley vineyards are in various appellations: Hillside Vineyards 54 acres, Borderline in the Stags Leap appellation 25 acres, La Mesa 18 acres, Ridgeback and School Bus, 42 acres, and Red Shoulder Ranch with 66 acres. Cumulatively, with all their brands, they produce close to 32,000 cases of wine per vintage.
Shafer Wine Tasting Notes
25 Vintages 252,454 Views Sort by Vintage-Rating
2016
Shafer Cabernet Sauvignon Hillside Select (Stags Leap District)

Almost opaque in color, the wine is massive, powerful, dense and intense. The layers of incredibly ripe, black and fruits coat every facet of your palate with non-stop layers of intensity. Hedonistic, showy and attention-seeking, this should age and evolve for 2-3 decades with ease.

9,860 Views

Tasted

Jul 8, 2021

2015
Shafer Cabernet Sauvignon Hillside Select (Stags Leap District)

Inky dark in color, the wine is massive, intensely concentrated and palate staining. There is so much weight, volume, and extract, your teeth and gums are instantly coated. Balanced between fat and opulent in texture, the flamboyant nature of the wine lets you peek inside. But based on older vintages of HSS, you should let it rest for 10 -15 years or more to get the most out of the layers of black and blue fruit, smoke, vanilla, licorice and chocolate.

6,252 Views

Tasted

Feb 21, 2020

2013
Shafer Cabernet Sauvignon Hillside Select (Stags Leap District)

Massive, dense, powerful, concentrated, full-bodied and loaded with as much, inky, black and blue fruits as possible, the wine stains your teeth and palate with black and blue fruit, licorice, jam, chocolate, vanilla and smoke. If you like an ocean of fruit in its exuberant youth, you can drink this young. Else give it at least another decade or more to calm down.

6,499 Views

Tasted

Mar 4, 2019

2013
Shafer Chardonnay Red Shoulder Ranch (Carneros)

Fresh, ripe, sweet, citrus fruits with a tropical accent and vanilla overtones, forward in style, medium bodied, easy to drink today.

2,785 Views

Tasted

Dec 31, 2016

2012
Shafer Cabernet Sauvignon Hillside Select (Stags Leap District)

Inky in color, the wine pops with licorice, black cherry liqueur, black and blue fruit, smoke and vanilla aromatics. Fat, rich and fleshy, the wine is packed to the gills with incredibly ripe, dark berries, vanilla and chocolate. Shafer Hillside Select is one of the few, higher ABV wines to improve with age. Give it at least 7 years and your experience should rock.

7,813 Views

Tasted

Sep 19, 2016

2012
Shafer Merlot (Napa Valley)

Medium bodied, with loads of ripe, sweet, jammy berries, forward, soft and easy to drink.

3,956 Views

Tasted

Nov 19, 2014

2011
Shafer Cabernet Sauvignon One Point Five (Stags Leap District)

Forward, with jammy red fruits, smoke and cherries, this medium bodied wine is already drinking well.

3,860 Views

Tasted

Nov 19, 2014

2010
Shafer Cabernet Sauvignon Hillside Select (Stags Leap District)

Massive, powerful, concentrated and loaded to the top with layers of ripe, dark berries, jam, smoke, espresso, vanilla and licorice. Still primary, it is not ready for prime time drinking yet, as everything still needs to come together.

4,838 Views

Tasted

Aug 27, 2019

Big, bold, powerful, packed, full bodied and dense, this wine is stuffed with licorice, jammy blackberries, smoke and vanilla. This is not for timid wine tasters with all its layers of ripe and over ripe fruits. The finish really packs a punch.

12,672 Views

Tasted

Nov 16, 2013

2010
Shafer Cabernet Sauvignon One Point Five (Stags Leap District)

Deep ruby in color, with notes of licorice, coffee bean, jammy dark berries and chocolate. The fruit is sweet, ripe, round and fresh, forward in style with a long taste of black raspberries in the finish.

4,496 Views

Tasted

Nov 16, 2013

2009
Shafer Cabernet Sauvignon Hillside Select (Stags Leap District)

Almost too much of a good thing. The massive wall of fruit coats your palate, teeth and gums with perfectly ripe, dark black and blue fruits. The tannins are soft. The wine is concentrated, intense long and powerful.

4,674 Views

Tasted

Feb 11, 2018

Dark in color, with an intense concentration of flavor that serves up layers of fat, juicy, ripe, blackberries, plum, jam, coffee bean, dark bitter chocolate, smoke and licorice. Mouthfilling, powerful and long, each swirl, sniff and sip delivers the goods!

7,072 Views

Tasted

Feb 3, 2014

2009
Shafer Cabernet Sauvignon One Point Five (Stags Leap District)

Filled with spicy, black cherries and licorice, this forward style of Cabernet Sauvignon is soft, sweet, round and already tasty.

5,617 Views

Tasted

Oct 12, 2012

2008
Shafer Cabernet Sauvignon Hillside Select (Stags Leap District)

Inky in color, with an intense aroma packed with chocoalte, licorice, jammy plums, spice and earthy scents. Full bodied, powerful and concentrated, the wine ends with a palate filling, opulent, ripe, fat finish.

7,176 Views

Tasted

Oct 25, 2012

2007
Shafer Cabernet Sauvignon Hillside Select (Stags Leap District)

Powerful, intense, concentrated, lush, mouth-coating, and palate-staining, the wine is full, deep, and dark, with a boatload of black fruits, licorice, vanilla bean, smoke, chocolate, and blackberry liqueur. High in ABV, you feel the heat, but there is so much fruit, you might forget to notice all the heat. Drink from 2022-2040.

3,326 Views

Tasted

Nov 28, 2022

Deep dark, almost inky, black/purple in color, gobs of licorice, blackberry, blue fruit, smoke, coffee, chocolate and vanilla fill your glass. Powerful, dense and packed with layers of perfectly ripe, thick, juicy, black and blue fruit, this intense wine fills your mouth and coats your palate. Opulent in character, this is as good as any of the California Cult wines and sells for a lot less money. While it's expensive, (most California Cabernets are) if you're seeking a top experience with the best California has to offer, this is the wine to buy.

12,668 Views

Tasted

Nov 3, 2011

2007
Shafer Cabernet Sauvignon One Point Five (Stags Leap District)

Popped and poured for a summer night BBQ, sweet aromas of ripe boysenberry, licorice, vanilla, coffee bean, smoke and jam made their presence known. Round, juicy, soft and filled with ripe berries, the fat, plush, slightly oaky, sweet finish makes you want another taste. I would not hesitate to pop a cork on this today.

4,190 Views

Tasted

Aug 23, 2013

2005
Shafer Cabernet Sauvignon Hillside Select (Stags Leap District)

This is a massive wall of ripe dark deep fruits, smoke, oak, licorice, chocolate and vanilla that starts off strong and keeps on going. This is definitively a full-throttle, palate-staining wine. There is a touch of heat in the finish.

4,080 Views

Tasted

Nov 28, 2020

The licorice, smoke, espresso, herbs, roasted fruits and vanilla come through loud and clear with little effort. This is all about the power, concentration and depth which completely fills your palate. This is no shy wine, but more time will allow everything to come together,

4,945 Views

Tasted

Dec 4, 2019

Deep in color, this wine packs a punch with its serious levels of ripe, sweet, fleshy, rich fruit. Licorice, coffee bean, boysenberry, blackberry and jammy scents pop once the cork is out of the bottle. Still young, this intense wine like all vintages of Hillside Select will age for years.

6,158 Views

Tasted

Jul 14, 2013

2003
Shafer Cabernet Sauvignon Hillside Select (Stags Leap District)

Big, powerful and dense, with layers of ripe, dark berries, licorice, chocolate, smoke and vanilla tinged fruit. Lusciously textured, rich and ripe, this will continue delivering the goods for at least a decade and probably longer.

4,601 Views

Tasted

Jun 5, 2018

2002
Shafer Cabernet Sauvignon Hillside Select (Stags Leap District)

It's been ages since I last tasted this gem. It is hard to believe, this is almost 18 years old. The color remains dark. The fruit, which has softened over the years, continues to hold on to its youth. The oak is better integrated. But this is still about the power and layers of decadent berries, so I'd wait another few years before popping another cork.

4,096 Views

Tasted

Aug 27, 2019

Clearly this is the best non cult, cult wine from California. Still deep in color, licorice, jammy blackberry, vanilla, cassis, earth, cocoa and spice scents are made more complex with the massive, intense wall of delicious, juicy, ripe Cabernet Sauvignon that covers your palate. Shafer Hillside Select is one of the few California Cabernet Sauvignon's that improve and evolve with age. At a fraction of what the big boys costs, if you're seeking one fo the best wines from the Golden State, look no further.

10,372 Views

Tasted

May 9, 2012

Shafer Hillside Select often makes one of the top wine California Cabernets. In 1997, it's a reference point wine. But I did not get that from the 2002. It's not so much quality as it is a stylistic preference. 2002 Hillside Select is packed and stacked with jammy blue and black fruit, brown sugar, tobacco and dark cherry notes. The palate is coated with dense layers of jammy, ripe and over ripe berries. This is a concentrated, powerful wine. The finish shows some heat and thick jammy textures. I have friends that love this wine. While I see the quality, the over the top styling's of this wine make it hard to like. Perhaps it's just too much of a good thing.

11,500 Views

Tasted

Dec 9, 2010

2001
Shafer Cabernet Sauvignon Hillside Select (Stags Leap District)

Perhaps the most elegant, sledge hammer I have ever encountered. There is all the power, purity, tannin and length you could ask for. The layers of black, blue and red fruits just kept on coming, again and again. Seamless, and without any hard edges, the tannins were soft and polished. This is a mouth-coating wine indeed. In magnum, this tasted like it was at least 10 years younger. This is no shy, wallflower of a wine. There is an intensity of flavor that just does not want to quit. Could this be a 50 year wine in the making?

8,082 Views

Tasted

Aug 3, 2017

Fabulous expression of ripe, very ripe and extremely ripe fruits. Concentrated, intense, lush and rich, yet everything is in balance. Still young, much of its early jammy qualities and over oak influence has faded away, leaving with you loads of sweet, plush fruits. This is no shy sister, the wine is big, powerful and intense, yet refined in its own way.

4,766 Views

Tasted

Sep 28, 2015

The best California Cabernet Sauvignon wines have earned a well deserved reputation for being expensive. Not that Shafer Hillside Select is inexpensive, but it sells for half the price of other Cult wines and on a quality basis, in blind tasting's, it proves time and time again, it's of equal quality with any of the far more pricey wines. Jammy blackberry, smoke, pepper, coffee, blueberry, cassis, truffle, spice and caramel create the complex aromatics. Big, rich and concentrated with waves of juicy, sweet, ripe fruit, the wine ends with a lush, mouth filling finish. The only minor fault is the slight touch of heat in the long finish. Drink now, or over the next 10-15 years.

7,168 Views

Tasted

Mar 8, 2012

This wine had it all. Endless layers of sweet, ripe, black fruit and cassis fruit coat your palate. The perfume was intoxicating. The soft textures and oceans of ripe fruit made for a sublime finish.

3,465 Views

Tasted

Apr 15, 2008

1999
Shafer Cabernet Sauvignon Hillside Select (Stags Leap District)

If fighters are judged on a pound for pound basis, perhaps wines should be looked at on a point for dollar basis. If we use that scale for high end, California Cabernet Sauvignon, it's hard to see any other wine topping Shafer Hillside Select. This had everything I seek in Cab based wines; complex aromas with fresh blackberries, licorice, earth and a touch of oak, rich, lush textures and a long, fresh, ripe, balanced finish that made me want to taste it again and again. Served with a rare steak, I was loving it!

5,125 Views

Tasted

May 9, 2013

Now we're talking! With a beautiful perfume packed with smoke, ripe blackberry, cherry, licorice and an array of spices, the wine is rich, deep, powerful and balanced. Polished tannins and layers of ripe fruits make this a treat to taste. It' s drinking great today. I own a few bottles and do not see any hurry to drink this wine.

5,222 Views

Tasted

Oct 6, 2012

Still young, this deeply colored, corpulent mouthful of dense, juicy, ripe fruit offers everything a great California wine needs. Massive amounts of intense, black fruit are found in every sip. The long, clean, pure finish is a delight to taste. Everything in this wine is in perfect balance.

3,343 Views

Tasted

Sep 25, 2009

1998
Shafer Cabernet Sauvignon Hillside Select (Stags Leap District)

Medium bodied, elegant in style, with good freshness, but lacking the level of depth, concentration and ripeness found in the best vintages. Still, this has nice character and is quite food friendly, mature and easy to drink today.

5,098 Views

Tasted

Jan 1, 2017

1997
Shafer Cabernet Sauvignon Hillside Select (Stags Leap District)

This has really settled down and morphed into a dynamic, complex and complete tasting experience. The wine is intense and concentrated, balanced and rich, with nuances on the palate that hold through from start to finish. At 20 years of age, this is probably fully mature, but should provide great drinking for at least another decade or longer.

5,937 Views

Tasted

Feb 9, 2017

Jammy blackberries, blue fruit, smoky cherries and coffee bean notes create the aromatics. The wine is concentrated, fleshy, ripe and packed with plush sweet fruits. This still seems youthful at close 19 years of age.

3,465 Views

Tasted

Sep 23, 2015

From 100% Cabernet Sauvignon, this could be the best non cult Cabernet made in America. With stunning levels of concentrated, sweet, ripe, jammy, polished fruit, velvet textures, chocolate, blueberry, smoke, vanilla, boysenberry, blackberry jam, truffle and cherry, this intense wine coats your mouth in flavor and intensity. The finish seems endless. What a treat! This is probably my favorite vintage of this stunning wine yet produced.

8,216 Views

Tasted

Nov 29, 2011

Intense aromatics, purity, depth of concentration and flavor coupled with perfect balance, ripeness, opulence and a long finsh that remained for over a minute makes this wine a stunning experience to taste.

4,388 Views

Tasted

Apr 21, 2008

1996
Shafer Cabernet Sauvignon Hillside Select (Stags Leap District)

Incense, smoke, licorice blackberry and plum aromas are all over the place. The wine is soft, polished and almost feels as if it's holding something in reserve. But I am not sure further aging is at the end of the day, going to reveal anything new. This is probably fully mature.

7,407 Views

Tasted

Dec 9, 2015

Produced from 100% Cabernet Sauvignon, this beautiful wine is filled with truffle, smoke, coffee, blackberry jam, black cherry, olives and cassis. Full boded and packed with juicy, ripe, sweet, dark berries, the wine ends with a long, powerful, intense sensation of blackberries and dark chocolate covered plums. This is drinking perfectly today. While it might not evolve much, there is no hurry to drink it.

5,200 Views

Tasted

Sep 7, 2011

1995
Shafer Cabernet Sauvignon Hillside Select (Stags Leap District)

Full bodied, rich, plush, fat and juicy, the wine is lush, round textured, concentrated, delicious and packed with fruit, plus it's ready to go!

3,562 Views

Tasted

Dec 9, 2015

Shafer Hillside Select deserves serious consideration as a candidate for the most consistent producer of high end, California Cabernet Sauvignon over the past two decades. The 1995 is right up there with its rich, licorice, black and blue fruit, chocolate personality, dusty tannins and rich black cherry and filled finish. While lacking the levels of concentration found in vintages like 1994, 1997, 2001 or 2002, this is still an outstanding vintage for Hillside Select.

6,163 Views

Tasted

Jun 1, 2012

1994
Shafer Cabernet Sauvignon Hillside Select (Stags Leap District)

Licorice, oak and chocolate coated black and blue fruit are found in spades in this concentrated, deep, long, intense wine. The finish goes on and on and on like a Stephen Bishop song. This is such a great style of wine, and while not cheap, for a Napa wine at this level of quality, it's worth the cost of the ticket.

4,690 Views

Tasted

Mar 4, 2014

Endless waves of complex fruit pour over your palate and please your senses. Still young, this has a great future

2,794 Views

Tasted

Feb 10, 2009

1978
Shafer Cabernet Sauvignon (Napa Valley)

Minerality, tobacco leaf, ash, blackberry, plum, smoke, caramel, earth, spice box and coffee notes created a complex bouquet. Rich, intense, concentrated and packed with layers of sweet, ripe, juicy fruit, this delicious wine ended with a finish of close to 50 seconds! I wish I owned a bottle of the majestic elixir. Rumor has it, part of the reason for the wines success was in picking extremely ripe fruit, by accident. The fruit was harvested later than the Shafer's wanted, because they had trouble finding enough pickers for their debut wine.

4,857 Views

Tasted

Dec 21, 2012