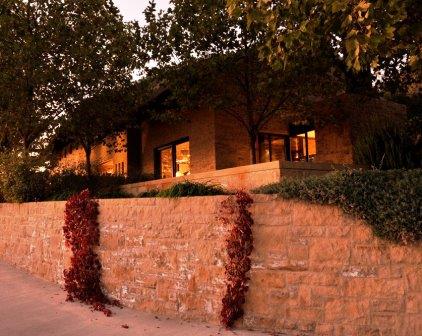 O'Shaugnessy Estate Napa Valley California Cabernet Sauvignon wine producer profile, wine tasting notes, wine and food pairing tips, best vintages, history of the property, information on their wine making techniques, terroir and soil. You can also read about the Grapes used for California wine and learn about the extensive History of Napa Valley, California Wines
O'Shaugnessy History, Overview
O'Shaugnessy Estate is a fairly young property in Napa Valley which got its start when its namesake, Betty O'Shaugnessy landed in Oakville and purchased a home that included a 27 acre parcel of vines in 1990. At first, those grapes were sold to other vintners. Betty O'Shaugnessy made her subsequent vineyard purchase on Howell Mountain in 1996, following that up with additional purchases on Mount Veeder. Betty O'Shaugnessy later met and married Paul Woolls, who is also active in managing O'Shaugnessy Estate. O'Shaugnessy Estate released their debut wine with the 2000 vintage.
O'Shaugnessy Estate Vineyards, Wines, Winemaking
O'Shaugnessy Estate produces wine from mostly Bordeaux grape varieties in vineyards, well placed on mountain sites in the Napa Valley. On Howell Mountain, much of their site was planted over a 5 year period between 1997 and 2002 where they now have 120 acres of land, of which 35 acres are planted to vines. That includes 12 acres of vines they were able to purchase in 2012. 29 acres are planted to Cabernet Sauvignon, and the remaining 6 acres of their Howell Mountain vineyard is planted to Cabernet Franc, Petit Verdot, Merlot, Malbec, Carmenere, St. Macaire and Gros Verdot. The vines on Howell Mountain at above the fog line at 1,800 feet. Here, you find terroir of rocks, stones, volcanic material and red clay.
On Mount Veeder they own 65 acres of land, with 17 acres planted to vines. This vineyard has been in use by O'Shaugnessy since 2002. The O'Shaugnessy Estate vineyard on Mount Veeder is planted to 100% Cabernet Sauvignon.
Their Woolls Ranch vineyard was purchased in 2006. While the vineyard is a massive 265 acre estate, only 32 acres are cultivated with vines, most of which is Cabernet Sauvignon. Woolls Ranch has been in production since 2012.
In addition, O'Shaugnessy Estate has 30 acres which are planted to white wine grape varieties, Chardonnay and Sauvignon Blanc in Oakville.
O'Shaugnessy Estate produces Cabernet Sauvignon from Howell Mountain, Mount Veeder and Napa Valley. In addition, they make Chardonnay from Oakville and Merlot from Howell Mountain and Sauvignon Blanc from Oakville. O'Shaugnessy Estate released Syrah in 2 previous vintages, most recently in 2010. The Syrah has been discontinued.
The wines of O'Shaugnessy Estate are vinified in stainless steel vats. Malolactic fermentation takes place in French oak barrels. The wines are then aged for an average of 18 months in 75% new, French oak barrels. There is also a small amount of wine, made from a special selection that is aged for 1 additional year in barrel, or even longer, depending on the vintage..
Serving and Decanting O'Shaugnessy Estate wines with Wine, Food, Pairing Tips
O'Shaugnessy Estate wines are best served at 15.5 degrees Celsius, 60 degrees Fahrenheit. The cool, almost cellar temperature gives the wine more freshness and lift. Young vintages can be decanted for 1-2 hours, depending on the character of the vintage. This allows the wine to soften and open its perfume. Older vintages need very little decanting, just enough to remove the sediment. O'Shaugnessy wines are best served with all types of classic meat dishes, veal, pork, beef, lamb, duck, game, roast chicken, ribs, hamburgers, barbecue, roasted, braised, grilled dishes and stews. O'Shaugnessy wines are is also good with Asian dishes, hearty fish courses like tuna, salmon, mushrooms and pasta.
The white wine of O'Shaugnessy is best served with all types of seafood and shellfish, sushi, sashimi, chicken, veal, pork and cheese.
O'Shaughnessy Wine Tasting Notes
8 Vintages 34,578 Views Sort by Vintage-Rating
2015
O'Shaughnessy Chardonnay (Oakville)

Bright, crisp fruits with a lemon peel, citrus, green apple character. Quite fresh in nature, the finish leaves you with strong, lemon notes.

2,532 Views

Tasted

Nov 25, 2017

2014
O'Shaughnessy Cabernet Sauvignon (Howell Mountain)

Dark in color, full bodied, powerful, concentrated wine with a dusty, earthy, black fruit, smoke, licorice nose. There is good fatness to the wine, finishing with juicy, blackberries, blue fruit and chocolate. This should rest for at least a few years, to soften the tannins and bring things further together.

5,137 Views

Tasted

Nov 25, 2017

2014
O'Shaughnessy Cabernet Sauvignon (Mt. Veeder)

Deeply colored, with a good blend of dark red and black fruit. Round, almost flashy in nature, with good concentration of raw material, the finish is all about the sweet, dark, ripe, red fruits.

3,279 Views

Tasted

Nov 25, 2017

2014
O'Shaughnessy Chardonnay (Oakville)

Light in color and fruit, the bright, citrus notes dominate the wine, which is softened by the addition of sweet vanilla beans.

3,572 Views

Tasted

Nov 23, 2016

2013
O'Shaughnessy Cabernet Sauvignon (Mt. Veeder)

Forward, with a great purity of fruit, wall of tannin, but ripe, and polished in textured, and waves of sweet, smoky, juicy, dark berries, licorice, smoke and vanilla bean. This is powerful, balanced and rich.

5,466 Views

Tasted

Nov 20, 2016

2013
O'Shaughnessy Cabernet Sauvignon (Howell Mountain)

Big, rich, powerful, full bodied and concentrated with seemingly equal amounts of ripe, juicy, black fruits and ripe tannins. Fresh, chewy, long and age worthy, the finish is loaded with blackberries, vanilla, earth and spice.

4,564 Views

Tasted

Nov 20, 2016

2010
O'Shaughnessy Cabernet Sauvignon (Mt. Veeder)

Powerful, concentrated, fresh, tannic and long, with a big bite of sweet, juicy blackberries and cassis. This should age quite well. The wine was made from 100% Cabernet Sauvignon planted on Mt. Veeder.

2,616 Views

Tasted

Oct 30, 2015

2007
O'Shaughnessy Cabernet Sauvignon (Howell Mountain)

With deep colors, the wine opens with ripe black and blue fruit, cassis, oak, chocolate and jammy scents. Rich, ripe and already drinking well, this lush style of wine ends with a liveyl boysenberry filled finish.

7,412 Views

Tasted

Aug 13, 2011