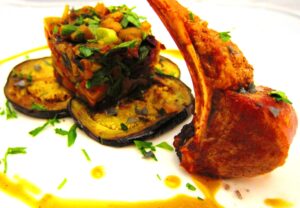 Lamb and Bordeaux wine, one of those perfect pairings; like Romeo and Juliette, Hansel and Gretel,  Anthony and Cleopatra, Sid and Nancy… On second thought, this dish had a much better result, and it's easy to make as well. 
Take a rack of lamb, bring it to room temperature, add salt and pepper.  Get a stick pan and make sure it's hot. Drizzle a little olive oil in the pan and sear the lamb on all 4 sides.  Place the pan with the lamb in a hot oven, set at about 350 degrees and finish the cooking. Allow the meat to rest 5 minutes or more before slicing.
Dice onions, red, yellow peppers, eggplant and garlic, gently cook it with olive oil, chopped Kalamata olives salt and pepper until the vegetables taste sweet. Add fresh herbs of your choice, plate and serve.
Any full bodied red wine will pair well with this dish. However, Bordeaux is a naturally perfect pairing.