Rene Rostaing Cote Rotie Rhone Valley Wines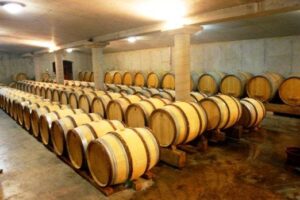 Rene Rostaing, Cote Rotie, Rhone wine producer profile with wine tasting notes, wine ratings, a history of the property, information on wine making and terroir, along with wine tasting reviews and images. If you want to read about other important wineries and wine makers from the Rhone valley: Links to all Rhone Valley Wine Producer Profiles
Rene Rostaing produced their first wine 1971. But it took almost 3 decades before wine became a full time occupation for Rene Rostaing The genesis of Domaine Rene Rostaing came about through marriage. The wife of Rostaing was the daughter of the famed Cote Rotie grower Albert Dervieux and the niece of Marius Gentaz-Dervieux who gave Christine land in this northern Rhone wine appellation.
Currently the property of Rene Rostaing covers 7.5 hectares that is spread out among 20 different plots.est holdings of Rene Rostaing are on La Landonne. His smallest vineyards are located on Cote Blonde. Rene Rostaing remains a traditional Cote Rotie producer who is not among the last to harvest. His wines see very little new oak, on average, about 10%.
Rene Rostaing produces three different Cote Rotie wines. Cuvee Classique, which is a blend of of 13 different sections of vineyards, but not including their holdings on La Landonne or Cote Blonde. About 1,750 cases are produced each year.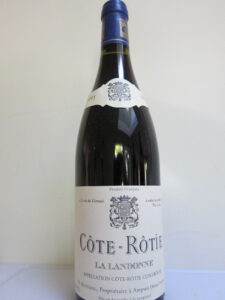 La Landonne comes from a terroir consisting of chistose sands with iron oxide. This wine is always produced from 100% Syrah. On average, Rene Rostaing produces less than 600 cases per year. This wine is like most wines from La Landonne, masculine and meaty in character, requiring at least a decade to develop.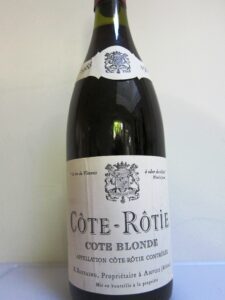 The best wine from Rene Rostaing is their Cote Blonde. It's produced from a blend of 95% Syrah and 5% Viognier. The vineyards are planted in terroir that people in the region call arzel. Arzel is a poor, mineral soil with deposits of silex and mica. This is the smallest of their wines. In fact, they only produce close to an average of 350 cases of this delicious, Cote Rotie in most vintages. Rene Rostaing Cote Blonde is an exotic, opulent wine with great character and charm. Over the past few years, this Cote Rotie has jumped in price, as more people have discovered it. But the wine is good enough to warrant its high price. It seems to drink best between 10 and 20 years of age.
Wine Tasting Notes
Displaying 11 vintages | 31524 Views Sorted by vintage
2007 Rene Rostaing Côte-Rôtie Côte Blonde

Normally, this is one of my favorite Cote Rotie wines. But based on two bottles from the same case, it's not on the top of my list in 2007. Barnyard, leather, earth, meat, strawberry and spice aromas led into a concentrated wine. The wine was fresh, but lacked the exciting ripe red berries and exotic textures so often found in this wine. This was not a bad wine, but it failed to show the domaine at its best.

89

points - Tasted

Mar 15, 2012

1288 Views

2003 Rene Rostaing Côte-Rôtie Côte Blonde

A beautiful, deep ruby red hue, with a perfume that reminds me of pure kirsch, licorice, bacon fat, and garrigue splashed over rocks and gravel. In the mouth, concentrated layers of pure, fresh, spicy black and red cherries, lush, sensuous textures and pure, ripe fruits. This is drinking great now! The wine improved in the glass for at least 2 hours. It might have continued getting better, but I could not stop tasting it. This flamboyant Rostaing Cote Blonde will only get better over the next decade or longer.

96

points - Tasted

Jun 14, 2012

1543 Views

1999 Rene Rostaing Côte-Rôtie Côte Blonde

Your nose is greeted by an explosive perfume filled with flowers, cherry liqueur, pepper, earth, smoke, stone and bacon fat aromas. Luscious waves of polished, opulent textured, ripe black cherries and kirsch are found in the long, pure, elegant finish. This is close to mature where it should remain for several years. From experience tasting older vintages, I'd drink this before the wine hits its 20th birthday.

97

points - Tasted

Dec 23, 2011

2451 Views

This spectacular wine opens with extremely ripe black cherries, garrigue, violets, earth, bacon fat, fresh cracked pepper, forest and provencial herbs and cherry tobacco. This powerful wine coats every nook and cranny of your mouth and paints your tongue with fleshy kirsch flavors. The texture is pure sex and elegance. The flawless, seamless, harmonious fresh, spicy, dark cherry and boysenberry filled finish remains for at least 60! This probably deserves a perfect score. I'm holding back a point for the moment. But I reserve the right to change my mind. Wines like this a unique tasting experiences that seldom come around. It's worth the money and effort to try a bottle.

99

points - Tasted

Aug 7, 2010

3067 Views

Even with decanting, the wine was tight. Still, with coaxing, it was not hard to find liqueur like scents of black fruit, spices, cassis, raspberry and black cherry jam. On the palate, it offers a very lush sensation. The bright, seamless finish lasts close to a minute.

98

points - Tasted

Mar 10, 2007

2776 Views

1998 Rene Rostaing Côte-Rôtie La Landonne

Jammy black fruits, pepper, plum, herbs, spice and black raspberry scents are found on the nose. This is a solid style of Cote Roite that while well made, is far from exciting. It lacks the depth, purity and complexity of the best years. It was nice, well made and there was no fault with the wine. But it is not going to ever deliver an exciting tasting experience

90

points - Tasted

Oct 23, 2011

1482 Views

1998 Rene Rostaing Côte-Rôtie Côte Blonde

This beautiful, sensuous Cote Rotie is packed with licorice, earth, sweet kirsch and floral aromas, exotic textures and a long, supple, fresh, red berry and spice finish. This is right in the sweet spot. If you cannot afford one of the Guigal La La's, this is the wine to buy.

96

points - Tasted

Dec 17, 2012

1087 Views

This stunning Cote Rotie is the real deal. Flowers, black cherry liqueur, truffle, licorice, earth, black raspberry, stone and an array of spices grabs your attention. With a texture of pure, exotic silk and velvet, this lush, opulent, sexy wine ends with a rich, concentrated wave of incredibly ripe, pure, molten black cherries. Close to mature, this sultry Rhone should deliver pleasure for at least another 10-15 years. But there is no reason to wait as it offers a stunning tasting experience today.

97

points - Tasted

Nov 21, 2011

1865 Views

Deeply colored, packed and stacked with multiple layers of rich, ripe, opulent, black Cote Rotie fruit coupled with red fruit accents, flowers and gobs of glycerin fully coat your palate. The mouthfeel is pure silk and satin. Wow! This is very sexy juice. Each sip holds your interest as the wine improves in the glass.

96

points - Tasted

Apr 5, 2008

2323 Views

1996 Rene Rostaing Côte-Rôtie Cuvée Classique

The nose smelled of manure, herbs and weeds with some unripe red fruit. The palate was full of tart, cherries. The best thing I can say about this wine was the finish was short enought that I didn't have to suffer through it for more than a few seconds. This was plonk. Avoid this wine.

75

points - Tasted

Feb 12, 2004

825 Views

1995 Rene Rostaing Côte-Rôtie La Landonne

Earthy, pepper, blackberry and dark cherry, with whiffs of VA make up the perfume. The full bodied wine is on the severe style side with a tart, kirsch and blackberry finish.

89

points - Tasted

Feb 4, 2011

1848 Views

The nose offered black fruit, pepper, cherry and cassis. Very tannic and tight. The bright toned finish had ample spicy dark red fruit. This needs time.

91

points - Tasted

Sep 21, 2002

2043 Views

1995 Rene Rostaing Côte-Rôtie Côte Blonde

Floral, peach, blackberry, spice, black raspberry and spice aromatics waft from the glass. This elegant, sweet, soft, supple and exotic textured wine, ends with a sexy, spicy, earth and red fruit filled finish. This is fully mature and will probably not improve.

94

points - Tasted

Feb 5, 2011

1456 Views

This wine opened with kirsch, black raspberry, spice, floral and garrigue scents. Silky in texture, this high toned, slightly acidic, bright wine ended with fresh black cherry, cranberry and rhubarb flavors.

92

points - Tasted

Aug 17, 2010

1574 Views

Fresh herbs, black cherry, cola and coffee notes are a delight. Toss in the silky, opulent mouth feel and you have a recipe for a sublime Cote Rotie.

95

points - Tasted

Jul 12, 2005

1391 Views

1991 Rene Rostaing Côte-Rôtie La Landonne

Bacon fat, pepper, black cherry liqueur, earth, forest floor, iron, garrigue and floral scents capture your attention. Full bodied with a good concentration of flavor, frehsness, purity and intesnity of ripe fruit. This delicious Cote Rotie is drinking perfectly today.

94

points - Tasted

Oct 12, 2011

1261 Views

Black fruit, anise, dark cherry and pepper aromatics. Lighter than the Guigal, less tannic and more open. Soft textures, elegant and balanced, this charming wine delivers a lot of pleasure.

92

points - Tasted

Nov 14, 2004

1303 Views

1991 Rene Rostaing Côte-Rôtie Côte Blonde

Silky, opulent layers of decadent, ripe red and black fruits with a healthy dose of plums and kirsch please the palate. The nose enjoys a unique blend or floral, spice and fruit components.

95

points - Tasted

May 3, 2005

1326 Views

1985 Rene Rostaing Côte-Rôtie La Landonne

Spicy, black fruit, spice, truffle, wild strawberry and earth make for a beautiful perfume. This very concentrated wine was the finest Rostaing La Landonne I've ever tasted.

95

points - Tasted

Sep 5, 2005

615 Views