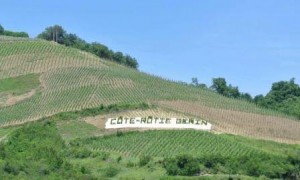 Jean Michel Gerin, Cote Rotie, Rhone wine producer profile with wine tasting notes, wine ratings, a history of the property, information on wine making and terroir, along with wine tasting reviews and images. If you want to read about other important wineries and wine makers from the Rhone valley: Links to all Rhone Valley Wine Producer Profiles
Jean-Michel Gerin produces several Cote Rotie wines. Champin Le Seigneur, Les Grandes Places, La Landonne and a Condrieu.  They also own a property in Cote du Rhone. The Gerin family has been producing Cote Rotie wine for 5 generations. The northern Rhone wine estate was officially formed in 1983, when the family made their first vineyard purchase. Although their current success really took off in 1990, when Jean Michel Gerin began managing the property. Currently, Jean Michel Gerin has close to 7 hectares of vines in Cote Rotie.
Jean Michel Gerin embraces modern styles of Cote Rotie.  He ages his wines with a lot of new French and American oak. Jean Michel Gerin also owns vineyards in Priorat in Spain.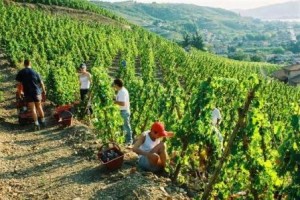 Gerin Champin Le Seigneur is produced from a bend of 90% Syrah and 10% Viognier in most vintages. The wine comes from a mix of vines ranging from 10-50 years of age.  Champin Le Seigneur is aged in 50% new oak for up to 18 months. Interestingly, this wine is aged in close to 20% American oak. On average, 10% Vioginer is included in the blend. Production is close to 2,500 cases per vintage. Domaine Gerin also produces a Condrieu.
Jean Michel Gerin Les Grandes Places is produced from a small 1.4 hectare parcel of old vines.The wine is aged in 100% new oak for up to 24 months. The first vintage was 1988.  Production averages 400 cases per year. This is the top wine from Gerin. It's a rich, sensuous, stylish Cote Rotie. But not much is made, making it hard to find, and expensive.
Jean Michel Gerin La Landonne comes from 100% Syrah. This wine is produced from a tiny 0.4 hectare parcel of vines which are relatively young at close to 20 years of age. The wine resides in 100% new oak for about 18 months.  The debut vintage for La Landonne was 2006. On average, slightly more than 150 cases are produced every year.
The wines of Jean Michel Gerin are round, opulent, ripe and generously textured.  They display some oak, along with ripe black and red fruit, pepper, spice and minerality. They have the ability to age well.
Wine Tasting Notes
Displaying 7 vintages | 10323 Views Sorted by vintage
2003 Jean-Michel Gerin Côte-Rôtie Les Grandes Places

Floral, licorice, bacon fat, black cherry liqueur, truffle, stone and pepper aromas caught your attention. Sexy, supple, suave and lush in texture, this low acid, opulent wine is an exotic pleasure machine. It's hard to find, but it's worth the effort to seek out a few bottles. It's not mature. but it's drinking great. If you have more than a few bottles, it's worth popping one at this stage to enjoy its exotic pleasures.

94

points - Tasted

Nov 27, 2011

1061 Views

2003 Jean-Michel Gerin Côte-Rôtie La Landonne

Now that the 2003 Cote Rotie vintage has a few years on it, the wines have really started to come around. Most are forward, fleshy, rich and offer decadent textures. The 2003 Gerin La Landonne is no exception. With a nose filled with bacon fat, flowers, cherries, black raspberries, earth, spice, smoke and charcoal, this is a voluptuous wine. Rich in texture, the wine feels great as it slides from the glass. It's only now starting to open. A few more years will add additional complexity to the wine.

95

points - Tasted

Nov 30, 2011

926 Views

1999 Jean-Michel Gerin Côte-Rôtie La Landonne

Licorice, cherry liqueur, truffle, cocoa, spice, earth, kirsch and herbs create the complex aromatics. Sweet, lush, full bodied and loaded with minerals and fresh strawberries, this can be enjoyed now, or for the next 15-20 years.

95

points - Tasted

May 17, 2012

896 Views

This is a perfect reminder of what makes Cote Rotie so great. When you cannot afford Guigal, and you want to enjoy a bottle of La Landonne, this is the perfect choice. Bacon fat, pepper, flowers, black cherry, licorice, truffle, earth, black raspberryand kirsch make up the complex perfume. This elegant, stylish, silky, rich, supple, round wine delivers a wonderful expression of Syrah. With 20 minutes of decanting, the wine popped in the mouth and the nose and continued improving for the next two hours. It's hard to find, but worth the search.

95

points - Tasted

Nov 19, 2011

949 Views

This wine opens with jammy blackberry, slate, bacon fat, pepper. mesquite, garrigue and floral aromatics. Massive, bold, masculine and powerful, this concentrated wine is acidic in the mouth. The wine ends in a long garrige filled finish. Still young, this Cote Rotie will improve with another 3-5 years.

93

points - Tasted

Aug 7, 2010

768 Views

1999 Jean-Michel Gerin Côte-Rôtie Les Grandes Places

Licorice, flowers, cherry liqueur, strawberry, wet earth, pepper, herbs and bacon fat scents get you on your way to a sensuous, exotic, fresh wine, filled with a sweet kirsch, blackberry, liqueur filled finish. The wine has nice lift, length and complexity, plus it's drinking in the sweet spot. Popped and poured, the wine began to fade about 2 1/2 hours after opening. It's close to peak and while there is no rush to pop a cork, it's not going to get much better, Sadly, it's almost impossible to find with a production that is close to 150 case for the world.

95

points - Tasted

Jan 5, 2013

763 Views

Intoxicating scents of licorice, flowers, earth, plums, smoke, cherries, pepper and stone are present the moment the cork is popped. Sweet, ripe, refined, elegant and sensuous, this fresh wine ends with rich, layers of exquisite, polished, pure, black cherries and spice. This is drinking perfectly today and should improve over the next several years. If you're a Cote Rotie fan, while hard to find, it's the effort to locate a few bottles.

95

points - Tasted

Oct 22, 2011

1099 Views

99 Gerin Les Grandes Places Cote Rotie pops form the glass with aromatics of bacon fat, kirsch, wild strawberries, back raspberry, cinnamon, black cherry and white pepper. Rich, sexy, plush, round, elegant textures coat your mouth. The feeling of fresh ripe fruit with an essence of purity, coupled with black cherries, kirsch and a hint of licorice lasts for close to 40 seconds. This wine is produced in very small quantities. But it's worth seeking out as it offers a compelling expression of Cote Rotie.

96

points - Tasted

Sep 26, 2010

1377 Views

1998 Jean-Michel Gerin Côte-Rôtie La Landonne

Packed with meaty, red and black fruits, spice and a cool sappy quality, this elegantly styled wine finshed with long clean flavors.

93

points - Tasted

Jul 1, 2008

981 Views

1998 Jean-Michel Gerin Côte-Rôtie Les Grandes Places

Black fruits, spicy oak and floral aromas accompany the plumy, black cherry, kirsch accented velvety finish.

92

points - Tasted

May 12, 2005

989 Views

1996 Jean-Michel Gerin Côte-Rôtie La Landonne

A positive surprise for the vintage. Blackberry, oak, fresh pepper, herbs and spearmint on the nose. Fully mature, this wine ends with black cherry and kirsch flavors.

90

points - Tasted

May 26, 2010

514 Views