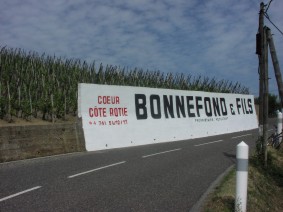 .
Bonnenfond, Cote Rotie, Rhone wine producer profile with wine tasting notes, wine ratings, a history of the property, information on wine making and terroir, along with wine tasting reviews and images. If you want to read about other important wineries and wine makers from the Rhone valley, Links to all Rhone Valley Wine Producer Profiles
Bonnenfond is a family owned Cote Rotie vineyard, managed by two brothers, Patrick and Christophe Bonnenfond. The small Rhone Valley estate produces three separate Cote Rotie wines sold as Cote Rotie, Cote Rozier and Les Rochains. They also produce a Condrieu, a white Rhone wine at Bonnenfond.
The Bonnenfond domaine has increased in size since it was founded in 1955. At that time, they started with only one hectare of vines. Today, the northern Rhone estate has grown to 5.5 hectares. Bonnenfond harvests late, to obtain maximum ripeness. The entire crop is destemmed. In some vintages, the brothers use as much as 90% new oak, giving the wine a modern style. The wine displays rich textures, good freshness and lush textures, Of the three wines, Les Rochains is the finest. Cote Rotie is always expensive, due to its high quality and low production. However, Bonnenfond remains well priced for a wine at this level.
Les Rochains remains my favorite Cote Rotie wine from Patrick and Christophe Bonnenfond.
Wine Tasting Notes
Displaying 3 vintages | 6709 Views Sorted by vintage
2007 Patrick & Christophe Bonnefond Côte-Rôtie Les Rochains

It's nice when a high quality Cote Rotie can be found at a fair price. It doesn't happen much these days. 2007 Bonnenfond Rochains delivers the goods with its round, silky textures and fresh black raspberry, fennel, plum, mineral and bacon fat filled nose.

93

points - Tasted

Jun 7, 2012

1294 Views

2003 Patrick & Christophe Bonnefond Côte-Rôtie Les Rochains

Deeply colored with licorice, smoke, coffee bean, blackberry, incense, earthy, blueberry and spice. Modern style of Cote Rotie, with very ripe berries, spice and coffee bean in the finish. This was more interesting a few years ago. It is a bit too oaky for me at this stage of the game.

90

points - Tasted

Jul 5, 2012

977 Views

With scents of roasted black cherry, bacon fat, caramel, herbs, smoke and sap, this full bodied, opulently textured wine finishes with sweet, black raspberry and fresh cut Provencal herbs. This wine is ready to drink

92

points - Tasted

Jul 16, 2010

1127 Views

1999 Patrick & Christophe Bonnefond Côte-Rôtie Les Rochains

Flowers. cherries, smoke, kirsch, cherry girotte, stone and bacon fat aromas permeate the perfume. Rich, lush and luscious in texture, this sublime Cote Rotie is a stunner, ending with a long, fresh, pure, opulent, ostentatious licorice, spice and cherry liqueur finish. Drink this over the next decade and enjoy the fireworks.

94

points - Tasted

Dec 16, 2011

1084 Views

Aromas of red, black and blue fruit simmered in bacon fat with dashes of earth, vanilla and flowers. Plush and sexy on the palate. Liqueur of molten, kirsch and raspberry licorice coat your mouth for :40 of divine pleasure. Tannin and acidity keep it fresh. Sill young, but developing nicely.

93

points - Tasted

Oct 5, 2005

1067 Views

Deeply colored. The very dense texture with perfume of black fruits, herbs and a floral component was intense. Give it another 5 years as it's still bright and primary.

92

points - Tasted

Jul 11, 2003

1160 Views