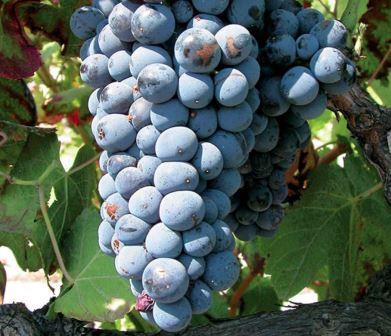 Muscardin is a grape used primarily in the Southern Rhone area as a blending grape. Scholars believe the berry is clone of the Mondeuse grape from the Savoie appellation in France.
Today, not much of this variety is planted in Chateauneuf du Pape. In part, while Muscardin offers nice, fragrant scents of flowers. The fruit is best as a blending grape. The reason is, the dark skinned berry lacks the depth of flavor and color to be used on its own. It is also prone to oxidation.
Muscardin is mostly used in the Southern Rhone Valley. At one point in time, Chateau La Nerthe had moderate amounts of the grape planted in their soils. Domaine Chante Perdrix has close to 10% of their vineyards devoted to Muscardin. Chateau La Gardine, another well-known Chateauneuf du Pape producer uses close to 5% of the grape in their blend.
While the grape is one of the 13 allowed red wine grapes in Chateauneuf du Pape, very little is planted in the Southern Rhone. At this point in time, out of close to 3,200 hectares of vines in the region, less than 11 hectares are planted to Muscardin in the Chateauneuf du Pape appellation today. Muscardin is more popular in the Gigondas appellation these days.
As a wine and food pairing, wines with Muscardin would work best with light meat, chicken, sausage or pork courses.