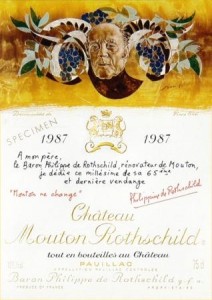 1987 Bordeaux Wine Vintage Summary with harvest information, vintage characteristics, buying tips and links. If you are seeking more in-depth information on anything and everything related to the Bordeaux wine region please see the: All About Bordeaux Wine Guide
1987 Bordeaux wine could have been good, had it not rained for two solid weeks starting in early October.  The rain followed a good, hot, dry, August and September. In fact, those two months were the hottest and driest months recorded since 1967! But those few months of beautiful weather did not matter in the long run, as the torrential rains completely diluted the grapes and stopped them from ripening. Starting October 1, the harvest took place under cold, wet weather, which only added insult to injury to the grapes that what would soon become 1987 Bordeaux wine.
1987 Bordeaux wine are for the most part, thin, dilute, unripe and were over the hill by the time they hit between 10 and 15 years of age. There is no reason to hold or buy them.  If you need a birth year or anniversary wine, 1987 is very strong for California Cabernet Sauvignon wines. However, one collectible 1987 Bordeaux wine was produced. 1987 Chateau Mouton Rothschild was the last vintage made by the Baron. The label includes a nice dedication from his daughter, the Baroness Philippine Rothschild. 1987 was not a good vintage for the sweet, white Bordeaux wine of Sauternes. The grapes did not develop ample noble rot.
If you are seeking a wine to celebrate a birth-year or anniversary, 1987 is a strong vintage for California Cabernet Sauvignon from the Napa Valley. The wines require good provenance, but they can offer very high quality, tasting experiences.
To read about other Bordeaux vintages from 1945 to today: Bordeaux Year to Year Detailed Vintage Reports & Guide 1945 to Today