1996 Château Haut-Brion Pessac-Léognan Bordeaux France Wine Tasting Note
47071 Views
1996
Château Haut-Brion (Pessac-Léognan)

Think of black currants, cigar wrappers, and cigar smoke coming on strong, and you get the idea. Medium-bodied, and elegant, this is a wine of finesse over power, with a finish that mirrors the nose, with its tobacco-stained, currant profile with a sprig of spearmint that comes in at the backend of the mildly chewy endnote. 2 hours in the decanter was exactly what the doctor ordered. Drink from 2023-2045.

147 Views

Tasted

Sep 10, 2023

Elegant, refined, smoky, tobacco and campfire ember packed medium-bodied wine which provides the perfect backdrop for all the sweet, fresh, spicy red berries, tobacco leaf, and cigar wrapper. Soft, silky, and ready to go, this does not require much if any air.

4,642 Views

Tasted

Oct 18, 2021

A beautiful vintage for Haut-Brion that continues getting better with age. The aromatics shine due to all the smoke, burning ember, dark red berry, crushed stone and tobacco wrapper notes. The full-bodied, concentrated, richly textured palate steals the show. Lush, refined, concentrated, deep and long, the fruit simply cascades across your palate. The stunner is showing great today with an hour of air. But if you can wait just another 3-5 years, it is going to be even better!

4,657 Views

Tasted

Dec 22, 2020

This is a very good wine, and a superb Haut Brion that continues stubbornly hanging on to its youth. After 90 minutes in the decanter, the tannins subsided and the wine popped with its tar, tobacco, smoke and dark red berry nose. Full-bodied, concentrated, regal and with some tannin needing to be resolved, give this until 2025 and you will have a fabulous drinking experience in your glass.

4,700 Views

Tasted

Jul 17, 2019

This particular bottle was the best example of this wine I have ever tasted! Double decanted about 4 hours or more, this really grabbed me in all the right ways, and in all the best places. Picture a dark chocolate covered cigar, with smoked cherries, tar, leather and cigar box aromatics. Full bodied, concentrated, long and fresh with this beautiful, sweetness and purity of cherry fruits and cassis. The texture was silky, lush and with a bit of tannic bite, paired with crunchy, berries in the long finish. This felt as good as it tasted. It is worth popping a cork now, if you have a bottle and if you wait, this will be even better with another 5-10 years in the bottle.

5,862 Views

Tasted

Dec 3, 2016

Better on the nose than the palate at the moment, but that could change with more time. The smokey, tobacco, wet earth, cigar box and sweet red cherries in the perfume really grabs you. The wine lacks the concentration found in the top years, but the tannins are ripe, the fruits are fresh, refined, elegant and long, leaving with sensations of cassis, blackberries and Cuban cigars in the finish. This is still quite young and should be even better with another 5 years or so in the bottle.

6,238 Views

Tasted

Aug 22, 2015

A beautiful, classic vintage of Haut Brion here. Still young, with some air, truffle, smoke, cassis, blackberry and chocolate aromas emerge. The wine is full bodied, rich, soft and supple. This is quite nice now and with 5-10 more years, if you can keep your hands off it, it's only going to get better. This is one of the better values for high quality Haut Brion in the marketplace today.

6,884 Views

Tasted

Dec 17, 2013

1996 Haut Brion is filled with smoke, tobacco, cigar box, ash, kirsch, blackberry and licorice aromatics. This is a big, chewy, masculine style of Haut Brion. Tannic and tight, this needs time to develop and flesh out. Another 10 years will allow this to mature into something special. 95 Pts

13,941 Views

Tasted

Dec 20, 2011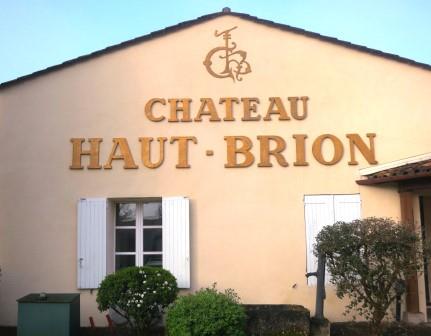 When to Drink Chateau Haut Brion, Anticipated Maturity, Decanting Time
Chateau Haut Brion needs several years, and in the best vintages up to 2 decades time before the wine displays its true character. Haut Brion needs at least 12-20 years of aging, or longer, in good vintages until it is ready to be enjoyed. Young vintages can be decanted for 2-4 hours or more.
This allows the wine to soften and open its perfume. Older vintages might need very little decanting, just enough to remove the sediment. Chateau Haut Brion offers its best drinking and should reach peak maturity between 15-50 years of age after the vintage.
Serving Chateau Haut Brion with Wine, Food, Pairing Tips
Chateau Haut Brion is best served at 15.5 degrees Celsius, 60 degrees Fahrenheit. The cool, almost cellar temperature gives the wine more freshness and lift.
Chateau Haut Brion is best served with all types of classic meat dishes, veal, pork, beef, lamb, duck, game, roast chicken, roasted, braised, and grilled dishes. Chateau Haut Brion is also good with Asian dishes, hearty fish courses like tuna, salmon, mushrooms, and pasta.
The white wine of Chateau Haut Brion is best served with a myriad of different seafood dishes, shellfish, crab, lobster, sushi, sashimi, chicken, pork and veal, as well as Asian cuisine.