1991 M. Chapoutier Ermitage Le Pavillon Hermitage Rhône France Wine Tasting Note
35330 Views
1991
M. Chapoutier Ermitage Le Pavillon (Hermitage)

Surprisingly youthful, intense, full-bodied, and loaded with multiple layers of peppery, spicy red and black fruits, smoke, and pungent herbs. The wine lingers with its rich levels of concentrated red fruits and cracked pepper in the finish. Drink from 2023-2034.

34 Views

Tasted

Sep 12, 2023

This is really coming on strong now. The fruit is loaded with rocks, stones, spice, earth and herbs. Full-bodied, concentrated and deep, with power, tannins and length, 90 minutes in the decanter added all the right stuff.

2,904 Views

Tasted

Nov 12, 2018

A touch of oak, smoke, dark fruits, tobacco, wet soil, and coffee on the nose. Powerful, big, full bodied, rich and deep, the wine still shows just a hint of oak in the incredibly long, mouth filling finish. Believe it or not, I think it needs more time to develop to its full potential. This is really such a super wine.

5,346 Views

Tasted

Jan 12, 2017

Stunning in every sense of the word with its intense display of sweet black cherry liqueur, crushed rocked, licorice, smoke and black raspberry jam. The was coats your palate, teeth and gums with flavor that does not quit. Double decanted about 4 hours in advance, the wine is the real deal. Still youthful, this promises to be even better in the years to come.

5,898 Views

Tasted

Jul 29, 2015

Regardless of how many times I taste this wine, I'm never bored. The licorice, smoke, vanilla, kirsch, pepper, wild strawberry, herbs and wet earth capture your attention. Thick, rich and intense, at close to 22 years of age, it's still young. I would not be surprised to see this sublime wine age for decades.

4,770 Views

Tasted

Dec 20, 2012

1991 Chapoutier Pavillon retains is deep, dark color. Coffee, smoke, crushed stone, licorice, blackberry jam, pepper, spice, truffle, earth and tobacco notes explode from the glass the moment the bottle is opened and poured. Powerful, rich, intense and concentrated, everything is in balance and harmony. The wine ends with a long, pure, seamless finish filled with truffle coated, molten, cherry liqueu that remained on your palate for over one full minute!

5,498 Views

Tasted

Oct 7, 2011

1991 Chapoutier Pavillon is filled with fresh ground black pepper, blackberry, cherry, crushed stone and spice aromas. Intense, dense, fat, round and mouth filling, the wine ends with a long sensation of fresh blackberry, sweet and sour dark cherry and spice flavors.

4,760 Views

Tasted

Dec 8, 2010

Once poured, the aromatic fireworks kicks off with intense scents of ripe black fruits, minerals and spice. On the palate, this elixir of Hermitage coats every nook and cranny of your mouth with waves of deep, ripe, powerful black fruit. This has incredible concentration. But, everything is in perfect balance. The texture is plush, fat, rich and opulent. The finish lasts close to :60! Still youthful, this magical wine should continue to improve offering hedonistic thrills for another 20 years or more. This wine is an E ticket ride!

6,120 Views

Tasted

Apr 5, 2008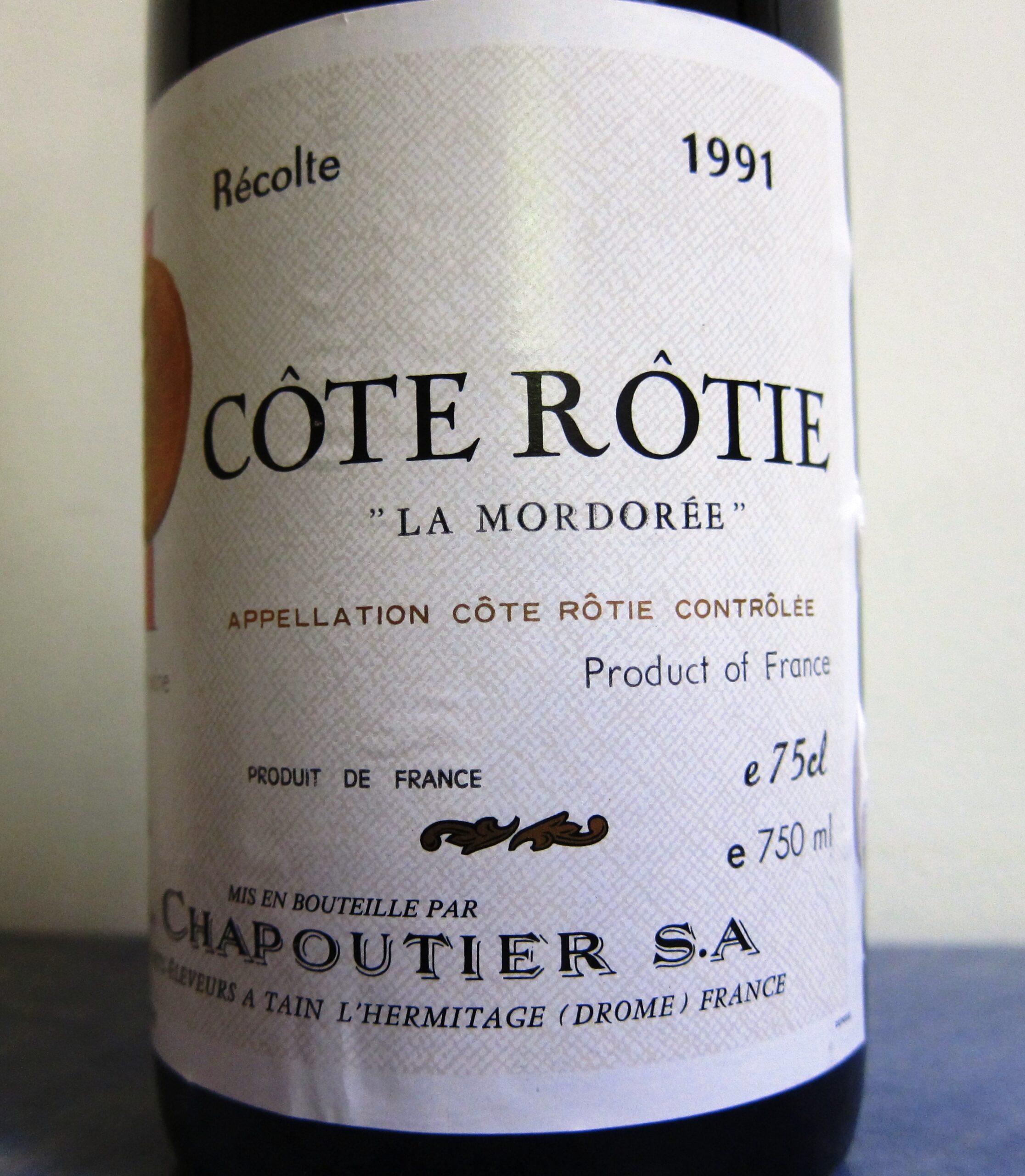 When to Drink Chapoutier Cote Rotie, Anticipated Maturity, Decanting Time
Chapoutier Cote Rotie, when young, should be decanted at least 1-3 hours, give or take, allowing the wines to soften and open their perfume. Older vintages might need very little decanting, just enough to remove the sediment.
Chapoutier Cote Rotie is usually better with 5-12 years of cellaring and should be at its best between 10-20 years of age.
Serving Chapoutier Cote Rotie with Wine, Food, Pairing Tips
Chapoutier Cote Rotie is best served at 15.5 degrees Celsius, 60 degrees Fahrenheit. The cool, almost cellar temperature gives the wine more freshness and lift.
Chapoutier Cote Rotie is best served with all types of classic meat dishes, veal, pork, beef, lamb, duck, game, roast chicken, roasted, braised and grilled dishes. Chapoutier Cote Rotie is also good with Asian dishes, hearty fish courses like tuna, mushrooms and pasta.
Condrieu, the white wine of Chapoutier is best served with a myriad of different seafood dishes, shellfish, crab, lobster, sushi, sashimi, chicken, pork and veal, as well as Asian cuisine.