1990 E. Guigal Côte-Rôtie La Landonne Côte-Rôtie Rhône France Wine Tasting Note
9635 Views
1990
E. Guigal La Landonne (Côte-Rôtie)

Really singing at the top of its game with a smoky, aromatic profile made even better by its nuances of barbecue, smoked meat. licorice, spearmint, cherries, and plums, Grace, and power are at work here on the palate and in the dark red berry and spice-filled finish. Drink from 2023-2040.

38 Views

Tasted

Sep 12, 2023

Holy Moly! This thrilling wine has it all. While there is some tannin to resolve, and you get the feeling there is still something held in reserve, what you do find is off the charts! Intense, dense, powerful, regal, fresh, balanced and lively, the smoky essence, crushed rock, sweet plum, cherry, thyme, and pepper is more than ample to keep you busy. But the wealth of fruit, power and opulence on the palate is the real magic! The 60 second finish awards you time to enjoy the layers of pure, dark red fruits, cocoa, kirsch, pepper and spice.

3,726 Views

Tasted

Feb 22, 2020

With each bottle of aged Guigal La Landonne, I become more and more impressed. I am not sure if this is attributed to the effects of additional age on the bottle, or on me, but my appreciation for this stunning wine grows every year. And why not? The levels of depth of flavor, raw material and concentration, complexity, balance, harmony, hedonistic tendencies and ageless quality are not found in any other wine. Still young, you can enjoy this now, or over the next 20 to 30 years, or maybe even longer!

5,871 Views

Tasted

Nov 24, 2013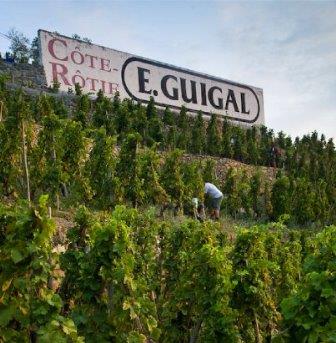 When to Drink Guigal Cote Rotie, Anticipated Maturity, Decanting Time
Some Guigal Cote Rotie can be enjoyed on the young side. The Brune & Blondeshould be decanted at least 1 hour or more, Guigal Ampuis 1-3 hours and the Guigal La La's can be decanted 3-4 hours when young, allowing the wines to soften and open their perfume. Older vintages might need very little decanting, just enough to remove the sediment.
Guigal Cote Rotie is usually better with 3-5 years of cellaring for the Brune & Blonde, 5-10 years of cellaring for the Guigal Ampuis, and the top 3 wines, the La La's need at least 12-15 years of cellaring. At their best, the top Cote Rotie from Guigal can evolve for 25-45 years of age, depending on the wine and the vintage.
Serving Guigal Cote Rotie with Wine, Food, Pairing Tips
Guigal is best served at 15.5 degrees Celsius, 60 degrees Fahrenheit. The cool, almost cellar temperature gives the wine more freshness and lift.
Guigal is best paired with all types of classic meat dishes, veal, pork, beef, lamb, duck, game, roast chicken, roasted braised, barbecue, and grilled dishes. Heavy dishes like Chinese or Asian dishes, hearty fish courses like tuna, salmon, mushrooms, sausage, cassoulet, tomatoes, eggplant, and pasta are perfect for Guigal Cote Rotie wines.
Condrieu, the white wine from Guigal is just right for a myriad of fish, shellfish, seafood, and raw courses like sashimi and sushi, as well as cheese.
Yes, I know the Guigal La La wines are tremendously expensive. But they offer some of the best wine-tasting experiences from any vineyard in any country! They are also in contention to win an award as the most consistently outstanding wine in the world.
In the vast majority of vintages, these wines are truly stunning. Next, consider that they are produced in incredibly small amounts, ranging from 400 to 800 cases for the entire world. Fans of these wines are lucky, as the extraordinary high quality, character, and tiny production have not really caught on with most consumers.
Frankly, these wines sell for prices that are cheap for all they offer. If you're ever going to buy expensive wine, to see what all the fuss is about, these are the wines to buy!