1988 E. Guigal Côte-Rôtie La Landonne Côte-Rôtie Rhône France Wine Tasting Note
33482 Views
1988
E.
Guigal
La Landonne (Côte-Rôtie)
Powerful, concentrated, deep, and firm, the wine offers its smoky, charcoal, licorice, and dark red fruits with some coaxing. The masculine finish is packed with layers of dark, red berries, black pepper, salt, and dried herbs that linger. Drink from 2023-2045.
1,199 Views
Tasted

Sep 25, 2023
Still youthful, vigorous and fresh, this is almost off the charts! The wine offers power, concentration, complexity, length and most importantly, a singular character. The dark, red and spicy black fruits are energetic, peppery, pure and smoky. The wine fills your palate, and yet, there is a lightness to the fruit along with purity and richness that makes you go back for sip after sip. The wine should continue at this high level for at least 2-3 more decades if well-stored.
3,989 Views
Tasted

Nov 20, 2019
This stunner delivers intensity of flavor, layers of ripe, sweet, pure, mineral driven, earthy, spicy, concentrated, fresh fruits and a finish that does not quit.
3,855 Views
Tasted

Jan 2, 2015
Compelling from the get go with its licorice, crushed stone, iron, black cherry and smoky perfume. Big, potent, tannic, fresh and young, the demanded your attention and focus as that is what it took to take in all its complexities.
5,686 Views
Tasted

Aug 18, 2014
Time and time again it's proven, after 20 years, there is no such thing as a great wine, just a great bottle. For some wines, it's not such a big deal. But when it's 1988 Guigal La Landonne, that hurts. Beefy, powerful, intense, peppery, blackberry, earth, cherry and stone aromas led the way. But the wine fell flat in the mouth and finish. Having had better bottles of this stunning Cote Rotie in the past, this specific bottle was not correct and should not be seen as an indicator of where this is at today.
5,583 Views
Tasted

Sep 30, 2011
The levels of concentration and depth in this wine were off the charts. The black fruit, herb, truffle and spice infused perfume were amazing. But, the explosion took place when the wine hit your mouth! The seamless finish seemed to last close to ninety seconds. Wave after wave of the most decadent ripe fruit I've ever tasted graced my palate. This was the best tasting bottle of 88 La Landonne I've experienced. Still young, this will evolve and improve for 15-20 or more years.
8,874 Views
Tasted

Mar 10, 2007
Black and blue fruit plus, layers of smoke, cherries, cassis, licorice and earth state this is a very serious wine. Extremely concentrated and dense with so much going on in your mouth that you stunned. A flawless wine! At least another 2 decades of life remaining
4,296 Views
Tasted

Feb 14, 2005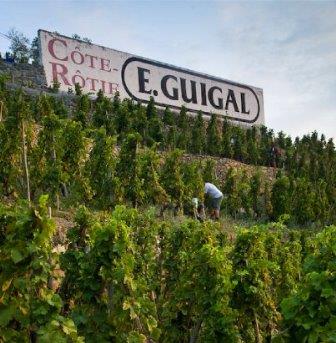 When to Drink Guigal Cote Rotie, Anticipated Maturity, Decanting Time
Some Guigal Cote Rotie can be enjoyed on the young side. The Brune & Blondeshould be decanted at least 1 hour or more, Guigal Ampuis 1-3 hours and the Guigal La La's can be decanted 3-4 hours when young, allowing the wines to soften and open their perfume. Older vintages might need very little decanting, just enough to remove the sediment.
Guigal Cote Rotie is usually better with 3-5 years of cellaring for the Brune & Blonde, 5-10 years of cellaring for the Guigal Ampuis, and the top 3 wines, the La La's need at least 12-15 years of cellaring. At their best, the top Cote Rotie from Guigal can evolve for 25-45 years of age, depending on the wine and the vintage.
Serving Guigal Cote Rotie with Wine, Food, Pairing Tips
Guigal is best served at 15.5 degrees Celsius, 60 degrees Fahrenheit. The cool, almost cellar temperature gives the wine more freshness and lift.
Guigal is best paired with all types of classic meat dishes, veal, pork, beef, lamb, duck, game, roast chicken, roasted braised, barbecue, and grilled dishes. Heavy dishes like Chinese or Asian dishes, hearty fish courses like tuna, salmon, mushrooms, sausage, cassoulet, tomatoes, eggplant, and pasta are perfect for Guigal Cote Rotie wines.
Condrieu, the white wine from Guigal is just right for a myriad of fish, shellfish, seafood, and raw courses like sashimi and sushi, as well as cheese.
Yes, I know the Guigal La La wines are tremendously expensive. But they offer some of the best wine-tasting experiences from any vineyard in any country! They are also in contention to win an award as the most consistently outstanding wine in the world.
In the vast majority of vintages, these wines are truly stunning. Next, consider that they are produced in incredibly small amounts, ranging from 400 to 800 cases for the entire world. Fans of these wines are lucky, as the extraordinary high quality, character, and tiny production have not really caught on with most consumers.
Frankly, these wines sell for prices that are cheap for all they offer. If you're ever going to buy expensive wine, to see what all the fuss is about, these are the wines to buy!