1983 Château Margaux Margaux Bordeaux France Wine Tasting Note
114471 Views
Chateau Margaux is the wine of the vintage. The perfume, with is essence of dried and fresh flowers, cherries, plums, currants, earth, forest leaves and tobacco wrapper is backed up by the wines intensity, purity, length and silky, sensuous textures. No decanting needed. Pop, pour and enjoy this stunner for several more years. Drink from 2023-2040.
2,538 Views
Tasted

Oct 2, 2023
Drinking at peak, once again, I am having a hard time picking a favorite between the 82 and the 83. But today, both are great. So here, you find a violet-infused, cherry, plum, tobacco leaf and cigar wrapper core. Full-bodied, rich, supple, fresh and elegant, the earthy, red-toned finish is long, refined and supple.
4,404 Views
Tasted

Apr 5, 2022
The nose is striking with aromas of lilacs and violets on full display. The wine is rich, supple, poised and polished. Full-bodied, concentrated, silky and expansive, the voluptuous finish seamlessly goes on and on. Fully mature, this is at its apogee where well-stored bottles could remain for up to another decade.
4,231 Views
Tasted

Mar 2, 2021
A stunning wine drinking in its apogee. The perfume pops with flowers, tobacco leaf, cedar chest, wet earth, herbs and red berries. There is ample weight, concentration, length, complexity and freshness to keep any taster busy. Texturally, the wine is soft, silky and rich, with a finish loaded with sweet fruits.
5,253 Views
Tasted

Apr 3, 2020
This could be the finest example of 83 Margaux I recall tasting, at least in ages, everything was as it should be. The lilac filled nose also boasted ripe, red fruits, earthy, floral and forest floor notes with cigar box in the perfume. Full-bodied, with a fabulous depth of flavor, the wine provided energy, length, complexity and a lush, sensuous, velvet-textured finish. Perhaps if well-stored, there is a moderate amount of improvement available here, but if you have been itching to pop a bottle, there is no reason not to scratch that itch!
5,508 Views
Tasted

Dec 31, 2019
I can never seem to make up my mind about which wine is better, 1982 Margaux, or is it the 1983? They seem to alternate, as to which is on top. Mature and ready for drinking, the wine is full bodied, concentrated and rich, displaying all its floral, tobacco, blackberry, earth and fresh cherry charms. There is a touch of greeness in the finish, but there is so much going on with the wine in every other sense, it's hard to notice. Drink this beauty, or age it, either way, you are in for a treat.
5,673 Views
Tasted

May 6, 2016
With age, clearly some bottles are better than others and this was a very good bottle. From a magnum, the wine was floral, soft, concentrated, deep and complex, with a length and depth, this delivers a lot more and could serve up even more in the future.
6,600 Views
Tasted

May 8, 2014
This was a good, but not great example of 1983 Margaux with its cocoa, chocolate mint, truffle, cassis, tobacco, cedar wood and ash character. The wine was soft and polished, finishing with a sweet and tart black and dark red berry finish. Drink now, or let it age another decade.
7,528 Views
Tasted

Oct 30, 2013
The second bottle of this wine in a week. I am a lucky man. Both bottles were similar in character. Over time, this cassis, forest, floor, truffle, tobacco and blackberry scented wine is developing rustic qualities to the mouth feel. This is still an outstanding wine, but it's not developing positive traits with time.
11,067 Views
Tasted

Mar 29, 2012
Floral, truffle, earth, cassis, tobacco and cedar wood make up the perfume. Full bodied and concentrated, the tannins are a little rustic, which takes away from this normally, elegant, refined wine.
11,242 Views
Tasted

Mar 25, 2012
1983 Margaux for the third time two weeks. I'm not complaining. My comment is a cross between sharing and bragging. Each bottle has been different, which is natural when a wine is only days away from its 28th birthday. This bottle had a tight nose that needed coaxing and swirling to reveal the earthy cedar, blackberry, cassis and fennel aromas. On the palate, the wine felt soft, round and regal. However, the finish lacked the length necessary to be considered a great wine. This was a very good Bordeaux wine. But it was not a great bottle of Chateau Margaux.
11,615 Views
Tasted

Dec 20, 2010
83 Margaux is a baffling wine. At times, it's an elegant, floral expression of Margaux and on other occasions, it shows increased rusticity and hard tannins. Sadly, this bottle displayed more of the later than the former characteristics. With an earthy, truffle, cassis and tobacco laden nose, the wine felt rustic and beefy on the palate, with an austere leaning in the cassis filled finish. 94 Pts
11,605 Views
Tasted

Dec 12, 2010
Refined power describes this lovely bottle. With decanting, aromatics of black fruit, cassis and floral notes with hints of tobacco and forest scents are easy to find. More powerful than 83 Palmer, but not as elegantly complex, the lengthy, black fruit filled finish is pure, but shows a bit of rusticity. Still young, additional bottle age will only make this already outstanding wine get better and better
6,641 Views
Tasted

Dec 10, 2009
With its concentrated aromatics with hints of black cherry liqueur and cedar is a stellar wine. M concentrated than the 82 as well as tannic. This wine was produced in a very powerful style.
6,549 Views
Tasted

Jul 1, 2008
Earthy forest notes, flowers and cassis. Very concentrated and full bodied perfectly combining depth with complexity. Still youthfully tannic. The palate enjoys copious amounts of ripe black, red and blue fruit dipped in chocolate.
6,548 Views
Tasted

Feb 17, 2007
The perfume was intoxicating, candied fruit, flowers, truffles, wet forests and cedar notes that continued to expand in the glass. Very dense, opulent and extremely concentrated. Viscous, chewy, sensuous, decadent, black fruit filled every nook and cranny of you palate. This will evolve and improve for another 20-25 years or more if well stored.
7,469 Views
Tasted

Jan 12, 2005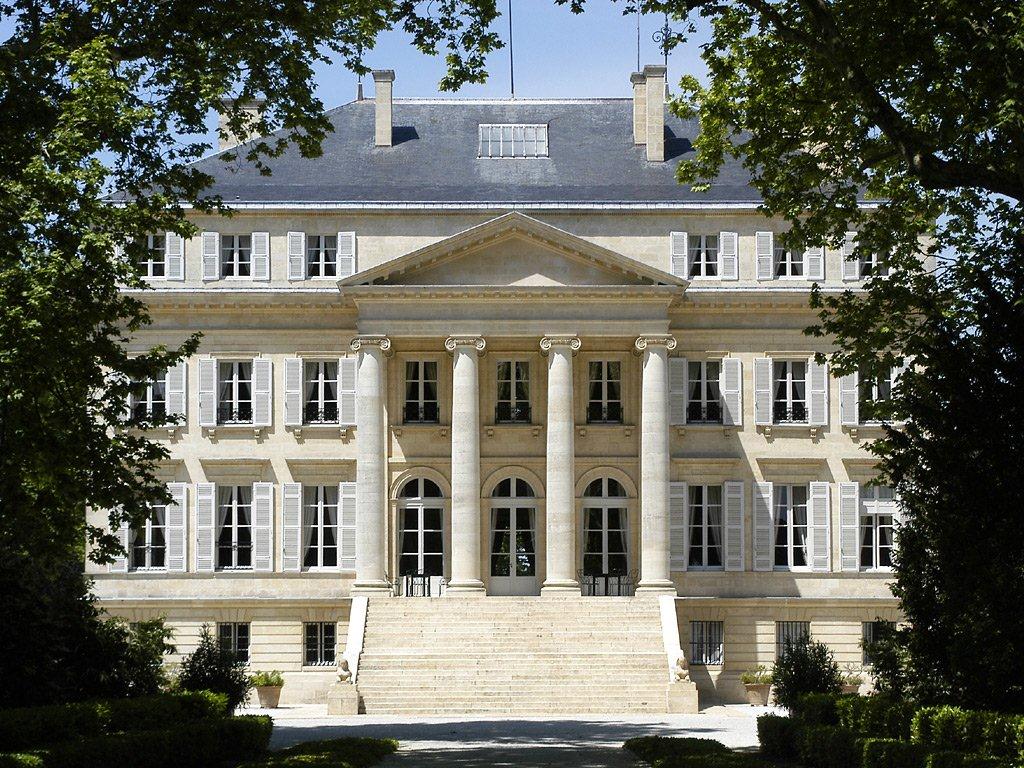 When to Drink Chateau Margaux, Anticipated Maturity, Decanting Time
Chateau Margaux is not a wine to drink on the young side. The wine is usually far too tannic, powerful, and reserved during its youth. Young vintages can be decanted for an average of 3-6 hours, give or take. This allows the wine to soften and open its perfume. Older vintages might need very little decanting, just enough to remove the sediment.
Chateau Margaux is usually better with at least 15 years of bottle age. Of course, that can vary slightly, depending on the vintage character. Chateau Margaux offers its best drinking and should reach peak maturity between 18 and 60 years of age after the vintage.
Serving Chateau Margaux with Wine, Food, Pairings
Chateau Margaux is best served at 15.5 degrees Celsius, 60 degrees Fahrenheit. The cool, almost cellar temperature gives the wine more freshness and lift.
Chateau Margaux is best paired with all types of classic meat dishes, veal, pork, beef, lamb, duck, game, roast chicken, roasted, braised, and grilled dishes. Chateau Margaux is also good when matched with Asian dishes, rich fish courses like tuna, mushrooms, and pasta.
The white wine of Chateau Margaux, Pavillon Blanc can be paired perfectly with all types of seafood, shellfish, sushi, sashimi, veal, chicken, pork, and assorted cheeses.