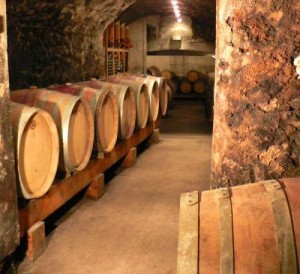 Learn everything about Domaine Duclaux Cote Rotie with wine tasting notes, wine and food pairing tips, best vintages, a history of the property and information on the vineyards and winemaking. If you want to read about other important wineries and wine makers from the Rhone valley: Links to all Rhone Valley Wine Producer Profiles
Founded by Edmond Duclaux, today Domaine Duclaux in the Northern Rhone Valley is managed by his sons, Benjamin and David Declaux.
Domaine Duclaux Vineyards, Wines, Winemaking
Domaine Duclaux owns 5.5 hectares in the Cote Rotie appellation. The vineyards are located in the south of the appellation. The have vines planted in le Collet, Coteaux de Bassenon, Maison Rouge, Pimotin, Coteau de Tupin and the Tupin lieux-dits.
The terroir is mostly granite and gneiss soils on steep hillsides with a south by south-east exposure.
The vineyards are planted to 95% Syrah and 55% Viognier. On average, the vines are between 25 to 35 years of age. However, they have old vines, some of which were planted in 1924.
Other plantings took place in 1943. As replanting continues taking place in the vineyards, new vines are added using Selection Massale. Domaine Duclaux began replanting using Selection Massale in 1997.
Domaine Duclaux produces 3 Cote Rotie wines:
Domaine Duclaux La Germine which is produced from a blend of 95% Syrah and 5% Viognier made its debut in 2005. The grapes, which come from the southern part of the appellation are 90% destemmed.
The grapes are vinified in concrete tanks and the wine is aged in 20% new, French oak barrels and 500-liter demi-muids for up to 20 months. This is the entry level Cote Rotie for Domaine Duclaux.
Domaine Duclaux Maison Rouge which is 100% old vine Syrah from a single parcel of vines planted on the Cote Blonde. The vines are old as they are on average, close to 50 years of age, or older. The grapes are 90% destemmed.
The fruit is vinified in open, concrete tanks. The wine is then aged in a combination of 20% to 40% new, French oak barrels and 500-liter demi-muids for up to 20 months before bottling. Only 325 cases of wine are produced in an average vintage. The first vintage was the 2005.
Domaine Duclaux La Chana is the estate's entry level Cote Rotie. The wine is made from blending Syrah with 5-7% Viognier from young vines planted in various parcels and terroirs.
At one point, Domaine Duclaux used to produce a traditional or regular Cote Rotie, but that wine is no longer in production. The last time the wine was produced, it was from the 2005 vintage.
When to Drink Domaine Duclaux, Anticipated Maturity, Decanting Time
Domaine Duclaux, when young, should be decanted at least 1-2 hours, give or take, allowing the wines to soften and open their perfume. Older vintages might need very little decanting, just enough to remove the sediment.
Domaine Duclaux is usually better with 5-7 years of cellaring and should be at its best between 8-15 years of age.
Serving Domaine Duclaux with Wine, Food, Pairing Tips
Domaine Duclaux is best served at 15.5 degrees Celsius, 60 degrees Fahrenheit. The cool, almost cellar temperature gives the wine more freshness and lift.
Domaine Duclaux is best served with all types of classic meat dishes, veal, pork, beef, lamb, duck, game, roast chicken, roasted, braised and grilled dishes, tomatoes, eggplant and sausage. Domaine Duclaux is also good with Asian dishes, hearty fish courses like tuna, mushrooms and pasta.
Domaine Duclaux Wine Tasting Notes
11 Vintages 28,300 Views Sort by Vintage-Rating
2016
Domaine Duclaux Maison Rouge (Côte-Rôtie)

Deep red fruits, smoke, vanilla bean, spice box, fresh herbs and olives open up with a bit of coaxing, Fresh with just a bit of polish in the texture, the wine is elegant, bright and soft tannins with sweet, red, peppery fruits in the finish. This is showing a little bit better than it did last year.

1,729 Views

Tasted

Feb 19, 2019

Full bodied and still showing its espresso tones from its youth, this is going to take some time before its fun to drink. The concentration is there, as is the fresh, black fruit, smoke, vanilla bean, spice box, herbs and red berries, although it takes some coaxing to open. Refined, fresh and with a bit of polish in the texture, the wine is elegant, with ripe tannins and peppery, red fruits in the finish

1,384 Views

Tasted

Sep 17, 2018

2016
Domaine Duclaux La Germine (Côte-Rôtie)

Medium bodied, refined, fresh and lively, the floral element stands out, allowing the sweet, juicy, peppery kirsch to shine through.

2,128 Views

Tasted

Sep 17, 2018

2016
Domaine Duclaux La Chana (Côte-Rôtie)

Light in color, medium bodied, forward and perfect for early drinking, the sweet, ripe, red berries also carry a bright, even tart quality. With this wine, you can look forward to a crisp, racy, almost nervous note.

1,307 Views

Tasted

Sep 17, 2018

2015
Domaine Duclaux Maison Rouge (Côte-Rôtie)

Deep ruby in color, right off the bat you find truffle, flowers, spice, pepper, vanilla accents and herbs. From there you discover a medium bodied, polished, refined, sensuously textured wine with pure cherries and a hint of licorice. With tannins waiting to be resolved, give this beauty 5-7 years in the cellar and this really be a knockout!

1,926 Views

Tasted

Feb 10, 2019

Deep ruby in color, right off the bat you find truffle, flowers, spice, pepper, vanilla accents and herbs. From there you discover a medium bodied, polished, refined, sensuously textured wine with pure cherries and a hint of licorice. With tannins waiting to be resolved, give this beauty 5-7 years in the cellar and this really be a knockout!

1,795 Views

Tasted

Sep 17, 2018

2015
Domaine Duclaux La Germine (Côte-Rôtie)

Flowers, smoke, thyme, herbs and red fruits pop quite easily, On the palate, the wine is medium bodied, silky, soft, plush and delicious. The sweet cherries are fresh and vibrant, with a touch of herbs and spice that come on strong at the end.

2,420 Views

Tasted

Feb 10, 2019

Flowers, smoke, thyme, herbs and red fruits pop quite easily, On the palate, the wine is medium bodied, silky, soft, plush and delicious. The sweet cherries are fresh and vibrant, with a touch of herbs and spice that come on strong at the end.

2,059 Views

Tasted

Sep 17, 2018

2012
Domaine Duclaux Maison Rouge (Côte-Rôtie)

Rich, round, lush and sexy, with overtones of espresso, vanilla, smoke. kirsch, flowers and sweet, dark cherries. It will take a few more years for the oak to fade and for more secondary nuances to emerge.

1,719 Views

Tasted

Mar 12, 2018

2010
Domaine Duclaux Maison Rouge (Côte-Rôtie)

This is just super! Already starting to drink in its sweet spot, the wine is medium bodied, soft, fresh, elegant and supple. In character you find earthy, leafy, forest floor and red fruit all over the place. The fruit is soft and sweet, with a peppery, black raspberry, spicy leaning.

1,701 Views

Tasted

Sep 17, 2018

2009
Domaine Duclaux Maison Rouge (Côte-Rôtie)

With a rich, ruby hue, the wine sports black pepper, truffle, flowers, dark red fruits and touch of vanilla on the backend. Probably close to mature, this is drinking great! Silky, exotic, fresh, vibrant cherries herbs, pepper and earth carry through on the palate and in the finish.

1,232 Views

Tasted

Sep 17, 2018

2009
Domaine Duclaux La Germine (Côte-Rôtie)

Young, fresh, lively, vibrant, yet, soft and supple. This medium bodied wine combines ripe, red fruits with floral notes, freshness and a sweet, spicy, cherry finish.

3,399 Views

Tasted

Jan 13, 2017

2007
Domaine Duclaux Maison Rouge (Côte-Rôtie)

From 100% old vine Syrah, planted in the Cote Blonde, the wine is packed with sweet, fresh, vibrant kirsch and black raspberry fruit, earth, spice and silky smooth textures.

1,311 Views

Tasted

Feb 3, 2015

2006
Domaine Duclaux Maison Rouge (Côte-Rôtie)

Medium bodied, and elegant in character, here you find a distinctive earthy, leather, floral and wet forest floor aroma, the wine is bright, fresh, and lively, focused on its crisp red fruits, spice, green olive and peppery characteristics. This is drinking perfectly today

956 Views

Tasted

Sep 17, 2018