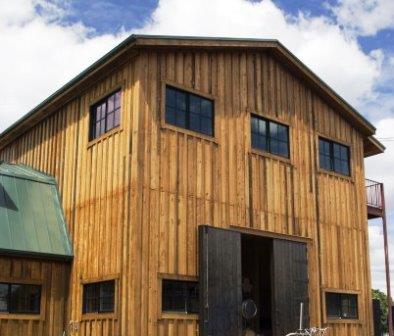 Everything about David Arthur Napa Valley California Cabernet Sauvignon wine producer profile, wine tasting notes, wine and food pairing tips, best vintages, history of the property, information on their wine making techniques, terroir and soil. You can also read about the Grapes used for California wine and learn about the extensive History of Napa Valley, California Wines
David Arthur History, Overview
e origins of David Arthur Vineyards and the Long Family Ranch date back to when the Long family started visiting the Napa Valley in the 1950's. Don Long, a butcher by trade owned a small grocery store in Portola Valley, near Stanford University and had long been interested in the California wine country. With a keen eye for business opportunities, Don began steadily investing in Napa Valley real estate leading to the acquisition of nearly 1,000 acres atop Pritchard Hill.
The winery and estate vineyards are located on the initial Long Family Ranch parcel Don purchased in the 1960's.
the 1960's the estate was merely raw land without access roads or utilities. On weekends Don and his wife Anne, would hike up roughly 1,000 feet from the Silverado Trail below to picnic under the large oak tree that still stands in the vineyard in front of the winery. While sitting on their blanket enjoying a glass of wine, Don would envision harnessing the hillsides potential to cultivate world-class grapevines.
In 1978, Don's vision came to fruition when he and his 28-year-old son David Arthur Long built a small barn and began planting grapevines. After seeing the excellent quality of the fruit growing in the vineyards David received his father's permission to convert the small barn into his own winery, naming it David Arthur Vineyards. The winery's inaugural release was the 1985 vintage, which coincided with the birth year of David's daughter Laura Annalyce Long.
In 2016, David and Laura Long welcomed Paul and Teddy Bystrowski as partners in David Arthur Vineyards. Teddy is Laura's husband and Paul is her father-in-law. Together this father-daughter and father-son team shares the responsibility of guiding the winery into the future for generations to come.
David Arthur Vineyards, Grapes, Terroir, Wines, Winemaking
David Arthur Elevation 1147
David Arthur Old Vine
David Arthur Three Acre
David Arthur Le Boucher
David Arthur Meritaggio
David Arthur Chardonnay
David Arthur Annalyce
Serving and Decanting David Arthur Wines with Wine, Food, Pairing Tips
David Arthur Vineyard wines are best served at 15.5 degrees Celsius, 60 degrees Fahrenheit. The cool, almost cellar temperature gives the wine more freshness and lift. Young vintages can be decanted for 1-3 hours, depending on the character of the vintage. This allows the wine to soften and open its perfume. Older vintages might need very little decanting, just enough to remove the sediment. David Arthur Vineyards wine are best served with all types of classic meat dishes, veal, pork, beef, lamb, duck, game, roast chicken, ribs, hamburgers, barbecue, roasted, braised, grilled dishes and stews. David Arthur wines are also good with Asian dishes, hearty fish courses like tuna, salmon, mushrooms and pasta.
David Arthur Wine Tasting Notes
6 Vintages 19,789 Views Sort by Vintage-Rating
2013
David Arthur Cabernet Sauvignon Old Vine (St. Helena)
Deeply colored, lusciously textured, dark, sweet, ripe, black and blue fruit, licorice, cocoa and smoke pop with no effort. Rich, concentrated, clean, fresh and pure, with soft tannins and an opulent finish.
3,748 Views
Tasted

Feb 16, 2017
2013
David Arthur Cabernet Sauvignon Three Acre (St. Helena)
Full bodied, richly textured and loaded up with all the ripe, sweet, blackberries, dark plums, licorice and oak it can handle, the wine offers a concentrated, mouthful of ripe, dark fruits in the finish. The wine was made from a blend of 88% Cabernet Sauvignon, 10% Petit Verdot and 2% Cabernet Franc.
3,032 Views
Tasted

Dec 24, 2016
2009
David Arthur Cabernet Sauvignon Elevation 1147 (Rutherford)
Really nice wine. Lushly textured, you find earth, smoke, licorice, blackberry, currant and underbrush on the nose. Full-bodied, round and loaded with sweet, dark red and black fruits, the wine is soft, round and polished on the palate. Popped and poured, I am not sure decanting will add much here, as it is so deciptively ready to drink today.
2,998 Views
Tasted

Jul 13, 2020
2008
David Arthur Cabernet Sauvignon Elevation 1147 (Rutherford)
An explosive perfume stuffed with flowers, oak, chocoalte, licorice, vanilla, blackberry, black cherry and blueberry is found with little effort. Plush, round and rich, this concentrated, opulent wine ends with a long, rich mocha and ripe berry filled finish.
3,401 Views
Tasted

Nov 26, 2011
2008
David Arthur Cabernet Sauvignon (Napa Valley)
Coffee bean, blackberry, licorice, smoke and plum scents, medium/full bodied, ending in a chocoalte covered black cherry finish.
2,438 Views
Tasted

Nov 26, 2011
1997
David Arthur Cabernet Sauvignon Elevation 1147 (Rutherford)
Fleshy, soft textured, silky cherries and tobacco nose and a fresh, sweet, polished finish.
4,172 Views
Tasted

Sep 23, 2015