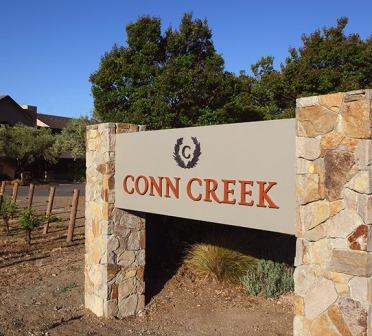 Everything about Conn Creek Napa Valley Cabernet Sauvignon producer profile, wine tasting notes, wine and food pairing tips, best vintages, history of the property, information on their wine making techniques, terroir and soil. You can also read about the Grapes used for California wine and learn about the extensive History of Napa Valley, California Wines
Conn Creek History, Overview
Conn Creek was born in 1968, when Bill Collins and Kathy Collins answered an advertisement in the Wall Street placed by the Domingo family, offering to sell 45 acres of vines in Napa Valley. At the time of the purchase, the vineyard was planted to Carignane, Chasselas, Sauvignon Vert and Zinfandel. Once the purchase was completed, Bill Collins began replanting the vineyard to Cabernet Sauvignon.
Conn Creek was just another, fledgling winery competing for business in the early 1970's, until they purchased a barrel of wine at a bankruptcy auction held to pay off debts from the Lynncrest winery. One of the lots purchased by Bill Collins was barrels of the not yet bottled 1974 wine from the Eisele vineyard. They bottled and sold the wine, becoming an almost overnight hit as soon as they released their, 1974 Conn Creek Eisele Cabernet Sauvignon. However, the 1974 did not feature the Eisele name, perhaps because it was purchased at auction. Interestingly, their first 2 vintages for Conn Creek consisted of wines made from the barrels they bought at the auction. Because they deemed their vines were too young, they did not make a wine in 1975.
In a continuing effort to expand their holdings, their next purchase was a parcel of vines planted in Rutherford.
By 1979, Conn Creek had become a much larger operation and Bill Collins constructed a new winery in Rutherford. Trying to be both energy efficient and environmentally conscious, they used Styrofoam walls for insulation and added corks to the interior of the walls for extra insulation. In 1986, the Collins family sold Conn Creek to Stimson Lane, which is owned by US Tobacco. Bill Collins retained a small portion of vines, which he later sold to Chateau Ste. Michelle.
After the sale to Stimson Lane, things were not same at Conn Creek. They increased the amount of Cabernet Sauvignon released and dropped much of their white wine program.
Conn Creek Vineyards, Wines, Winemaing
Today, Conn Creek is a large producer that makes a diverse array of wines from a wide array of appellation that are focused on either the grape varietal of the appellation, or a special selection which is the Conn Creek Anthology. In total, Conn Creek currently makes an average of 30,000 cases of wine per vintage.
Conn Creek Anthology
Collins Vineyard, St. Helena Cabernet Sauvignon
Hozhoni Vineyard, Rutherford Cabernet Sauvignon
Rutherford Cabernet Sauvignon
Crowley Vineyard, Spring Mountain Cabernet Sauvignon
Stagecoach Vineyard, Atlas Peak Cabernet Sauvignon
Frediani Vineyard, Calistoga Cabernet Sauvignon
Carneros Chardonnay
Sori Bricco Vineyard, Diamond Mountain Cabernet Sauvignon
Serving and Decanting Conn Creek Winery with Wine, Food, Pairing Tips
Conn Creek Winery is best served at 15.5 degrees Celsius, 60 degrees Fahrenheit. The cool, almost cellar temperature gives the wine more freshness and lift. Young vintages can be decanted for 1-2 hours, depending on the character of the vintage. This allows the wine to soften and open its perfume. Older vintages might need very little decanting, just enough to remove the sediment. Conn Creek Winery is best served with all types of classic meat dishes, veal, pork, beef, lamb, duck, game, roast chicken, ribs, hamburgers, barbecue, roasted, braised, grilled dishes and stews. Conn Creek Winery is also good with Asian dishes, hearty fish courses like tuna, salmon, mushrooms and pasta.
The white wine of Conn Creek Winery is best served with all types of seafood and shellfish, sushi, sashimi, chicken, veal, pork and cheese.
Conn Creek Wine Tasting Notes
5 Vintages 13,791 Views Sort by Vintage-Rating
2013
Conn Creek Herrick Red (Napa Valley)

Easy drinking, medium-bodied, fruity, dark cherry and licorice filled wine that is meant for early drinking pleasure. At this price point, for a California Cabernet Sauvignon, it represents a fair value.

2,227 Views

Tasted

Aug 16, 2019

2012
Conn Creek Cabernet Sauvignon Anthology (Napa Valley)

Easy drinking, medium bodied, forward, ripe, sweet, soft, red and black fruits with a hint of oak. This is not a wine to lay down.

2,383 Views

Tasted

Feb 9, 2015

2010
Conn Creek Anthology (Napa Valley)

Medium bodied, focusing on more red berries than black, with a spicy, crisp finish, this will be best in its youth.

2,281 Views

Tasted

Feb 3, 2014

2010
Conn Creek Cabernet Franc (Napa Valley)

Light in color and fruit, with more herbs, licorice and oak, that fruit. Not a bad wine, but not truly interesting.

2,434 Views

Tasted

Feb 9, 2015

1974
Conn Creek Cabernet Sauvignon Eisele Family Vineyard (Napa Valley)

Dramatically better than my previous bottle, this was a stunning example of Classic California Cabernet Sauvignon. Purchased from the Joseph Phelps auction, (Which explains its provenance), the wine remains concentrated, deep, rich, fresh and vibrant. Full-bodied, aromatic and elegantly textured, the long finish delivers layers of silky-textured, perfectly ripe, sweet dark red fruits, earth, spice and smoke. If you have a bottle of this gem, consider yourself lucky indeed!

2,297 Views

Tasted

Jul 27, 2021

A rare treat indeed, even if the fruit is starting to fade, leaving with more tobacco, sweet and tart cherries, earth, cassis and cigar notes, than fruit. Soft textured and holding on by a string, with just enough fruit to hold back the onslaught of acidity that will arrive in a few years, give or take. The wine needs drinking if you are lucky enough to have a bottle.

2,169 Views

Tasted

Nov 30, 2016