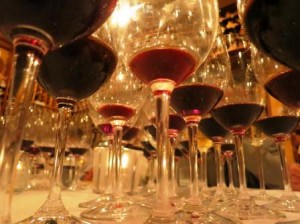 2007 Bordeaux Wine Vintage Summary with harvest information, vintage characteristics, list of the top wines, buying tips and links. If you are seeking more in-depth information on anything and everything related to the Bordeaux wine region please see the: All About Bordeaux Wine Guide.
2007 Bordeaux wine is the product of a moderate to poor growing season with pleny of cool, wet weather. Until it was time to harvest, things were looking a lot worst.  Without the nice September weather, the vintage would have been a disaster for many wineries.   At the top end,  2007 Bordeaux wine are soft, pleasant, early drinkers. The main problem with 2007 Bordeaux wine is, the preposterously high prices that were initially being asked for the wines, when they were first offered as futures. 2007 Bordeaux wine should have been priced to sell cheaply. Consumers had just bought every bottle in sight from the just released 2005 Bordeaux vintage.  Keep in mind, 2005 Bordeaux was at that point, the most expensive vintage in history.  2006 Bordeaux was also priced too high. There was no interest in the average, early drinking, 2007 Bordeaux wine. The price and value for these wines continues declining.
Due to its early drinking character, 2007 Bordeaux wine would been perfect for restaurants, or for new collectors wanting their first taste of Bordeaux wine. Instead, 2007 Bordeaux wines were vastly over priced from the start. Prices continue to drop in the world market.  While the results are average at best for red 2007 Bordeaux wine,  dry, white, 2007  Bordeaux wine from Pessac Leognan in are stunning!  In fact, all the white wines from Bordeaux that year were strong. Sauternes and Barsac also produced some of the finest wines in their history.  These are the two appellations worth purchasing from the 2007 vintage.
Interestingly, since 1947, no great Bordeaux wine vintage has taken place. 1957, 1967, 1977, 1987, 1997 and now 2007 have all had problems.  We'll need to wait until 2017 to see if this trend continues. It's funny when you think about it But except for 1947, no vintage was successful with the number 7 from any decade in the 20th century. 1937, 1927, 1917 and 1907 were all equally poor.
To read about other Bordeaux vintages from 1945 to today: Bordeaux Year to Year Detailed Vintage Reports & Guide 1945 to Today