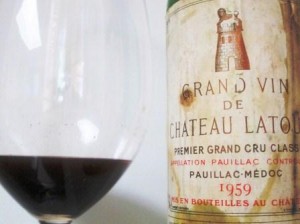 1959 Bordeaux Wine Vintage Summary with harvest information, vintage characteristics, buying tips and links. If you are seeking more in-depth information on anything and everything related to the Bordeaux wine region please see the: All About Bordeaux Wine Guide
1959 Bordeaux wine is held in the same legendary status as 1961. Depending on the wine, the bottle and taster, there are 1959 Bordeaux wines that are better than the equally legendary wines of 1961!  When 1959 Bordeaux wine was first released, the wines were considered ready to drink, due to their, sensuous up-front, lush, forward style. In fact, many of the best 1959 Bordeaux wines were drank up far too early. In part, this is why 1959 Bordeaux wine is much harder to find than 1961 Bordeaux, which took years to develop. You had to hold your 1961 wines as they were not fun to drink young.
1959 Bordeaux wine is the product of a close to perfect growing season from start to finish. The summer was warm, reasonably dry and filed with sunshine. The perfect amount of rain arrived at the perfect moment, in mid September, allowing the grapes to reach maturity and ripeness. The Bordeaux harvest of 1959 officially began September 20.
The top 1959 Bordeaux wines are closer to 1982 Bordeaux or 1990 Bordeaux in style. In fact, they could end in some was as similar to the 2009 Bordeaux vintage. 1959 Bordeaux wine at its best are luxurious, rich, ripe, fragrant, elegant, sexy wines.  Due to the devastating 1956 frost, yields were low, giving the wines good concentration. 1959 was successful in every appellation.  The Medoc, Pessac Leognan. Pomerol   and St. Emilion   all made great wines.  In fact, 1959 was the best vintage of the decade for Sauternes. The weather conditions was perfect sweet, white, Bordeaux wine due to the long, warm summer and the right amount of rain that fell just before harvest which added to the development of noble rot.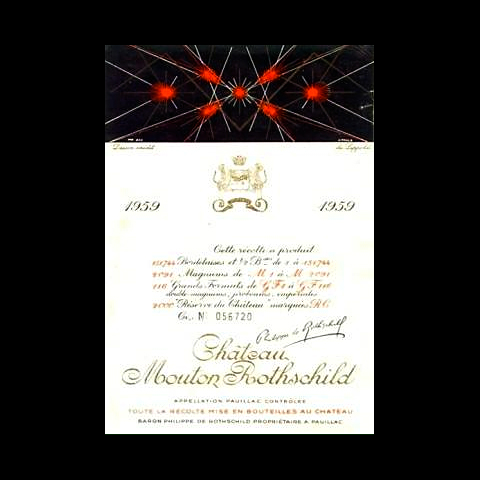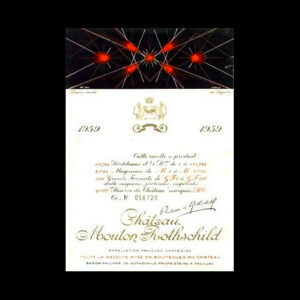 It's hard to say what the 1959 Bordeaux wine of vintage is. For many people, it's the flamboyant Chateau Mouton Rothschild. However, stunning wines were produced in every appellation, and from both banks. The sweet wines of Sauternes and Barsac also enjoyed a great vintage. From the moment the vintage was released, 1959 Bordeaux wine were praised. But not everyone agreed. Some tasters felt the wines would not age, claiming the wines lacked acidity. Does this remind anyone of the comments written today about 2009 Bordeaux? If not, it should. The famed professor Emile Peynaud did not agree with the naysayers.  In fact, on the subject of low acid Bordeaux, Peynaud was quoted as saying, "As long as the wine possess an abundance of the major components, extract, fruit, alcohol and tannin, high levels of acidity were not needed."  Today, we know who won that argument.
.
As hard as it is to believe, at close to 50 years of age, not every 1959 or 1961 Bordeaux has hit maturity. 1961 and 1959 Latour and Mouton tasted recently are still not fully evolved! Select wines from both vintages could live at least one hundred years! That ability to age and improve for decades is a big part of the reason people pay massive premiums for First Growth Bordeaux wine. For people thinking of experimenting with older vintages, 1961 or 1959 are the vintages to buy, if priced right and the bottles are in good condition, with sound provenance.
Numerous 1961 Bordeaux are worth looking into, due the strength of the vintage. Of course this is provided the bottles have been well stored. The same can be said of 1959. However, if given the choice between 1961 or 1959, 1959 has shown greater consistency. The wines taste younger, fresher, more concentrated and complex. Both vintages are so strong, taking a chance on smaller but lesser known names might prove rewarding. Most of the better 1959's and 1961's are fully mature and will not improve.
The following list of Bordeaux wines represent the wines offering a high ratio of price and quality for the vintage: 1959 Best Bordeaux wine for the money today
To read about other Bordeaux vintages from 1945 to today: Bordeaux Year to Year Detailed Vintage Reports & Guide 1945 to Today