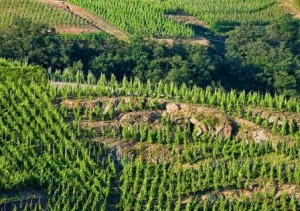 Learn everything about Bernard Levet Cote Rotie with wine tasting notes, wine and food pairing tips, best vintages, a history of the property and information on the vineyards and winemaking. If you want to read about other important wineries and wine makers from the Rhone valley: Links to all Rhone Valley Wine Producer Profiles
Bernard Levet History, Overview
Bernard Levet dates back to 1936 when the grandfather of Nicole Levet made his first purchase of vines in the Northern Rhone Valley. Progress was slow, but steady.
In the formative years, Bernard Levet sold their wine straight from the barrel to local cafes and private customers. The wine was also sold to negociants. Marius Chambeyron bottled their first wines in 1966.
In 1983, several changes took place at Bernard Levet. Most importantly, that is the year when Bernard Levet began managing the estate with the help of Nicole Levet, his wife.
Once he took over, he began to produce, bottle and sell a large percentage of their harvest on their own. In 1992, Bernard Levet completed a renovation of their cellars.
Their daughter Agnes Levet is now a part of the team managing the property. It is expected that in time, Agnes Levet will take full control of the domaine. Agnes Levet is also responsible for creating the artwork for the labels on their wines today.
If you have a hard time finding the wines of Levet, there is a store in Ampuis, "Cote Rotie Levet" that as you should expect, sells all their wines.
Bernard Levet Vineyards, Wines, Winemaking
Today, Bernard Levet owns 3.5 hectares of vines in the Cote Rotie appellation. The vines are well-placed in 6 lieux-dits that are ideally situated around the appellation on both the Cote Blonde and Cote Brune. The vines are placed as follows in the mostly steep, rocky, terraced, hillside vineyards:
Chavaroche 1.2 hectares
La Landonne .33 hectares
Font Jean .15 hectares
Les Craies .50 hectares
Mollard .33 hectares
Moulin .40 hectares located just under the source for La Turque, from Guigal.
The vineyards are managed using self sustaining, farming methods, which are quite close to being fully organic. Bernard Levet has been HVE certified, Haute Valeur Environnementale by the Vignerons Independants de France.
To produce the wines of Bernard Levet, it is important to know they are a traditionally managed property. Most of the time, on average, no more than 50% of the grapes are destemmed.
Vinification of the berries and whole cluster fruit takes place in epoxy lined, cement tanks vats. Malolactic fermentation takes place in vat. They do not do punch downs here.
Instead, they prefer to submerge the cap using wood planks. The wines are aged in a combination of demi-muids, Alsatian and French oak barrels of which on average 15% to 30% are renewed each year. The wines are then aged on average for between 30 to 36 months before bottling.
The first part of the aging takes place in large oak casks. After about 12 months, the wine is moved to demi-muids and standard French oak barrels of which no more than 15% consists of new French oak.
Not much wine is made here. On average, today they produce between 1,000 and 1,250 cases of wine per vintage at Domaine Bernard Levet.
Bernard Levet produces 3 Cote Rotie wines:
Bernard Levet La Chavaroche is made from 100% Syrah planted on the Cote Brune on a terroir with granite and schist soils. The wine has a different name and label for consumers in France, where the wine is sold as Domaine Bernard Levet La Peroline. The wine takes its name from the grandmother of Agnes Levet.
Bernard Levet Les Journaries is a relatively new offering that is sold mostly to the American market. The first vintage was produced from the 2004 vintage. The wine takes its name from the specific parcel of vines where the grapes are planted in the La Landonne lieu-dit. The wine is also sold under the name of Maestria for the British market and select other European markets as well.
Bernard Levet Amethyste is produced from 100% Syrah that comes from vines planted in both the Cote Blonde and the Cote Brune, as well as in the Baleyat, Chavaroche and Mollard lieux-dits.
A portion of the grapes are destemmed, (30-50%) never more than half of the grapes are whole bunch fermented.
The wine is aged in a combination of new and used 600 liter oak casks, of which 30% are new and oak foudres. The production ranges from 500 to 600 cases per vintage. The wine was first produced in 2006.
For a short period of time, in the late 1980's, the domaine was producing a Brune et Blonde, but that wine has since been discontinued.
When to Drink Bernard Levet, Anticipated Maturity, Decanting Time
Bernard Levet when young, should be decanted at least 1-2 hours, give or take, allowing the wines to soften and open their perfume. Older vintages might need very little decanting, just enough to remove the sediment.
Bernard Levet is usually better with 8-10 years of cellaring and should be at its best between 10-20 years of age. This is a very classic style of Cote Rotie that is not fun to drink in its youth.
Serving Bernard Levet with Wine, Food, Pairing Tips
Bernard Levet is best served at 15.5 degrees Celsius, 60 degrees Fahrenheit. The cool, almost cellar temperature gives the wine more freshness and lift.
Bernard Levet is best served with all types of classic meat dishes, veal, pork, beef, lamb, duck, game, roast chicken, roasted, braised and grilled dishes, tomatoes, eggplant and sausage. Bernard Levet is also good with Asian dishes, hearty fish courses like tuna, mushrooms and pasta.
Bernard Levet Wine Tasting Notes
4 Vintages 15,093 Views Sort by Vintage-Rating
2015
Bernard Levet La Chavaroche (Côte-Rôtie)
Juicy, fresh, ripe, peppery, herb tinged fruit comes with a blast of ripe, rustic, olive tinted, red berries on the palate. The wine is fresh, with a peppery bite, while also showing purity of fruit and freshness in the mouth. Still, this is not a user friendly wine at this stage, you will need to give it several years of rest before you pull a cork.
5,565 Views
Tasted

Feb 10, 2019
2015
Bernard Levet Améthyste (Côte-Rôtie)
Showing a nice depth of color, the wine offers a ripe, dark berry nose, smoke, herbs and pepper. Soft in texture, almost already open, the finish is crisp, stony, peppery and chalky.
2,786 Views
Tasted

Feb 10, 2019
2010
Bernard Levet Les Journaries (Côte-Rôtie)
Young, meaty, fresh, crisp and fresh, with an earthy, floral and animalistic character. Medium/full bodied and showing the right bite of acidity that mixes perfectly with the soft, gamey, sweet, dark, red fruit filled finish.
3,882 Views
Tasted

Sep 12, 2016
1999
Bernard Levet La Chavaroche (Côte-Rôtie)
Ruby color with high pitched notes of fresh raspberries, plums and herbs, this fully mature, medium bodied wine with its silky, bright, sweet cherry tinged finish, good acidity and balance was strutting its stuff. Not the most complex or concentrated Cote Rotie on the block, but it's a very nice wine that is ready to go. Plus, compared to most Cote Rotie, if you can find any, it sells for a song.
2,860 Views
Tasted

Apr 5, 2008