Jeff Leve invited me to a tasting of the new Napa wines by Jonathan Maltus last week, so I thought I would throw the notes up here. The tasting was at 750 Wines in St Helena. I had never met Jonathan before nor was I ecactly sure what was being poured at the event, so it was all a surprise to me.
This is Jonathan (L) with David and Monica (R), just before the tasting started.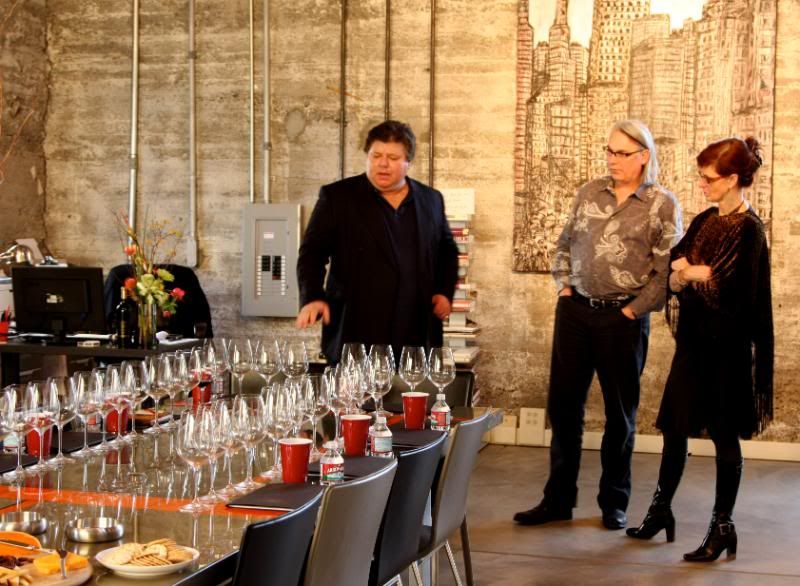 We tasted not just his new Napa wines, but also some 05 and 07 Bordeaux. Here is the whole lineup, including Le Dome.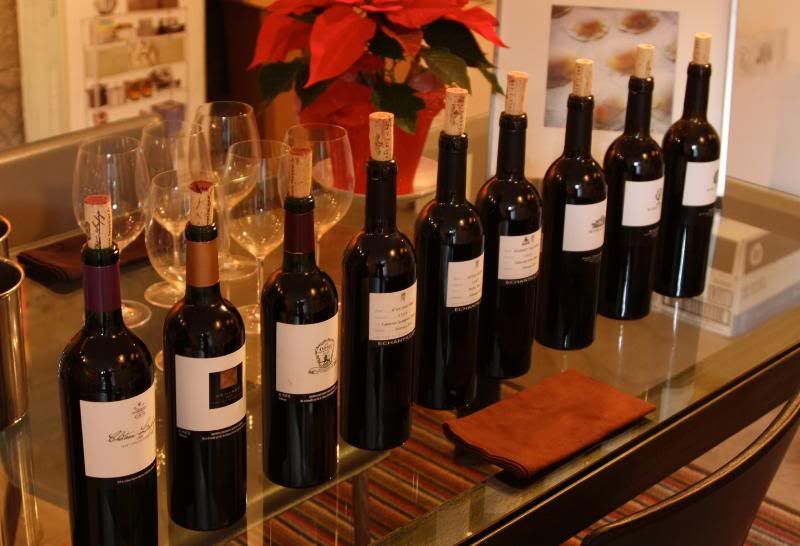 I will post the notes on the Le Dome, Le Carre and Laforge another time so I can focus on the new stuff. Some basic impressions... The Napa wines come off as exactly what you would expect by a small production, modern garagiste St Emilion winemaker would make here, ripe, concentrated, long, with some elegance and good oak. They are not candied fruit at all, are all masculine in profile and built to last. Not an ounce of heat on any of the wines at all. And pricing is very good for what you are getting, as you will see. They are more mineral/mouthfeel driven than fruit driven and this should be kept in mind. They are not fruit bombs.
First, "World's End" is not just some tiny production wines, but a good sum of well-priced Napa blends that are very competitively priced and quite solid. Here is a pic of the three "Napa" wines, each made in 1500-2000 case blends and all just $40. These are all barrel samples as you can tell from the labels. The names of all the wines are from favorite rock songs growing up. Notice the labels seem "related" to his St. Emilion stablemates.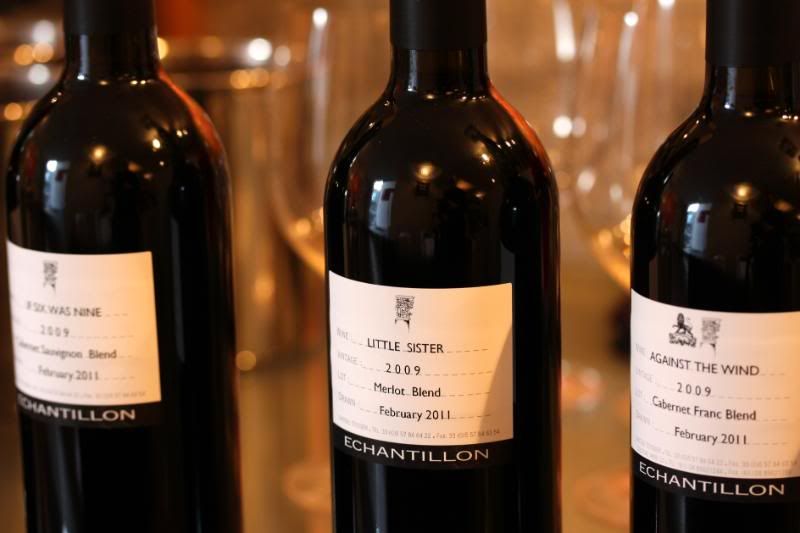 2009 World's End "Little Sister" Merlot $40
It is so hard to find good Merlot in Napa at any price, but at $40, this was a nice standout. Black cherry, blackberry and an interesting green olive note. Sexy mouthfeel. Medium-full body, this is sourced from the southern part of Napa proper. A real surprise.
90-92pts
2009 World's End "Against The Wind" Cab Franc $40
Given Le Dome is the heaviest Franc based St.Emilion out there, he had to give it a shot here. Medium-bodied, not quite as ripe as the Merlot, well structured, no herbaceous notes, red fruits, this could use maybe 3-4 years and might age a while to boot.
88-90pts
2009 World's End "If Six Was Nine" Cabernet $40
Medium-full, black fruit in the nose, balance of voluptuousness and structure. There are a lot of Cabs not this good at nearly twice the price out there right now. Solid.
88-90pts
None of the wines above are on sale yet, but you have to like the pricing on these wines given who is making them (Jonathan and Neil Whyte fly out to make this back and forth while making their Bordeaux!) Also, given that 09 is adding weight after a year, I expect these might get better in between now and release. I think these could make a nice dent in the retail market and would be a really nice casual drinker.
The following 3 wines are the small production wines and are available now. There are not many cases left as most were sold to existing buyers on the LeDome list. The best way to get them is to go to the website,
http://www.maltus.com
and sign up or leave an email.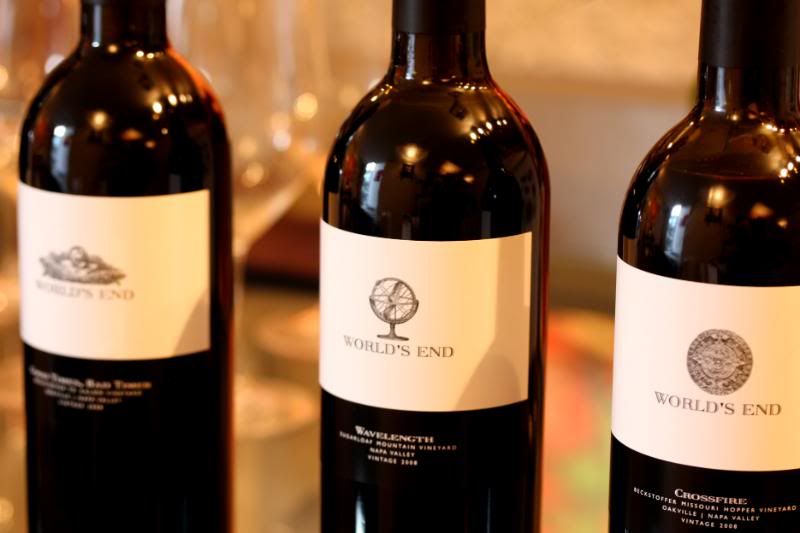 2008 World's End "Wavelength" Napa Valley Prop Red, $72
Sourced from southern Napa in the foothills, this is half Cab Franc, half Syrah. Easily, hands down the best Syrah/Bordeaux varietal blend I can remember. Sexy, smooth, medium-full body, with red fruits and spice kick. Can drink now and over the next 7-8 years, imo. 350 cases made, about 60 available. Don't knock the Syrah part, it seems to work really well with the Franc!
93pts
2008 World's End "Crossfire" Beckstoffer Missouri Hopper Cab, Oakville, $90
This is Andy Beckstoffer's up and coming Oakville vineyard sandwiched between Vine Hill and Dominus. Alpha Omega is also coming out with vineyard designate soon from this. Rich, voluptuous, blue and black fruit with a cigar note and some olive. Full-bodied, a little bigger than the To-Kalon. Combines power and elegance. Give 1-3 years and drink over the next decade plus. The group here really liked this one tonight. 500 cases made, maybe 70 available.
94pts
2008 World's End "Good Times, Bad Times" Beckstoffer To-Kalon Cab, Oakville, $105
Note the price! Prototypical To-Kalon. Big dose of elegance on the full-bodied frame, with black fruit and chalky white minerality in the mouth. Rich, well structured with a nice dose of drying tannin on the long finish. Very smooth texture. Give 4-5 years and drink over the following dozen. 350 cases made, 55 available or so.
95pts
Given what new cultish Cabs come out at nowadays and given the scarcity and sources, these are really fair deals. $105 for To-Kalon?? That's pretty sweet. So if you have liked his Bordeaux wines and wondered what he could do in Napa, you are in for a treat.
PS- Thanks Jeff for turning me on to this!