My wife and I took a week long trip to the Right Bank earlier this month. It was an epic trip to the motherland for someone like me. The trip was for my wife's birthday. She loves the Right Bank generally and Pomerol specifically, so we focused there. Also, the Left Bank Chateaus are actually pretty far from the Right Bank. It is about 45 minutes, so hard to really go back and forth.
I want to start with some thank yous for people who helped me with the trip. First is Jeff Leve. Jeff patiently answered all my dumb questions about a trip to Bordeaux - "Where should I stay? Where should I eat? When should I go? What should I wear?" I am sure Jeff probably won't read this post, since he is so sick of hearing from me, but for others he was a great resource. Second is Neal Martin's magnum opus on Pomerol. I didn't drag that beast with me to Bordeaux, but it was invaluable when planning this trip. Finally is Millesima. For those that don't know, Millesima is one of the largest negociants in Bordeaux. They have a small retail outlet in New York City and I have been buying my Bordeaux from them for a number of years. A quick plug - they are a fantastic place to buy older Bordeaux. They keep a huge warehouse of old Bordeaux in France (over 2.5 million bottles - more on that later), so any bottle you buy is perfect provenance. It is more expensive than an auction, but I have never had a bad bottle (fake or damaged) from them. They also have a bunch of large bottles if that is your thing. Millesima set up all my Chateau visits. There is no way I would have ever gotten this access on my own.
Here is the lineup - La Fleur Petrus, Conseillante, La Violette, Clinet, Vieux Chateau Certan, L'Evangile, L'Eglise Clinet, Valandraud, Angelus, Cheval Blanc, Troplong Mondot, La Gaffeliere and La Mondotte
The obvious question after seeing that list is why no Petrus, Lafleur or Le Pin. Millesima certainly could have got me in all those places, but I wasn't really interested going somewhere I hadn't had the wine and likely never would. Just too expensive for me. The one place I did miss was Trotanoy. There was some confusion on the scheduling there, so that was a bit of a bummer.
A few observations before getting into the visits
1) It ain't like a trip to Napa. For lots of reasons, but main one is just how the selling system is set up. The French cling to the outdated (in my view) three tier selling system - Chateau to Negociant to Retailer to Consumer. The net result of this from a visit perspective is that the Chateaus are more removed from the consumer. In Napa, an owner/winemaker can see a direct line between your visit and a potential customer. Not the same in Bordeaux. Not to say people weren't great. They were, but not the same as Napa.
2) Pomerol is tiny. When we were setting visits, I was worried that Millesima wasn't leaving enough time to travel between visits. Nothing in the core of Pomerol is more than a five minute drive apart. Think about the size of Yountville.
3) Petrus is still King. At every Pomerol property, we would tour the vineyard and they would point out where Petrus was. I think it was a way for people to help establish the quality of there terroir - AKA look how close to Petrus we are. By the end, I could point out Petrus from every angle in Pomerol.
4) Can we get it over with and just reclassify Cheval Blanc into Pomerol? Cheval Blanc's vineyards sit a stones throw from VCC, L'Evangile and Conseillante. Literally, a stones throw - you can take a rock from the edge of Cheval's vineyards toss it over a road and you are in Pomerol. Also, Cheval isn't really that close to the other top Saint Emilion properties - Ausone, Angelus, Troplong Mondot, La Gaffeliere and La Mondotte.
5) Stuff is old in Bordeaux - especially the vines. At VCC, they told us that had some young vines that weren't used in the top bottling. How young? 15 years old! Nothing gets into the top wine unless it is 25 years old. At Cheval Blanc, they showed us the oldest vines on the property. Planted in 1920.
Old Cheval vines
6) 2011 is not a good vintage. These wines are not good. Period. We had a few of these at places and they were the worst wines of the trip. They funny thing was when people served them to you. They know the wines aren't great, you know the wines aren't great, but never the less they are disappointed that you don't rave about the wine. All I could think was you can certainly serve me any wine you want, but not fair to expect me to like the wine as well.
7) 2012 IS a good vintage. The person at La Fleur Petrus described it as a "divine surprise". The wines turned out much better in bottle than en primeur.
8) Saint Emilion is utterly beautiful. Just a stunning place.
View from my hotel room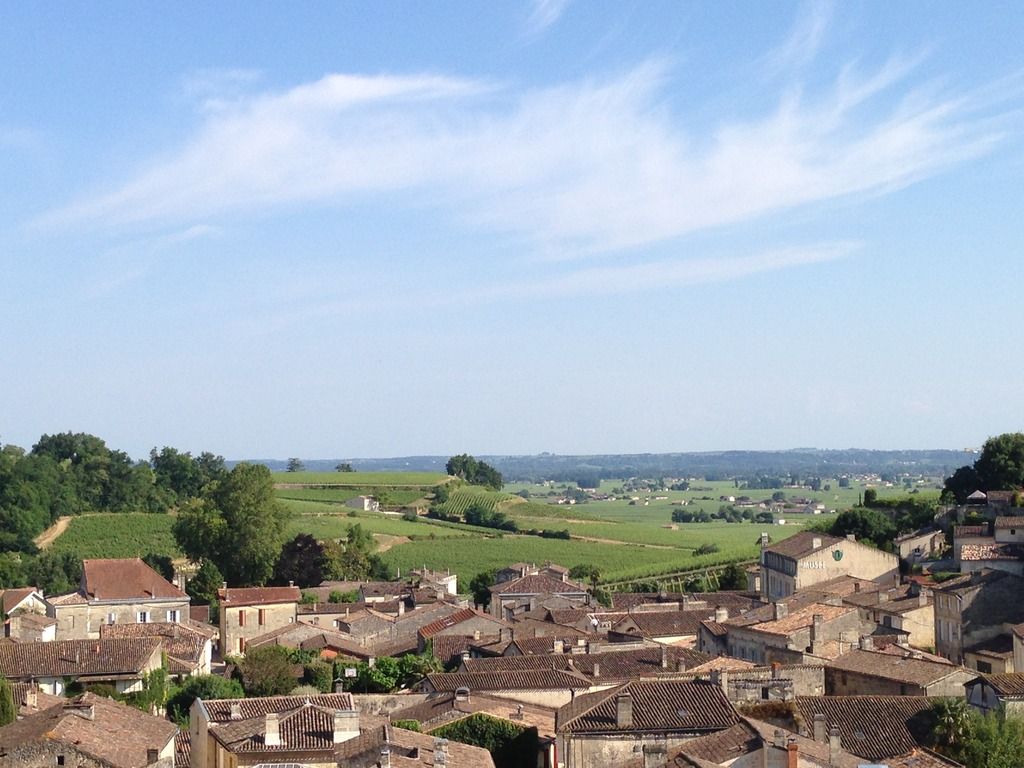 9) Restaurants have older Bordeaux at reasonable prices. I think this is just a function of not "marking to market" (as one would say in the finance world). The wines were marked up off the initial purchase price, but not marked up again as secondary prices went up. We had some of the best wines of the trip at meals - 98 L'Evangile, 05 Trotanoy and 08 Montrose - at prices at or below what you would pay at retail today.
05 Trotanoy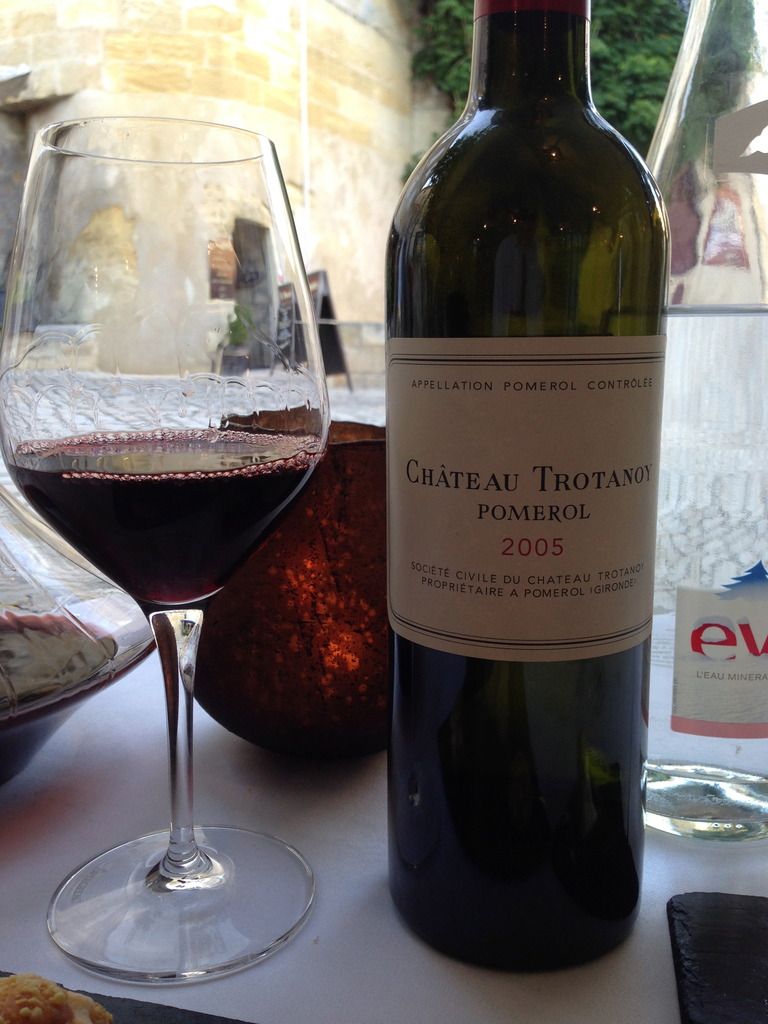 98 L'Evangile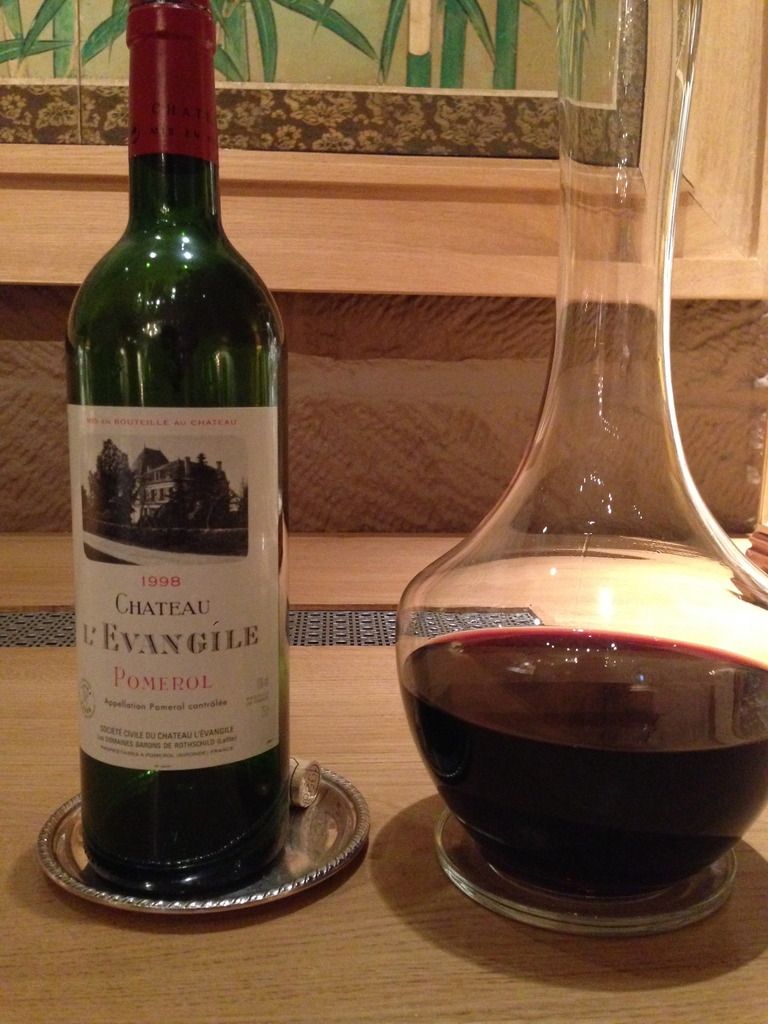 So I hope this post sparks conversation and questions. More to come.
Jeff