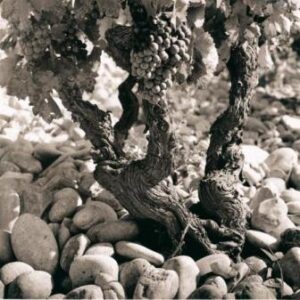 Vieux Telegraph, Chateauneuf du Pape, Rhone wine producer profile with wine tasting notes, wine ratings, a history of the property, information on wine making and terroir, along with wine tasting reviews and images. If you want to read about other important wineries and wine makers from the Rhone valley: Links to all Rhone Valley Wine Producer Profiles
Vieux Telegraph is one of the better known names in Chateauneuf du Pape. The Brunier family has been producing wines at in the appellation for over 100 years. Vieux Telegraph was founded in 1898 by Hippolyte Brunier, the great, grand father of the current owners. They chose the name Vieux Telegraph from an aging signal tower built in 1792 by Claude Chappe. Chappe is the inventor of the optical telegraph, so it's a very fitting name. The first vintage to be produced and bottled at Vieux Telegraph was the 1900.
Vieux Telegraph produces 4 wines from their 65 hectares of vines located in Chateauneuf du Pape. The best parts of their vineyards are situated in the La Crau sector, on very stony soils. While the Domaine make several wines, the top wine from Les Vignobles Brunier is Vieux Telegraph. There are red and white versions of Vieux Telegraph and red and white versions of Le Telegramme. Vieux Telegraph is always produced from the estates oldest vines. Vieux Telegraph comes from fruit planted in La Crau on a terroir that is littered with large and small stones. Vieux Telegraph is usually a blend of 65% Grenache, 15% Mourvedre, 10% Cinsault and 10% Syrah.
The production of Vieux Telegraph and the domaines other wines remain traditional. Stems are removed in the majority of cases, only when destemming could break the skins or grapes are the stems allowed to remain attached. Young and Grapes are hand harvested and moved by gravity flow into the vatting room for fermentation where young and old vines are separated and placed into short, 100 hectoliter, oak barrels for maceration and fermentation. While fruit younger than 25 years is fermented separately from older vines, all the varietals are fermented in the same vats. Next, the wine is moved into concrete vats for 9 months before their being aged in 70 hectoliter fourdres.
A few changes have taken place over the past few decades. The Brunier family added to their holding when they purchased 25 hectares of vineyards in Gigondas in the late 1980′s to produce Domaine Roquete and Domaine Pallieres. In 1994, the labels of Vieux Telegraph changed. From that point forward, the domaine began including the La Crau designation on the labels, but the wine remained the same. Le Telegramme is produced from their younger vines.
Wine Tasting Notes
Displaying 6 notes | 32818 Views Sorted by vintage
2007 Domaine du Vieux Télégraphe Châteauneuf-du-Pape La Crau

Dark ripe berries, cherry, jam and spicy aromatics open to a lush, forward styled Chateauneuf du Pape with the structure to age and ample, soft, ripe, red fruits that make it fun to drink today.

93

points - Tasted

May 11, 2012

8918 Views

Tight and hard to get a handle on, with air and intense swirling, spicy black cherry aromatics could be found, Medium bodied and bright, the strawberry filled finish felt light and short. This is not a bad wine. It just lacked excitement.

90

points - Tasted

Jan 21, 2011

11023 Views

2001 Domaine du Vieux Télégraphe Châteauneuf-du-Pape La Crau

Strawberry, kirsch and earth, rustic and peppery, full bodied and structured, this can be drunk now or held for potential further development.

90

points - Tasted

May 11, 2012

3523 Views

1998 Domaine du Vieux Télégraphe Châteauneuf-du-Pape La Crau

Dark ruby color with earthy, tar, jammy black fruit and fresh cracked pepper scents. Concentrated, dense but without any special reason to like the wine. At the end of the day, it was dull.

85

points - Tasted

Dec 15, 2004

1301 Views

1995 Domaine du Vieux Télégraphe Châteauneuf-du-Pape La Crau

Medium weight, simple and boring.

84

points - Tasted

Oct 28, 2005

1009 Views

1988 Domaine du Vieux Télégraphe Châteauneuf-du-Pape La Crau

Vegetative aromas with green pepper, herbs, mushrooms and white pepper scents. Full bodied with a slightly chalky bitter finish. Some fruit, but mostly disappointing.

83

points - Tasted

Aug 4, 2004

927 Views

1978 Domaine du Vieux Télégraphe Châteauneuf-du-Pape La Crau

Filled with fresh cracked pepper, gariggue, kirsch, herbes, fennel and black raspberries with a melange of spice, this rich, full bodied, charmingly, rustic, spice filled wine ends with a long, fresh, powerful, pure, cherry liqueur finish. This fully mature Chateauneuf du Pape remains a sublime tasting experience for lovers of old Chateauneuf du Pape. Believe it or not, this has at least another decade of life to look forward to. This is best vintage of Vieux Telegraph I've ever tasted! It's almost impossible to fathom how young this wine was showing after more than 3 decades of aging.

96

points - Tasted

Sep 27, 2011

1991 Views

From the color, aromatics and taste, I would have thought this wine was at least 10 years younger. The perfume blended garrigue with dark cherries, pepper and earth. The finish was long, clean and pure. While the wine did not improve with air, it remained at the same level for 2 hours. This might be one of the best 78 Chateauneuf du Papes available today.

96

points - Tasted

Aug 6, 2007

2131 Views

Birckish ruby color. Notes of spice, cinnamon, pepper, jammy blackberries, cherries, raspberries and herbs. Full bodied, silky entry. Very Burgundian in style. Soft, elegant plummy fruit on the palate. Continued improving in the glass. Wow, what a treat! Steve Levin purchased this on release for $6.00

95

points - Tasted

Aug 4, 2004

1995 Views