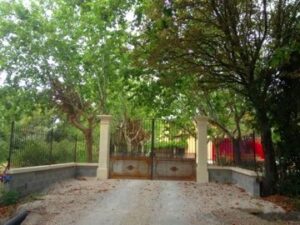 Domaine du Pegau Chateauneuf du Pape, Rhone wine producer profile, with a history of the property, plus information on their wine making techniques and their terroir, along with wine tasting reviews and links.
Domaine du Pegau is an old name in Chateauneuf du Pape. The Feraud family is able to trace their roots all the way back to the middle of the 17th century. That is when the ancestors of the Feraud family first planted grape vines next to their olive trees in Chateauneuf du Pape. The great, grandparents of Laurence Feraud were responsible of growing the vineyard into its current, 49 acre size. Paul Feraud, the father of Laurence brought Domaine Pegau into the modern age when he began to bottle his own wine from the production of a small 5 hectare parcel in Chateauneuf du Pape. Prior to that date, the production was sold to negociants.
The next big step in the development of Pegau took place in 1987, when Laurence joined her father Paul at Domaine du Pegau. At the time, the wine was still be bottled under the name Domaine Feraud. They changed the name to Pegau, which is and old Provencal term for an ancient jug for wine discovered during the excavations of the 14th century, Avignon Popes Palace.
If you've wondered how to say Pegau, the daughter Laurence, who took over managing the property starting with the 2005 vintage, pronounces the name as Pay-Go. The father says it differently, Puh-Gow. That debate makes for a fun dinner conversation.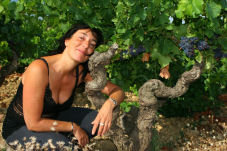 The current Chateauneuf du Pape vineyards of Domaine du Pegau totals 18.5 hectares of red wine grapes and 1 hectare for white wine. The vineyards are located in different areas of Chateauneuf du Pape in a total 11 different parcels. Their best vines are located on the plateau pf La Crau. They also own 6 hectares of vin de table vineyards
This traditionally managed, Domaine du Pegau estate produces 3 red Chateauneuf du Pape wines and one white wine, as well as vine de table wines.
Domaine du Pegau Reservee is produced from 75% Grenache, 20% Syrah and 5% Mourvedre, Counoise and other varieties.
The wine is aged on average for 18 months in old foudres.
Domaine du Pegau Cuvee Laurence is produced from the same blend as the reservee, but the wine is aged in wood barrels for an additional 18-24 months. My personal preference is for the Domaine du Pegau Reservee.
Domaine du Pegau Cuvee du Capo is one of the most expensive and in demand wines in the Rhone appellation. The wine receives additional aging and is a pick of the best lots from the vintage. Capo is only made in the best vintages. 
Wine Tasting Notes
Displaying 17 vintages | 94088 Views Sorted by vintage
2009 Domaine du Pégaü Châteauneuf-du-Pape Cuvée Réservée

Rich in color and raw materials, this stunning example of Pegau roars from the glass with its intense nose of kirsch liqueur, pepper, fennel, spice, jam and meaty nose. Deep, full-bodied and intense, the powerful wine fills your mouth and palate with layers of ripe, extremely ripe and over ripe berries. Bravo Laurence!

97

points - Tasted

May 12, 2013

1410 Views

2007 Domaine du Pégaü Châteauneuf-du-Pape Cuvée Réservée

Kirsch, cherry liqueur, black raspberry, earth and garrigue aromas, rich, lush textures and a long, fresh, pure, ripe fruit filled finish reminds me why I remain a fan of Chateauneuf du Pape and Pegau. Drink it now if you like them young, or let the wine age. This is simply delicious.

95

points - Tasted

Aug 19, 2012

5308 Views

2006 Domaine du Pégaü Châteauneuf-du-Pape Cuvée Réservée

Bright, peppery and filled with strawberry, fresh cherries, earth and herbs, this rich, sweet, Chateauneuf du Pape needs a few more years to come around.

92

points - Tasted

Nov 13, 2012

3361 Views

2005 Domaine du Pégaü Châteauneuf-du-Pape Cuvée Réservée

Krisch, garrigue, herbs, black raspberry and fresh herbal scents open to a medium bodied, fresh, acidic and still youthfully tannic Peagu. The wine needs a few more years before becoming fun to drink. This is the perfect Chateauneuf for people that find 2003 or 2007 too ripe or concentrated.

93

points - Tasted

May 8, 2012

5241 Views

2004 Domaine du Pégaü Châteauneuf-du-Pape Cuvée Réservée

Dark in color, with a nose packed with pepper, garrigue, kirsch, black raspberry, licorice and kirsch, this full bodied, concentrated, fresh, spicy, mouth filling Chateauneuf du Pape delivered the goods.

93

points - Tasted

Jul 5, 2012

4802 Views

2003 Domaine du Pégaü Châteauneuf-du-Pape Cuvée da Capo

2003 Pegau da Capo has turned out so much different than I anticipated. Having tasted the wine in barrel and in bottle, I was expecting a massive, dark, jammy wine with more power than refinement. Nothing could be further from the truth. Served blind, this could have passed for a great vintage of Chateau Rayas! The beautiful fragrance was filled with earth, black cherries, kirsch, wild strawberries, pepper and spice. Elegant in texture, with a beautiful array of sweet, ripe, pure, juicy, red fruits in the finish, this suave Southern Rhone wine is a pleasure to drink now and it should remain at this level, or improve for many years to come.

98

points - Tasted

Sep 27, 2011

5403 Views

2003 Domaine du Pégaü Châteauneuf-du-Pape Cuvée Réservée

This majestic Chateauneuf du Pape gets better each time I taste it. With a perfume that pops the moment the wine hits your glass, jammy black raspberries, licorice, fresh earth, spice, kirsch and garrigue aromas are in full force. The texture is fat, lush, rich and full, ending with a long sensation of fresh, ripe, spice, dark, red berries. This wine of pleasure drinks great today. If you have some in your cellar, pop a cork and see for yourself.

97

points - Tasted

Nov 17, 2012

3595 Views

Beautiful nose of barnyard, pepper, kirsch liqueur, strawberry, earth and spice capture your attention. Powerful, full bodied and concentrated, this voluptuous, rich, mouth filling wine coats your palate with layers of ripe, fresh, essence of black cherry, plum, black raspberry, spice and strawberry jam. This is a knockout Chateauneuf du Pape that can be enjoyed today and based on how well the 1990 is ageing, for at least another 15-20 more years.

98

points - Tasted

Feb 27, 2012

8104 Views

If you're a fan of Chateauneuf du Pape, this sublime example belongs in your cellar. Explosive aromas of licorice, jammy black and red fruits, garrigue, pepper, spice, kirsch and fresh herbs. Powerful concentrated, rich, intense, pure and mouth filling. There is a lot to like with this wine. It's a fabulous expression of Chateauneuf du Pape.

97

points - Tasted

Nov 27, 2011

6083 Views

Inky dark in color. Ripe and over ripe blackberry, strawberry and dark cherry along with pepper, licorice and spice, the perfume demands attention. Incredible levels of concentrated ripe fruit fill your mouth with ample freshness and purity. This has great character with the ability to age and evolve. This could end up better than the 90!

98

points - Tasted

Nov 21, 2006

2538 Views

2001 Domaine du Pégaü Châteauneuf-du-Pape Cuvée Réservée

Barnyard scents are in full force, with this peppery, garrigue, black raspberry and earthy wine. Rich, full bodied, animalistic and filled with sweet, ripe, spicy fruit, this is drinking great today, and should be better tomorrow!

94

points - Tasted

Dec 4, 2012

2768 Views

2000 Domaine du Pégaü Châteauneuf-du-Pape Cuvée Réservée

Plums, kirsch, pepper, garrigue, licorice and spice aromas are easy to find. Soft in texture with a lush character, this forward style of wine has been a pleasure to taste since the day it hit the stores. This bottle seems slightly more advanced than previous bottles. I'm not sure if that is just this bottle, or if the wine is developing at a rapid pace for Pegau. I'll try and pop another in the near future.

92

points - Tasted

Nov 21, 2011

5004 Views

2000 Domaine du Pégaü Châteauneuf-du-Pape Cuvée da Capo

Forward, jammy dark cherry and spice, this is not as good as the the previous benchmark, 1998. Fresh, balanced, complex and open, at the end of the day, it's not worth the money being asked.

95

points - Tasted

Feb 23, 2006

1408 Views

1998 Domaine du Pégaü Châteauneuf-du-Pape Cuvée Laurence

Complex notes of black fruits, pepper, spices, griotte and jam. Rich, deep and palate pleasing. More structure, complexity, depth and fruit than the Reserve.

96

points - Tasted

Nov 1, 2007

623 Views

1998 Domaine du Pégaü Châteauneuf-du-Pape Cuvée da Capo

1998 Pegau da Capo made from mostly old vine Grenache is so deep in color, it could pass for a 2007. With a nose packed with pepper, over ripe cherries, licorice, liquefied steak, garrigue, kirsch, spice, earth and fresh herbs, it's almost too much of a good thing. Please note I said, almost too much. Packed and stacked with multiple layers of sweet, jammy berries, the wine is obviously built to age and evolve for decades. The levels of concentration are almost off the charts. Perhaps I caught it at the wrong the wrong time, because the tannins were slightly obtrusive and the wine was not as expressive in the nose or mouth as I would have anticipated. From memory, the few times I've tasted the wine in the past offered a better tasting experience. I hope to try another bottle in another 5- 10 years.

95

points - Tasted

Aug 2, 2012

1938 Views

Concentrated and freakishly ripe fruit. Peppery jam, this is incredibly rich and dense. Lovers of Chateauneuf need to to experience this wine at least once. The finish is well over sixty seconds!

98

points - Tasted

Feb 23, 2008

3653 Views

1998 Domaine du Pégaü Châteauneuf-du-Pape Cuvée Réservée

Strawberry jam, kirsch, earth, Provencal herbs and pepper scents open to a medium/full bodied, round, ripe, sweet, mature Chateauneuf du Pape that is drinking great today. Full bodied, luscious and lusty, there is a lot to like in the wine and the best part is, there is no reason to delay popping a cork as it's drinking great today.

94

points - Tasted

May 7, 2012

3779 Views

The wine opens with sweet kirsch, cherry, pepper, underbrush and black raspberry jam. This fresh, full bodied Chateauneuf seems to have matured quickly for Pegau. The wine finishes with a soft, jammy, pepper and cherry filled finish.

92

points - Tasted

Aug 6, 2011

4845 Views

Cherry girotte, wild strawberry jam, fresh market herbs, underbrush, fennel and cracked black pepper start off the perfume. Full bodied, and filled with ripe, spicy, black cherry preserves, this sauvage style of Chateauneuf drinks well today and might improve a bit, but it's so much funto taste now, why wait?

94

points - Tasted

Jul 17, 2010

4608 Views

Traditionally styled with ripe, red fruit, herbs, licorice and pepper. Concentrated with rich textures, this ripe wine packs a lot of ripe kirsch in the finish.

93

points - Tasted

Nov 1, 2007

1212 Views

1995 Domaine du Pégaü Châteauneuf-du-Pape Cuvée Réservée

Animalistic, sauvage notes of ripe dark cherry and black raspberry jam with herbs and blackberry liqueur. Tannic, structured and slightly pitched. Needs time. Lacks some charm.

93

points - Tasted

Oct 28, 2004

973 Views

1990 Domaine du Pégaü Châteauneuf-du-Pape Cuvée Réservée

With an expressive nose of black cherry liqueur, kirsch, pepper, herbs and stone, we were in Chateauneuf du Pape. With beautiful textures and a sweetness to the fruit, this full mature Chateauneuf du Pape is a candidate for serious aging as it's still going strong at 22.

96

points - Tasted

Mar 27, 2012

2325 Views

Spice, kirsch, black pepper, earth and garrigue scents open a full bodied, Grenache based wine that's filled with sweet, strawberry jam, spice and fresh cherries. Fully mature, this Chateauneuf du Pape should offer pleasure for another 5-10 years.

95

points - Tasted

Jul 16, 2011

3743 Views

1990 Pegau, from a beautiful bottle with fill that looks like a 10 year old wine. Aromas of barnyard, Provencal herbs, cherry griotte, lavender, forest floor and white pepper start off the perfume. Full bodied, rich, luscious concentrated layers of spicy cherries and strawberry feel great as they coat your tongue with soft, flavors and lift. The peppery, cherry griotte and black raspberry finish could be a little longer, but this stylish wine gives so much pleasure, I'm not complaining. At close to 21 years of age, (sadly the wine, not me), there is no reason for more development. I'm going to finish my remaining bottles over the next 3-5 years. 96 Pts

96

points - Tasted

Sep 11, 2010

3493 Views

Kirsch, iodine, herbs, olives, licorice, sweet black and red fruit are intoxicating to smell in this sublime Chateauneuf du Pape wine. In the mouth, layers of juicy, sweet, ripe fruit fill every nook and cranny of your plalate with layers of ripe srawberry, cherry and a hint of licorice.

97

points - Tasted

Jul 1, 2009

2342 Views

Deeply colored with a potent perfume of spicy red and black fruit with jam. Very concentrated. Packed and stacked with ripe fruit and purity. The long clean finish will put a smile on any Chateauneuf du Pape fans face.

97

points - Tasted

Nov 4, 2006

809 Views

Red ruby with a tint of brick. The rim is definitely brick colored. Darker than many mature Chateauneuf's, but showing signs of maturity. Jammy, ripe black fruits along with herbs of Provence, wet earth and spices with a chocolate overtone which surprised me. Full bodied with ripe, lush cherry and strawberry notes. More interesting on the nose than the palate. :25-:30 second finish. Very dense mouth feel, extremely concentrated wine from very ripe fruit

94

points - Tasted

Jan 24, 2004

805 Views

1990 Domaine du Pégaü Châteauneuf-du-Pape Cuvée Laurence

The finish showed a slight, dry, tart cherry flavor. I think this wine is starting to dry out. Owners should drink this sooner than later. The 90 Reserve is a much better wine.

90

points - Tasted

Feb 20, 2007

2525 Views

Thick, beefy, dense and chewy in style with lots of herbs, strawberry, barnyard and black fruit on the nose.

90

points - Tasted

May 3, 2005

404 Views

Herbs, Spices, jammy fruit and incense notes filled the glass. The mouth feel on the Laurence was very elegant and in a wild way, as it is a Chateauneuf, elegant. Deep, rich tiers of decadent fruit fill your palate.

95

points - Tasted

Feb 12, 2005

398 Views

1989 Domaine du Pégaü Châteauneuf-du-Pape Cuvée Réservée

Strong, barn yard odors greeted you at the door. With time, that blew off and it morphed into a beefy, rustic, traditionally styled Chateauneuf lacking some charm.

90

points - Tasted

Apr 25, 2005

588 Views