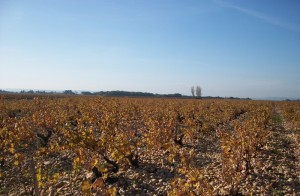 Mas de Boislauzon Chateauneuf du Pape, Rhone wine producer profile with wine tasting notes, wine ratings, a history of the property, information on wine making and terroir, along with wine tasting reviews and images. If you want to read about other important wineries and wine makers from the Rhone valley: Links to all Rhone Valley Wine Producer Profiles
Located in the north of Chateauneuf du Pape, not far from the ancient Roman city of Orange, Mas de Boislauzon is managed by Daniel and Christine Chaussy. Daniel and Christine, brother and sister are the sixth generation in their family to manage the 22 acres of Mas de Boislauzon. Aside from vineyards in Chateauneuf du Pape, Mas de Boislauzon also possesses 15 hectares of vines in Cotes du Rhone. The domaine takes its name from the vineyard location where their oldest Mourvedre vines are planted.
The estate practices biodynamic farming techniques. In 2012, Mas de Boislauzon were certified agriculture biologique. With 6 generations of wine making in the family, the wines produced today at Mas de Boislauzon today are stunning examples of what Chateauneuf du Pape does best.
Like many Chateauneuf du Pape growers, the vines of Mas de Boislauzon are located in different sectors spread across the appellation. Most of their terroirs are sand, loam and limestone, and some are littered with rocks. Their oldest, prized vines are the Mourvedre, which on average are a respectable 70 years of age.
Sorting takes place in the vineyard and again at the cellars of Mas de Boislauzon. They do not destem the grapes. Alcoholic fermentation takes place in traditional cement vats. Generally speaking, the grape varieties are fermented separately, although some of their Grenache and Mourvedre are co fermented in the same vat. Wines are aged in tanks and small oak barrels, depending on the wine, and the variety.
The Domaine produces 4 unique Chateauneuf du Pape wines.
Mas de Boislauzon Chateauneuf du Pape Tradition which is usually a blend of 70% Grenache, 15% Mourvedre and 15% Syrah. The wine is aged in 50% neutral oak and 50% concrete vats for about 12 months.
Mas de Boislauzon Chateauneuf du Pape Quet, which made its debut in 1996, is a blend of 80% old vine Grenache and 20% Mourvedre. The Grenache comes from old vines that average about 80 years of age. The wine is aged in 50% neutral oak and 50% concrete vats for about 12 months.
Mas de Boislauzon Chateauneuf du Pape Tintot is possibly the only wine in Chateauneuf du Pape produced from 100% Mourvedre. The name Tintot is an old term for Mourvedre. The vines are old, many are more than 80 years old! The vines are planted in a single parcel. Tintot made its debut only a few years ago, back in 2006. The production is small. On average slightly more than 1,500 bottles are made in a good vintage! It's hard to find, but worth the effort. Tintot is aged in neutral barrels for 12 months before being moved to concrete vats where it rests for an additional year.
They also produce a Chateauneuf du Pape Blanc wine from a blend of 25% Grenache Blanc, 25% Clairette, 25% Roussane and 25% Bourboulenc.
Aside from producing stunning Chateauneuf du Pape wines, Mas de Boislauzon makes a strong Cote du Rhone village wine from a blend that is usually close to 70% Grenache, 20% Syrah and 10% Mourvedre.
Wine Tasting Notes
Displaying 6 vintages | 10296 Views Sorted by vintage
2010 Mas de Boislauzon Châteauneuf-du-Pape

This fabulous, rich, concentrated, earthy, black cherry and spice filled wine is a great value for its quality. The wine is tannic and demands a few years in the cellar to soften, but it's worth the wait for this stylish Chateauneuf du Pape.

92

points - Tasted

Mar 20, 2012

1759 Views

2010 Mas de Boislauzon Côtes du Rhône Villages Les Deux Chênes

Licorice, jammy black cherry and pepper aromas are matched with a deeply colored wine that ends with ripe, sweet, fleshy, black cherries. This fun, well priced wine is already drinking well.

91

points - Tasted

Mar 19, 2012

648 Views

2010 Mas de Boislauzon Châteauneuf-du-Pape Le Tintot

From 100% Mourvedre, with vines that average at least 80 years of age, this inky, black wine is stunning! Licorice, blackberry liqueur, herbs, ripe black cherry and smoke aromas explode from the glass. Fat, sassy and packed with multiple layers of rich, ripe, dense sweet, pure fruit, this massive, intense wine fills your mouth and palate with flavor and velvet textures in the long, polished finish.

97

points - Tasted

Mar 20, 2012

1220 Views

2010 Mas de Boislauzon Châteauneuf-du-Pape Cuvée du Quet

Opaque in color, this intense wine is packed with smoke, coffee, earth, plum liqueur, molten black cherries and an array of spices. Dense, concentrated and tannic, this sensational, rich, powerful, palate coating, Chateauneuf du Pape will need a few years to come together.

98

points - Tasted

Mar 20, 2012

2684 Views

2007 Mas de Boislauzon Châteauneuf-du-Pape

Deep in color, the perfume is filled with black cherry liqueur, fennel, garrigue, pepper and jam. With great concentration, purity and depth of flavor, this rich, ripe, plush Chateuneuf du Pape is already delivering a lot of pleasure.

93

points - Tasted

Mar 19, 2012

2571 Views

2007 Mas de Boislauzon Châteauneuf-du-Pape Cuvée du Quet

This is a really fine expression of Chateauneuf du Pape. Served blind, not everyone liked it, but I loved its jammy, black raspberry, earth, kirsch and stone perfume. Although, at first, there was a hint of wood, which faded after about an hour in the glass. Rich, but not over the top, ripe, but not over ripe, the supple textured, pure finish was a pleasure to taste. There was no sensation of heat in the finish. I'd give it a few more years to develop additional levels of complexity before popping a bottle.

96

points - Tasted

Nov 14, 2012

1414 Views