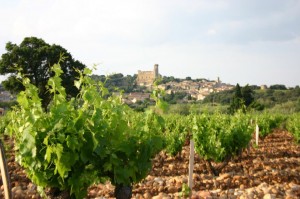 Marcoux, Chateauneuf du Pape, Rhone wine producer profile with wine tasting notes, wine ratings, a history of the property, information on wine making and terroir, along with wine tasting reviews and images. If you want to read about other important wineries and wine makers from the Rhone valley: Links to all Rhone Valley Wine Producer Profiles
There are old families in the Chateauneuf du Pape appellation and there are real old families from the region. The roots of Domaine de Marcoux date all the way back to about the year 1000. Chateauneuf du Pape was not born yet. The area was still known as Castrum Novum, which meant fortified village. At the time, the ancestors of the Armenier family went under the name of Armani! And no, we're not talking about the house of Armani from Italy!
While the owners of Domaine de Marcoux are obviously one of the oldest families in Chateauneuf du Pape, wine making did not take place at Domaine de Marcoux until quite recently. The first vintage was 1989. Six years later, the sisters, Catherine Armenier and Sophie Estevenin started managing Domaine de Marcoux after their brother Philippe Armenier moved to Napa Valley in California. Catherine is responsible for the wine making, and Sophie looks after the business end of the winery.
Domaine de Marcoux practices biodynamica farming of their 17.5 planted hectares of vines. On average, their vines are close to 50 years of age. They have old vines, the oldest are more than 100 years old. They come from 2.3 hectares planted on sandy terroir. That is the grape source for the Domaine de Marcoux Vieille Vignes.
This is a traditionally managed Rhone property. After harvest, the berries are destemmed and sorted to each specific grape variety before fermentation. The fruit spends 3 weeks in concrete vats. Malolactic fermentation takes place in vats. At that point, the wine is aged in a combination of concrete vats and foudres for between 16 to 18 months.
Domaine de Marcoux produces 3 red Chateauneuf du Papes and two white Chateauneuf du Papes as well as wines from Cotes du Rhone.
Domaine de Marcoux Chateauneuf du Pape is made from 80% Grenache, 10% Mourvedre, 5% Syrah and assorted varietals.
Domaine de Marcoux Ephemere is a blend of 90% Grenache and 10% Syrah. This is a semi new wine for the sisters, It comes from a vines purchased in 2002. The first vintage took place in 2003.
Domaine de Marcoux Vieilles Vignes is for all intents and purposes, 100% old vine Grenache. This limited production wine is one of the top cuvees from Chateauneuf du Pape. On average, 300 cases are produced per year. This is a stunning style of Chateauneuf du Pape with sensuous textures and a beautiful purity of fruit. Expensive and hard to find, if you see a bottle and want to try one of the reference point wines in Chateauneuf du Pape, this is one of the wines to consider.
Wine Tasting Notes
Displaying 7 vintages | 16692 Views Sorted by vintage
2007 Domaine de Marcoux Châteauneuf-du-Pape Vieilles Vignes

This is one of the more expensive Chateauneuf du Pape wines in the marketplace. And it's worth every penny! This unique expression of Grenache from vines over 100 years old is close to being completely ff the hook. Ripe, dense, luscious, refined, supple, pure cherries, earth, strawberry and spice loads up and satiates your senses. This is refined, wild and sexy. Based on older vintages of Marcoux VV in my cellar, this is also one of the few wines from Chateauneuf that are better at 20, than they were at 2! In a few years, I imagine my score will look conservative.

97

points - Tasted

Mar 15, 2012

1833 Views

2005 Domaine de Marcoux Châteauneuf-du-Pape Vieilles Vignes

This massive Chateauneuf du Pape is a marvel. How the Armeniery sisters keep everything in balance at 16.7% alcohol is beyond me. But they do! The perfume jumps from the glass with jammy kirsch, pepper, black raspberry, earth, licorice, blueberry and forest scents. Full bodied and concentrated with waves of fruit, tannin and glycerin, the finish last close to 50 seconds.

96

points - Tasted

May 4, 2012

1201 Views

2003 Domaine de Marcoux Châteauneuf-du-Pape Vieilles Vignes

Wines like this remind me why Marcoux, especially with their Vieille Vignes is one of my favorite Chateauneuf du Pape producers. Fat, lush, ripe and sexy, this ripe wine is filled with jammy black raspberry, garrigue, cherry, wild strawberry, pepper and earthy aromas. Opulent in texture, the wine ends with rich layers of ripe and over ripe, pure red fruits. This is drinking great today. If you have at least a few bottles, there is no reason not to try it. This is pure, bottled, lusty pleasure.

97

points - Tasted

May 4, 2012

1174 Views

2001 Domaine de Marcoux Châteauneuf-du-Pape Vieilles Vignes

Very dark colored wine. The aroma expresses extremely ripe fruit, almost porty. Dense, chewy, mouth feel. This is a big wine. Long powerful, ripe, red fruit and spice filled finish.

95

points - Tasted

Aug 1, 2005

1457 Views

2000 Domaine de Marcoux Châteauneuf-du-Pape Vieilles Vignes

Complex aromas filled with kirsch and jammy black raspberries complicated by pepper and garrigue. Refined, round and polished, this plush, concentrated, rich, Chateauneuf du Pape ends with a polished, long, fresh wave of bright, silky textured, spicy plums. This is drinking beautifully at this point.

97

points - Tasted

Feb 14, 2012

1554 Views

00 Marcoux VV is filled with wild strawberries, cherries, smoke, Provencal herbs, truffles and chocolate mint flavors. Intense, rich, elegant and pure, this finesse styled wine finishes with long sensations of ripe black and red cherries that feel great as they fill your mouth. This is a very tactile wine that drinks perfectly today.

97

points - Tasted

Aug 22, 2010

2206 Views

Incredible levels of spicy, rich, perfectly red fruit, pepper, jam and herbs. Elegantly textured, plush and polished. This concentrated Chateauneuf du Pape wine ends in a long, silky flow of ripe kirsch and wild strawberry.

99

points - Tasted

Dec 1, 2007

2362 Views

1998 Domaine de Marcoux Châteauneuf-du-Pape Domaine et Selection

This is a seldom seen bottling. Black pepper, dark cherries, black raspberry and earthy scents were was to find. Medium/full bodied and richly textured, this mature Chateauneuf du Pape finished with dark, peppery, jammy berries. It needs to be consumed.

91

points - Tasted

Aug 6, 2010

567 Views

1995 Domaine de Marcoux Châteauneuf-du-Pape Vieilles Vignes

Black pepper, herbs, blackberry jam, cherries, smoke and spice aromas lead to a fresh, black raspberry, strawberry and balsamic filled wine. Sensuous in texture, this is probably fully mature and should be consumed over the next 5 years.

96

points - Tasted

Jul 16, 2011

1210 Views

1995 Marcoux VV is bottled, liquid pleasure. That should say enough, but for those seeking more detail... Pepper, garrigue, kirsch, jammy black raspberry, dark cherry and fennel aromatics pop from the glass within moments of being poured. In the mouth, the wine is rich, think, and concentrated, with potent layers of ripe cherry, jam, pepper and lavender. This is truly essence of old vine Grenache. The finish must last for over 50 seconds! 97 Pts

97

points - Tasted

Oct 10, 2010

1621 Views

The color is reminiscent of Black Plums with lightening around the edges. On the nose, notes of blackberries, raspberries, pepper, licorice, coffee, root beer and flowers. The palate offers nice red fruit liqueur flavors. The weight on the finish is a combination of syrup of Grenache with a slight, chalky, tannic sensation. This wine truly coats your palate with an avalanche of ripe fruit. The flavors linger on the palate for believe it or not, close to 60 seconds!

97

points - Tasted

Nov 20, 2003

1507 Views