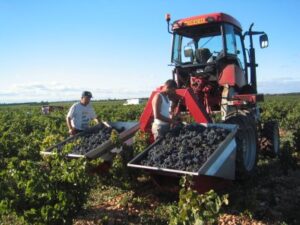 Janasse, Chateauneuf du Pape, Rhone wine producer profile with wine tasting notes, wine ratings, a history of the property, information on wine making and terroir, along with wine tasting reviews and images. If you want to read about other important wineries and wine makers from the Rhone valley: Links to all Rhone Valley Wine Producer Profiles
Janasse is a fairly new property, especially by European standards. It did not become an official Domaine until 1973. Prior to that date, the harvest was sold in bulk to negociants starting in 1967. Janasse takes its name from the small parcel where some of their vines are located in Chateauneuf du Pape.
Aime Sabon, the founder of Janasse increased the vineyards from 15 hectares to their current size of 55 hectares with 15 of their hectares located in the Chateauneuf du Pape appellation. Their vines are scattered across the region on different soil types. They have old vines. Their oldes vines, which are close to 90 years of age on average are used in their special Janasse Cuvee Vieilles Vinges.
Janasse is a modern style of Chateauneuf du Pape. Starting in 1993, they began to destem some of their fruit. That trend has continued and as of today, at least 80% of the berries are fermented without stems. Concrete vats are used to ferment their Grenache. They use the short, conical shaped oak barrels to ferment their Mourvedre and Syrah. The Grenache is aged in foudres. The Mourvedre and Syrah is aged in a combination of new French oak barrels and foudres giving Janasse its modern style.
In 2001, Sabon brought in his children to help run the estate, Christophe and Isabel.
Janasse produces 3 red Chateauneuf du Pape wines and 2 white Chateauneuf du Papes as well as wines from Cotes du Rhone.
Janasse Tradition is produced from 75% Grenache, 15% Syrah and 10% Mourvedre. Production averages 1,250 cases.
Janasse Chaupin is produced from 100% Grenache from old vines that were planted over 100 years ago. In fact, they were planted in 1912. 70% of the wine is aged in foudres. The remaining 30% is aged in barrel. 25% of the barrels are new oak. Production averages 1,000 cases. This is my favorite wine from Janasse.
Janasse Vieilles Vignes is made from a blend of 85% Grenache, 10% Syrah and 3% Mourvedre. The rest of the blend comes from a myriad of different varietals. Produced from old wines, 75% of the wine is aged in foudres. The other 25% is aged in 40% new oak. Some tasters love this cuvee. I find the oak overwhelms the Grenache. Production averages 850 cases per year.
If you're at Domaine Janasse, they produce a Vin de Paille that is only sold at the property. It's a fun dessert wine that's worth purchasing. I wish I had purchased more. Oh well… there's always next time.
Wine Tasting Notes
Displaying 10 vintages | 40673 Views Sorted by vintage
2007 Domaine de la Janasse Châteauneuf-du-Pape Vieilles Vignes

2007 Janasse VV From 85% old vine Grenache, 10% Syrah and 5% Mourvedre, this powerful, intense, deep colored wine is filled with licorice, pepper, kirsch, strawberry and black raspberry jam. On the palate, this is no shy wallflower of a wine. It's thick, rich and incredibly concentrated. Think of it as melted essence of Chateauneuf du Pape.

97

points - Tasted

May 2, 2012

4607 Views

2007 Domaine de la Janasse Châteauneuf-du-Pape Cuvée Chaupin

This 100% old vine Grenache based wine is filled with sweet, jammy cherries, black raspberries, pepper, licorice, garrigue, and kirsch. Long, rich, dense and lush, this intense, sublime Chateauneuf du Pape is drinking well now and like previous vintages, should improve and add complexity over the next several years.

96

points - Tasted

Jan 2, 2012

4995 Views

Fresh ground pepper, gariggue, licorice, camphor, stone, black cherry jam and smoke filled my nose with its pungent aromatics. This lusty, concentrated wine ends with a long, spicy, rich, blackberry and jammy strawberry filled finish. This is the best vintage of Chaupin I have tasted yet.

96

points - Tasted

Jan 24, 2011

5904 Views

2007 Domaine de la Janasse Châteauneuf-du-Pape

Filled with earthy, jammy blackberries and hints of coffee bean. 60% Grenache blended with equal parts Syrah and Mourvedre, the Syrah seems some oak again, which adds the coffee element. Thick and rich, but the finish on this bottle was short. Perhaps this was not a perfect bottle

90

points - Tasted

Feb 2, 2011

3824 Views

2006 Domaine de la Janasse Châteauneuf-du-Pape Vieilles Vignes

Rich, intense, youthful and packed with kirsch, blackberry liqueur, spice, fennel and garrigue, with 30 minutes of air, the wine is starting to drink well. With a few more years of bottle age, it should be even better.

95

points - Tasted

May 5, 2013

613 Views

2005 Domaine de la Janasse Châteauneuf-du-Pape Cuvée Chaupin

With beautiful, plush, round, fat textures and spicy kirsch, strawberry jam, earth, cherries, pepper, herb and spice notes, the wine is almost overflowing with the lusty qualities found in the best Chateauneuf du Pape's and it's drinking perfectly today.

94

points - Tasted

May 2, 2012

2250 Views

2003 Domaine de la Janasse Châteauneuf-du-Pape Vieilles Vignes

Thick, rich and opulent in texture, the wine offers notes of jam, licorice, garrigue, kirsch liqueur, pepper and smoke. This hedonistically styled, packed and stacked Chateauneuf du Pape, produced from 85% old vine Grenache is drinking great today.

94

points - Tasted

Feb 26, 2012

2724 Views

2001 Domaine de la Janasse Châteauneuf-du-Pape Vieilles Vignes

Rich, deep complex, but decidedly modern in style, jammy fruits, licorice, smoke, oak, pepper, earth and liqueur scents, luscious textures and a long, sweet, lush, oaky, kirsch and black raspberry finish.

96

points - Tasted

Jun 5, 2012

2652 Views

2000 Domaine de la Janasse Châteauneuf-du-Pape Cuvée Chaupin

Jammy blackberries, pepper, fresh market herbs, black raspberry, earth and kirsch pop the moment the wine hits the glass. Rich, concentrated and filled with dark, ripe berries, jam, pepper, spice and kirsch, this concentrated, lush, intense wine is in the perfect spot today.

95

points - Tasted

Apr 25, 2011

3211 Views

1998 Domaine de la Janasse Châteauneuf-du-Pape Cuvée Chaupin

98 Janasse Chaupin offers fresh black pepper, garrigue, kirsch, smoke, Provencal herbs, jam and mineral aromas. This ripe, suave, rich, delicious wine fills your mouth with ripe jammy black raspberries, kirsch and pepper. Fully mature and throwing a touch of heat, I'd drink my remaining bottle over the next 2-3 years if I had any left. Sadly, this was number 12 from the original case I purchased on release.

94

points - Tasted

Sep 26, 2010

3254 Views

Stellar combination of ripe, red and dark berries, jam and elegant textures. This might not improve much. But, who cares? It' so good now and will continue delivering ample pleasure for several years.

93

points - Tasted

Nov 1, 2007

550 Views

Pepper, kirsch, menthol, spices and licorice tones pop from the glass! Very thick, concentrated and balanced with velvet tannins and textures.

96

points - Tasted

Oct 28, 2004

635 Views

1998 Domaine de la Janasse Châteauneuf-du-Pape Vieilles Vignes

What a nice surprise. Until this tasting, this has not been my favorite Chateauneuf du Pape. But that changed with this bottle! It took almost 14 years, but clearly, it was worth the wait, even if it was my last bottle. With a deep color that made me think this wine was only a few years old, intense aromas of licorice, garrigue, black plums, cherries, kirsch, pepper, earth and spice, the offered an explosion of flavor and sensuous, deep textures. The long, concentrated finish delivered layers of lush, pure, ripe, spicy, dark berries.

96

points - Tasted

Oct 19, 2011

2300 Views

The wine offers wood, ripe back fruit, jam, pepper and herbal aromatics. This powerful wine is filled with ripe, jammy fruit and spice. But the oak distracted from the wine. In this case in both the nose and in the mouth. People who like this style will rate probably rate it higher.

92

points - Tasted

Aug 6, 2010

3154 Views