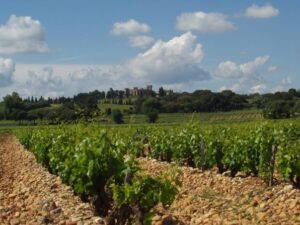 Clos St. Jean, Chateauneuf du Pape, Rhone wine producer profile with wine tasting notes, wine ratings, a history of the property, information on wine making and terroir, along with wine tasting reviews and images. If you want to read about other important wineries and wine makers from the Rhone valley: Links to all Rhone Valley Wine Producer Profiles
Clos Saint Jean has a history in Chateauneuf du Pape that can be dated all the way to the very start of the twentieth century. The estate was created by Edmund Tacussel in 1900. Within a decade, Clos Saint Jean was ready to begin producing their own wine, which they've been doing since 1910. However, Clos Saint Jean did not begin to earn fame until the 2003 vintage, which caused the famous wine critic, Robert Parker to extol the estate's virtures.
Today, Pascal and Vincent Maurel manage Clos Saint Jean. Since 2003, the brothers have completely turned this previously unknown estate around. Prior to 2003, the wines were fine, but undistinguished Southern Rhone wines. After 2003, with hard work and assistance of their consultant Philippe Cambie, they have never looked back.
The vineyards of Clos Saint Jean are planted on 43 hectares located on the stony terroir of La Crau. The property believes in complete destemming of the berries. The maceration period her is long and can last up to 35 days. The Grenache is never aged in any type of wood. But the Mourvedre and Syrah is aged in a combination of one year old and two year old oak barrels.
Clos Saint Jean produces a total of five different red Chateauneuf du Pape wines and one Chateauneuf du Pape Blanc. The estate believes in complete destemming, long macerations and while Grenache is not aged in wood, other varietals are aged in one year old, French oak barrels.
The wines produced are:
Clos St. Jean Chateauneuf du Pape from 75% Grenache, 15% Syrah, 4% Mourvedre, 3% Cinsault, 2% Vaccarese and 1% Muscardin.
Clos St. Jean La Combe des Fous from old vine Grenache planted at the start of the 20th century. 60% Grenache, 20% Syrah, 10% Cinsault and 10% Vaccarese. The owners clearly have a sense of humor. The name, loosely translated into hill of fools earned its moniker for the difficult terroir as the rocks in and on the soils are huge!
Clos St. Jean Deus ex Machina is made from 60% Grenache and 40% Mourvedre.
Clos St. Jean Chateauneuf du Pape Sanctus Sanctorum is 100% Grenache old vine Grenache that was planted over 100 years ago. This small production wine is available only in magnum. For 2007, the debut vintage, just 350 magnums were produced. Try finding one.
Wine Tasting Notes
Displaying 5 vintages | 12122 Views Sorted by vintage
2007 Clos Saint Jean Châteauneuf-du-Pape

Better than it was 2 years ago, the wine is rich, sexy and filled with fresh ripe, sweet, opulent fruit, jam and spice. Drink it now or age it. Either way it's a treat.

93

points - Tasted

May 20, 2013

456 Views

Pepper, kirsch, gravel, garrigue, spice and licorice aromas play well with the fresh, lusty, spicy, black cherry, fennel and sweet kirsch filled finish. Do not decant. Just pop, pour and enjoy this tasty Chateauneuf du Pape. Drink before it hits 10 years of age for all its fresh, ripe, up-front fruit filledl character.

92

points - Tasted

Jul 31, 2011

5420 Views

2007 Clos Saint Jean Châteauneuf-du-Pape La Combe des Fous

2007 Clos St. Jean La Combe des Fous is made from a blend of 60% Grenache, 20% Syrah, 10% Vaccarese and 10% Cinsault. It's obvious that the wine is off the charts from the first whiff. Super ripe aromas of black raspberry, black cherry liqueur, licorice, blueberries, herbs, pepper, earth and spice might start the show. But the massive layers of perfectly ripe berries with the texture of polished motor oil take over every nook and cranny of your mouth, teeth, gums and palate. Yet, with all its density and structure, everything is in perfect balance and harmony. Lush, opulent and expansive, this is a stunning wine with serious intensity of flavor and depth. Still young and primary, this should hit triple digits in a few years, and if someone wanted to give it 100 Pts today, why not. Tasted blind, this Chateauneuf du Pape showed itself to be a remarkable wine. I wish I owned some.

99

points - Tasted

Aug 2, 2012

2482 Views

2007 Clos Saint Jean Châteauneuf-du-Pape Vieilles Vignes

This deeply colored, explosion of flavor is packed with fresh, sweet, ripe, jammy black raspberry, kirsch liqueur, fennel, pepper and garrigue. Full bodied and concentrated with a blast of sweet, ripe, old vine Grenache, there is a lot to like in this attention seeking, Chateauneuf du Pape. Drink it young, or age it, it's a very hedonsitic style of Southern Rhone.

94

points - Tasted

Jun 12, 2012

2440 Views

2005 Clos Saint Jean Châteauneuf-du-Pape La Combe des Fous

WOW! Full bodied, rich, intense and mouth filling, with layers of sweet, ripe, fat, juicy dark berries, black cherry, earth, pepper and spice. Everything is perfect balance. The wine offers intensity of flavor coupled with purity of fruit and even though this is incredibly concentrated, there is ample lift in the long, rich, fleshy, dense finish that really makes this wine come alive!

97

points - Tasted

Jan 6, 2013

1150 Views

2003 Clos Saint Jean Châteauneuf-du-Pape Deus-Ex Machina

Drinking perfectly, this powerful, rich, intense, thick, fat, juicy expression of Chateauneuf du Pape coats your palate with ripe, jammy, red and black berries, pepper, spice and kirsch liqueur. This is no wallflower of a wine.

96

points - Tasted

May 20, 2013

174 Views