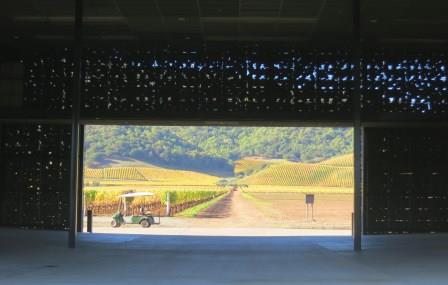 Dominus Estate, California Cabernet Sauvignon producer profile, wine tasting notes, a history of the property, plus information on their wine making techniques and their soil, along with wine reviews and links.
While the vineyards of Dominus Estate have a connection to the past, because they were owned by John Daniels, one of the true pioneers in Napa Valley during the 1940′s, due to his time at the famous Inglenook estate, the tale of Dominus Estate begins in the late 1960′s. At the time, Christian Moueix was better known for his work in Pomerol with properties like, Petrus, Chateau Trotanoy and Chateau La Fleur Petrus when was a student at UC Davis in 1968 and 1969.  By the time 1982 rolled around, Christian Moueix formed a partnership in 1982 with Robin Lail and Marcia Smith the daughters of the well-known and respected John Daniels.  Robin and Marcia inherited the vineyards from their father that were to become Dominus Estate. The new trio's debut vintage took place the following year in 1983. Christian Moueix became the sole owner of the Dominus Estate in 1995.
The 124 acre property Dominus Estate vineyard consists of 3 unique soil types; gravel based volcanic soil, clay and loam. That blend of terroir is a large part of gives the wines of Dominus Estate their unique, elegant, refined style. The Dominus Estate vineyards are planted with a vineyard blend of 80% Cabernet Sauvignon, 10% Cabernet Franc, 5% Merlot and 5% Petit Verdot.  On average the vines range from 15-25 years of age. 
Many of the practices employed at the Moueix properties in Bordeaux are in use at Dominus Estate as well.  The vines are crop-thinned once or twice a year, depending on the weather during the growing season. Green harvesting and canopy management is similar to what takes in their Bordeaux properties as well. The clusters receive the same care to see they are separated to allow more aeration. Before harvesting starts, the vines are deleafed as well.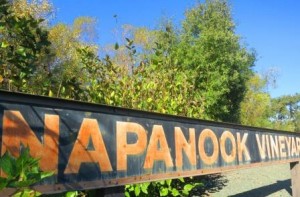 Dominus Estate spends close to 18 months in 50% new French oak barrels, which is also close to what takes place at the Moueix wines in Pomerol. Starting in 1996, Dominus Estate introduced a second wine, Napanook. Dominus Estate releases close to 7,000 cases per year, while the production of Napanook is closer to 4,000 cases. With the 2009 vintage, Dominus began producing a third wine, Carpe Diem.
Dominus is one of the best Napa wines to use in a blind tasting against Bordeaux wines.  It's fresh style, balance and lack of overripeness make this one a unique style of wine from the valley. Based on recent tastings of the 1991 and 1994 vintages, Dominus Estate has one of the best track records for aging as well.
Wine Tasting Notes
Displaying 14 vintages | 73560 Views Sorted by vintage
2011 Dominus Estate

From a blend of 96% Cabernet Franc, 4% Petit Verdot, this is the first vintage of Dominus without any Cabernet Franc in the blend. Medium/full bodied, with sweet, earthy, ripe black cherry, cassis and cocoa, there is a bit of dryness and hint of olive and herbs in the finish. 90-92 Pts

91

points - Tasted

Dec 1, 2012

1915 Views

2010 Dominus Napanook Red

The 2010 was produced from mostly Cabernet Sauvignon along with a dollop of Petit Verdot creating a sweet, fresh, chocolate, black raspberry, soft textured expression of Cabernet Sauvignon that will be better with a few years of bottle age.

90

points - Tasted

Nov 30, 2012

815 Views

2009 Dominus Napanook Red

This forward styled wine offers scents of blackberry, earth and tobacco, with medium/full body and a soft, open, black cherry and cocoa finish. The wine was produced from a blend of 87% Cabernet Sauvignon, 8% Petit Verdot and 5% Cabernet Franc, and aged in 20% new oak for 18 months.

91

points - Tasted

Nov 30, 2012

1951 Views

Medium bodied, fresh, bright, spicy virbrant, red and black fruits with a soft finish. This will drink well on release.

90

points - Tasted

Oct 12, 2012

2250 Views

2009 Dominus Estate

There is a beautiful sense of symmetry and purity in this blend of 86% Cabernet Sauvignon, 10% Cabernet Franc and 4% Petit Verdot. The wine will be aged in 40% new, French oak for 18 months. truffles, licorice, blackberry, fresh herbs and wet forest floor notes are in abundance. The wine ends with a long, sweet, polished, silky, expansive finish.

96

points - Tasted

Dec 1, 2012

4122 Views

The wine required coaxing to get it to open, but whenit did, licorice, tobacco, earth, cassis, blackberry jam and fresh her notes came to life. Thick, rich and palate coating, opulent, lush texutres and a long, silky finish made this a treat to taste.

96

points - Tasted

Oct 13, 2012

4007 Views

2008 Dominus Estate

From a blend of 84% Cabernet Sauvignon, 13% Cabernet Franc and 3% Petit Verdot, this polished, ripe, refined expression of California wine is filled with fresh blackberry, cassis, chocolate, licorice, smoke, truffle and earthy scents. Rich, powerful and concentrated, yet not over the top in style, this is utterly charming.

96

points - Tasted

Apr 30, 2012

7301 Views

2007 Dominus Estate

This beautiful, powerful, sensuous Cabernet Sauvignon wine was produced from a blend of 94% Cabernet Sauvignon along with Petit Verdot and Cabernet Franc. Pungent scents of boysenberry, blackberry jam, coffee bean, licorice, tobacco leaf, earth and spice, lead to a concentrated, supple, rich and harmonious wine that can be enjoyed in its youth for its fruit forward quality, or aged to maturity. This is a strong vintage for Dominus.

96

points - Tasted

Oct 9, 2011

11698 Views

2006 Dominus Estate

Blending 91% Cabernet Sauvignon, 6% Cabernet Franc and 3% Petit Verdot, this delicious wine opens with an enticing perfume packed with chocolate, coffee bean, blackberries and truffle. On the palate, the wine is soft, silky, plush and structured to age. With so much ripe, juicy fruit, you can drink this now, or give it another 5 years. The wine was aged in 40% new, French oak for 16 months.

95

points - Tasted

Dec 1, 2012

2980 Views

2002 Dominus Estate

Wine like this make me think I need to be drinking more California Cabernet Sauvignon. Still deep in color, with rich, ripe, plush textures and an opulent nature, the wine is filled with chocolate, blackberry, licorice, coffee bean, earth, black cherry and tobacco notes. At 10 years of age, this is just now starting to hit its stride.

95

points - Tasted

Jun 6, 2012

3576 Views

2001 Dominus Estate

With an earthy, tobacco leaf, spicy blackberry and forest floor bouquet, the wine is open, accessible, refined and plush. There is a touch of dust in the tannins and a nice sense of purity in the sweet, round, cassis and black cherry finish.

94

points - Tasted

Dec 1, 2012

2829 Views

1997 Dominus Estate

A complex perfume packed with tobacco, celery, gravel, cherry pipe smoke, cassis, black cherry and spice leads to a rich, powerful, elegant and supple textured wine. The finish is rich, round and lush. This is drinking beautifully today.

94

points - Tasted

Oct 6, 2012

2521 Views

From a blend of 86.5% Cabernet Sauvignon, 9% Cabernet Franc and 4.5% Merlot, this fully mature vintage of Dominus offers tobacco, cassis, black cherry, earth, smoke and anise. Medium/full bodied and lacking the levels of concentration and depth found in the better previous vintages. The texture is soft, plush and round, ending in a sweet, juicy sensation of blackberry, black cherry and spice.

93

points - Tasted

Aug 14, 2012

3091 Views

1996 Dominus Estate Napanook Vineyard

Very classy and stylish, a perfect ringer in a Bordeaux tasting, 1996 Dominus is filled with truffle, tobacco, blackberries, cedar wood and forest floor aromas. This subtle, Cabernet Sauvignon is drinking perfectly today.

93

points - Tasted

Aug 2, 2012

2969 Views

1995 Dominus Estate Napanook Vineyard

Fully mature, this Left Bank Bordeaux inspired blend of 80% Cabernet Sauvignon, 10% Cabernet Franc, 6% Merlot and 4% Petit Verdot produced a wine with tobacco, smoke, earth and sweet cherry scents. Soft in texture, with no hard edges, the wine ends with a refined, spicy, black cherry, cocoa and cassis filled finish. This is probably starting to enter the downhill side of the aging curve. There is no hurry to drink it, but there is no reason to age it further.

92

points - Tasted

Dec 3, 2012

2017 Views

1994 Dominus Estate Napanook Vineyard

Few modern Napa Cabernet Sauvignon wines are truly better with age. Most do not add complexities, they just lose their exuberance. That is not the case with Dominus Estate. I remember buying this on release for $35. Those were the good old days. From a blend of 70% Cabernet Sauvignon, 14% Cabernet Franc, 12% Merlot, and 4% Petit Verdot, the wine pops with its floral, truffle, black cherry, tobacco, earth and licorice scented perfume. Rich, supple textured and long, this is drinking perfectly today. I'm not sure it's going to improve, but if you have a bottle or two, this is showing great today.

97

points - Tasted

Jun 6, 2012

5184 Views

The spicy, mushroom, smoke, tobacco, cassis and earthy nose, reminded me of a good Pauillac. Concentrated and full bodied with ample depth, this elegantly styled wine ends with a long mouth filled with ripe cassis

95

points - Tasted

Mar 28, 2010

4674 Views

1991 Dominus Estate Napanook Vineyard

Tobacco, truffle, black cherry liqueur, spice, licorice and earth, full bodied and packed with layers of rich, ripe, sweet, plum and chocolate, there are no hard edges to this wine. It's drinking at peak today.

98

points - Tasted

May 1, 2012

3884 Views

Tobacco, earth, blackberry, smoke, truffle, spice, cassis and smoke aromas caught your attention. Fully mature, yet still fresh and full of life, this classy wine ends with a long, earthy, spicy cassis, chocolate and plum filled finish. This powerful, concentrated, complex California wine could easily pass for a Bordeaux in a blind tasting.

96

points - Tasted

Sep 28, 2011

5776 Views