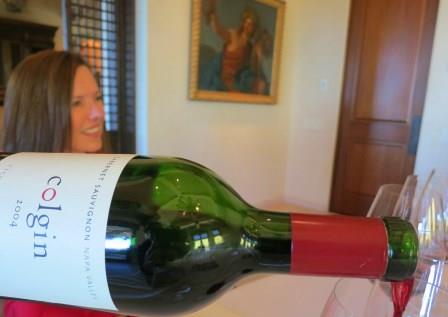 Colgin Cellars, California Cabernet Sauvignon wine producer profile, wine tasting notes, with a history of the property, plus information on their wine making techniques and their soil, along with wine reviews and links.
Colgin Cellars, founded by Ann Colgin produced their first Cabernet Sauvignon from the 1992 vintage with fruit harvested from Herb Lamb vineyards. Ann Colgin, like many other well-known wine makers got into the business due to her passion for wine. During a visit to Napa Valley in 1988, while married to Fred Schrader, they attended one of the famous events associated with the Napa Valley Wine Auction. A few short years later, Ann Colgin and Fred Schrader founded Colgin Cellars.  Colgin and Schrader dissolved their partnership and marriage. Ann Colgin retained Colgin Cellars and Fred Schrader founded Schrader Cellars.
One of the first decisions Ann Colgin made was to hire Helen Turley as the winemaker for Colgin Cellars. Ann also brought in David Abreu as her vineyard manager. That was considered the A-list team at the time. By Colgin's second vintage, they became one of the hot wines to earn Cult status. In 1994, with the release of their third vintage, Colgin Cellars was all of a sudden one of the hot new Cult Napa wineries to own. Things changed with time. Helen Turley was replaced by Mark Aubert, who left to concentrate on his own brand. Mark Aubert was replaced by the young, talented, Allison Tauziet. Alain Raynaud, the well-known Bordeaux consultant is also part of the team that works with Colgin Cellars. Based on an extensive vertical with Ann Colgin and Allison Tauziet in 2012, the wines being made by Tauziet at Colgin are some of the finest wines the estate has ever produced! And that's really saying something.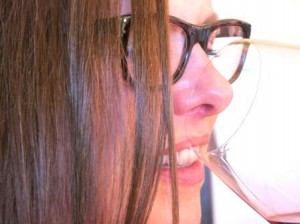 Colgin still works with Herb Lamb fruit, but they also own 22.5 acres of prime vineyard land in Napa on Pritchard Hill where they produce benchmark Cabernet Sauvignon and Syrah.
Colgin Cellars produces several Cabernet Sauvignon wines. Herb Lamb, Tychson Hill, Colgin IX and Cariad. Colgin Cellars also produces one of the top Syrah wines from Napa as well. The wines of Colgin Cellars are sold through their popular mailing list.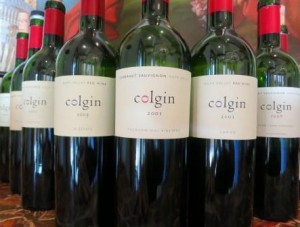 Wine Tasting Notes
Displaying 23 vintages | 37210 Views Sorted by vintage
2009 Colgin Syrah IX Estate

Rich, dense, fleshy and powerful, this concentrated, lush, racy Syrah is packed with ripe, pure, black raspberry jam, fresh cherries and licorice. Hard to find and expensive, but if California Syrah is your thing, it's worth the effort to taste this wine.

96

points - Tasted

Dec 9, 2012

975 Views

2008 Colgin Syrah IX Estate

Dark in color, with pepper, smoky, ripe, red and black fruits with a touch of forest aromas finish with a rich, fat, dense, spicy, peppery fruit filled finish.

94

points - Tasted

Dec 9, 2012

754 Views

2007 Colgin Cariad

Deep in color, with purple accents, the perfume opens with cherries marinated in an array of spices, complicated by earth, tobacco, licorice, spearmint and earth. The texture is pure silk and velvet. The wine remains and expands on your palate for at least 60 seconds ending with multiple layers of intense, sweet, polished, decadent fruits.

100

points - Tasted

Dec 11, 2012

1183 Views

Dark, almost opaque in color, the perfume screams with fresh blueberry, blackberry jam, chocolate, coffee, truffle and vanilla. Massive, yet balanced. Concentrated with layers of intense ripe fruit, this is almost too much of a good thing. I said almost. Thick, rich, pure and intense, this is a stunning example of a perfectly ripe, fruit forward, California Cabernet Sauvignon.

97

points - Tasted

May 1, 2012

1844 Views

2007 Colgin Syrah IX Estate

Explosive notes of jammy blackberries, pepper, flowers, licorice and vanilla bean, pair perfectly with the fat, lush, rich textures and the long, ripe, sweet, black raspberry, fruit filled finish.

94

points - Tasted

Oct 8, 2012

1233 Views

2006 Colgin IX Estate

Spice box, sandalwood, graphite, espresso bean, dark berries and vanilla. In the mouth the wine is intense, fleshy and fresh, ending in a blast of black cherry, licorice and spice. This stellar wine is massive, (in all the right ways) with the structure to age and develop for at least another 10-15 or more years.

98

points - Tasted

Dec 11, 2012

1927 Views

2005 Colgin Cariad

Still deep in color. Cherry blossoms, licorice, smoke, thyme and earthy scents open the experience. On the palate, the wine coats your mouth and palate with thick, rich, intense waves of lush fruit. If you're seeking a wine that personifies seamless, this is it. There are no hard edges in this sublime combination of power and finesse.

98

points - Tasted

Dec 11, 2012

1408 Views

2005 Colgin IX Estate

Smoke, vanilla, espresso bean, earth, blackberry jam, blueberry and cherry preserves create the wine aromatics. In the mouth, the wine is rich, silky, deep and plush. Some tannin remains, I'd give it another year or two for the tannins to fully integrate.

95

points - Tasted

Dec 11, 2012

1511 Views

2005 Colgin Cabernet Sauvignon Tychson Hill Vineyard

Deep in color, with a perfume filled with vanilla, 5 spice, blue fruit and blackberry liqueur. Rich, powerful, concentrated and structured, this combines the best of hedonism and cerebral attributes.

96

points - Tasted

Dec 11, 2012

814 Views

2004 Colgin Cabernet Sauvignon Tychson Hill Vineyard

Spice, black cherry liqueur and incense aromas open to a silky, jammy, powerful sweet, tannic, wine with a jammy black cherry finish. There is a touch of heat in the finish.

94

points - Tasted

Dec 11, 2012

698 Views

2004 Colgin IX Estate

Inky black, purple in color. This is very, sexy juice. Huge levels of concentration with an opulent texture. This Bordeaux blend is mostly Cabernet. From the first sniff you could sense this was a wine of distinction. Layers of ripe black and blue fruits with a touch of oak. The palate presence was very rich.

96

points - Tasted

May 21, 2007

3014 Views

2004 Colgin Syrah IX Estate

Vanilla, pepper, cherry and stone aromas are easy to find in the nose. On the palate, sweet, spicy, red cherry jam with touch oak are featured in the round finish.

95

points - Tasted

Dec 9, 2012

950 Views

Showy with gobs of juicy, ripe black fruits, spice and cracked pepper in the perfume. Very lush palate presence.

94

points - Tasted

May 21, 2007

2365 Views

2003 Colgin Syrah IX Estate

The nose on this wine actually reminded me of a Northern Rhone with it's beautiful, bacon fat accented perfume accompanied by a cornucopia of fruit, herbs and spices. This wine truly benefited with time in the decanter.

94

points - Tasted

Mar 10, 2006

2177 Views

2003 Colgin IX Estate

This was so fat, lush and sexy. The color was akin to dark, purple and black ink. Filled with gobs of blue and fruit, licorice and cassis. Great plush, opulent mouth feel and finish that keeps on going. This is a stellar expression of Napa Cabernet. While the wine checks in at over 15% alcohol, you'd never know it with it's wealth of ripe fruit

95

points - Tasted

Mar 10, 2006

530 Views

2002 Colgin Cabernet Sauvignon Herb Lamb

This is what decadent ripe, California fruit is all about. Very rich, incredibly concentrated with endless layers of soft, deep, opulent, sweet fruit. The explosive perfume was intoxicating! This drinks perfect today.

97

points - Tasted

Feb 10, 2006

1877 Views

2002 Colgin Syrah IX Estate

Beautiful, full throttle style of Syrah. It's already open for business with its lush qualities and layers of ripe, peppery, juicy Syrah.

93

points - Tasted

Sep 20, 2005

1336 Views

2002 Colgin Cabernet Sauvignon IX Estate

With complex aromas filled with smoke, oak, blueberry, wood, blackberries and spice, on the palate, the texture is lush, polished, rich and deep. The concentrated, long finish is packed with sweet, jammy, black cherry and licorice.

98

points - Tasted

Dec 11, 2012

1324 Views

Decadent layers of black and blue fruit coat your palate and the complex array of aromatics grabs your attention as well. Thick, rich, dense and balanced, this is a serious expression of California Cabernet.

96

points - Tasted

Sep 16, 2005

2385 Views

2001 Colgin Cariad

The wine pops with a sweet, fresh, smoked cherry tobacco aromatic that is complicated by black cherry, cassis, earth and oyster shell. On the palate, the wine is lush, sensuous, rich and deep, ending with a fresh, precise, black cherry finish. The fruit offers a beautiful sense of purity along with opulent textures. This is a beautiful expression of California wine.

97

points - Tasted

Dec 11, 2012

799 Views

2001 Colgin Cabernet Sauvignon Tychson Hill Vineyard

Deep in color with a powerful nose filled with spice, licorice, earth, black and blue fruit, caramel, oak and smoke. The wine offers intense purity of fruit, silky textures and an opulent, fresh, sweet, ripe finish. Everything is in perfect balance and harmony.

98

points - Tasted

Dec 11, 2012

764 Views

1999 Colgin Cabernet Sauvignon Herb Lamb

Incense, spicy black cherries, smoke, caramel, black and black fruit with a soft, round, finish, which is marred by a touch of heat and dryness on the back end.

92

points - Tasted

Dec 10, 2012

755 Views

The wine displayed notes of fresh picked blackberries, oak, cassi, licorice and earth. This full bodied, soft textured wine was marred by a slight bitter note in the finish.

92

points - Tasted

Apr 15, 2006

1236 Views

1997 Colgin Cabernet Sauvignon Herb Lamb

Smoke, coffee, licorice, fresh coffee beans, blueberries, blackberries and chocolate aromas mane up the powerful aromas. Silky, elegant and rich, the wine coats your mouth with layers of fruit that feels like it was polished with velvet cloth before being crushed.

97

points - Tasted

Mar 9, 2011

1640 Views

1996 Colgin Cabernet Sauvignon Herb Lamb

With a nose of pepper, jammy black raspberries, fresh herbs, stone, oak, incense, and licorice, the wine feels soft on the entry, but there is a minor sensation of dryness to the otherwise, concentrated, lush, ripe, fruit filled finish.

94

points - Tasted

Dec 10, 2012

702 Views

1995 Colgin Cabernet Sauvignon Herb Lamb

This rich, deep, opulently textured wine displayed cassis, dark berries, licorice, chocolate and a moderate sensation of dill, coupled with with herbaceous notes in the aromatics. According to Ann Colgin, the dill aromas are from Herb Lamb Vineyard and not from the barrels, as Colgin uses 100% new French oak. This full bodied, lush wine is probably at its peak and should be consumed sooner than later.

93

points - Tasted

Apr 21, 2005

2115 Views

1994 Colgin Cabernet Sauvignon Herb Lamb

Black and blue fruit, caramel, smoke and floral aromas lead to a round, wine with mature textures and a ripe, sweet, fleshy, jammy berry finish.

96

points - Tasted

Dec 10, 2012

894 Views