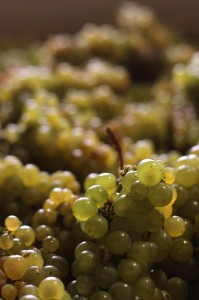 Aubert Wines,  California Chardonnay, Pinot Noir, Cabernet Sauvignon producer profile, with wine tasting notes, a history of the property, plus information on their wine making techniques and their soil, along with wine reviews and links.
Founded by Mark and Theresa Aubert, the Aubert Winery is located on the Silverado trail in Calistoga. Before building his own winery, Mark Aubert made his wines at Colgin Cellars and the Custom Crush facility. While much of his fruit is sourced, Aubert owns 3.2 acres of vineyard land in Sonoma. This land is the source of their UV wines. UV takes its name from a vineyard manager, Ulizes Valdez. Aubert wine is clearly one of the best producer of the finest examples of Chardonnay in the new world. They also make Pinot Noir and Cabernet Sauvignon.
Prior to starting Aubert wine in 1999, Mark Aubert worked at some of the best wineries in California. He replaced Helen Turley of Marcassin at the Peter Michael Winery in Sonoma and he later replaced Helen Turley for the second time when he became the wine maker for Colgin Cellars in Napa. Mark Aubert has also worked as consultant for some of the top California wineries including Sloan, Futo and Bryant Family.
Since 2000, Aubert wine has produced some of the best Chardonnay wines ever made in the golden state. Over the years, no less than 7 extraordinary Chardonnay wines have been released including Hyde, Lauren PMW, Quarry, Reuling, UVSL and Ritchie. 2000 saw the debut release of Ritchie Chardonnay which was followed by PMW Chardonnay and Quarry Chardonnay. The grape source for PMW was lost, so that remains the only vintage. Aubert Lauren Chardonnay was next.
After Chardonnay, Pinot Noir is the second most popular wine produced by Aubert. It's intense, high alcohol, full bodied, full throttle style pleases some tasters more than others. 2003 Reuling Pinot Noir was the first Pinot from Aubert. That was quickly followed by UV, Ritchie and UVSL.
In 2005, Aubert began producing Cabernet Sauvignon from the David Abreu, Lucia vineyard. The Caberent Sauvignon has not met with the same level of critical or fan success as their Pinot Noir or Aubert Chardonnay.
Wine Tasting Notes
Displaying 9 vintages | 19093 Views Sorted by vintage
2010 Aubert Chardonnay Ritchie Vineyard

While this is lacking the level of richness and density found in the top vintages of Aubert Chardonnay, the wine presents a cloudy appearance, from the lack of fining and filtering. In the nose, ample scents of vanilla, lemon, flowers and tropical fruits are easy to find. The already open, elegant wine ends with fresh citrus flavors.

94

points - Tasted

Aug 30, 2012

1987 Views

2009 Aubert Chardonnay Ritchie Vineyard

Vanilla, lemon, citrus, tropical fruits and spicy aromas opened up the wine. Rich, full bodied, concentrated and packed with sweet, ripe fruit, the wine ends with a fresh, citrus, and spicy vanilla filled finish. I liked the wine, but it's not for tasters that are averse to oak.

93

points - Tasted

Mar 7, 2012

3420 Views

2008 Aubert Chardonnay Lauren Vineyard

Viscous in texture, with a potent perfume packed with vanilla, fresh lemon, flowers, spice and orange scents. This thick, concentrated, rich, opulent, intense Chardonnay fills your mouth and pleases your palate with layers of sweet, ripe citrus and vanilla.

95

points - Tasted

Jan 16, 2012

2598 Views

2007 Aubert Chardonnay Reuling Vineyard

2007 Aubert Reuling opens with a powerful display of floral, apple, vanilla, citrus, honey and pear scents. Rich, full bodied, rich and packed with sweet, ripe, fruits, the wine ends with a long, tropical, citrus and vanilla tinged finish.

95

points - Tasted

Jul 17, 2012

1548 Views

2007 Aubert Chardonnay Lauren Vineyard

An outrageous perfume stuffed with vanilla, smoke, flowers, citrus oil, orange rind, lemon and honeysuckle prepare your palate for a full bodied, concentrated wave of fresh, ripe, sweet, citrus fruit. I love how this large styled California Chardonnay is showing today.

96

points - Tasted

Feb 21, 2012

2361 Views

2006 Aubert Chardonnay Lauren Vineyard

A pungent perfume filled with vanilla bean, lemon, lime, grapefruit and butterscotch was easy to find. Full bodied and palate filling, this concentrated wine ended with fresh, ripe citrus and vanilla flavors.

95

points - Tasted

Feb 2, 2011

4672 Views

2004 Aubert Chardonnay Reuling Vineyard

Tropical fruit, citrus and vanilla scents, full bodied, richly textured with a good dose of acidity to balance the wine make for a great drinking experience. Open and ready to go

93

points - Tasted

Apr 15, 2008

666 Views

2004 Aubert Chardonnay Lauren Vineyard

Yellow gold in color, with sweet citrus aromas and a hint of vanilla on the nose. Full bodied and concentrated with layers of rich, ripe elegant fruit. The finish was long and clean. Due to its very ripe concentrated fruit, there was no sign of heat from this 15.3% ABV wine.

95

points - Tasted

Jun 6, 2007

789 Views

2003 Aubert Chardonnay Reuling Vineyard

Blends ripeness with a full throttle quality. Dense layers of sweet, ripe tropical and citrus fruit, very concentrated.

93

points - Tasted

Feb 10, 2006

1052 Views