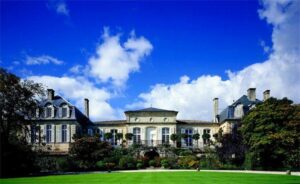 Chateau Leoville Barton St. Julien, Bordeaux wine, Second Growth, producer profile, with wine tasting notes, wine ratings, a history of the property, information on wine making and terroir, along with wine tasting reviews. If you want to read about other important, Bordeaux Chateaux: Links to all Bordeaux Wine Producer Profiles
Unlike most Bordeaux wine producers, interestingly, Château Leoville Barton has no chateau.  The wines are made at their sister property, Château Langoa Barton with which it shares ownership. Here's a little bit of Bordeaux wine trivia for you, the château pictured on the label for Leoville Barton is actually their sister estate, Chateau Langoa Barton.
At one time, Leoville Barton was part of a much larger estate. The vineyards also included what we know of today as Château Leoville Las Cases and Château Leoville Poyferre as well! In fact, it was the largest property in St. Julien. The Barton family, the current owners of the estate trace their Bordeaux roots all the way back to 1722. That was the year that Thomas Barton left Ireland for Bordeaux. Like many successful owners, he started out as a Bordeaux negociant, or wine merchant.
The first foray into ownership for the Barton family was in St. Estephe, with Chateau Le Boscq in 1745. The family continued being active in not only buying Bordeaux chateaux, but as successful wine merchants. They eventually partnered with another powerful Bordeaux family to for. a massive Bordeaux wine negociant company, Barton & Guestier. Founded in 1745, Barton & Guestier are still active in Bordeaux wine trade today.
The next big purchase for the Barton clan in the Medoc was in 1821, when they bought a St. Julien estate, Pontet-Langlois. Shortly after the sale, they renamed it, Langoa Barton. Their next acquisition was the vineyards culled from Leoville Las Cases that were renamed in their honor as Chateau Leoville Barton. Because no cellar or wine making facilities came with the purchase, they were forced to make the wines at Langoa Barton. In time, this became a tradition.
Tradition remained big at Leoville Barton. When Ronald Barton took over managing the Left Bank estate, he did not believe in any modern wine making technology. I wonder what he'd think of wine making in Bordeaux for many estates today? While the wines of Leoville Barton are in many ways, more traditional than most, they remain popular for that reason, coupled with the estates fair pricing policy that did not become truly expensive until the 2005 vintage.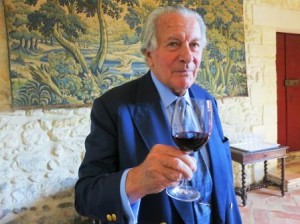 Following Ronald Barton, Anthony Barton took over the estate. It is expected that Lilian Barton will eventually become completely in charge. In September, 2011, the Barton family purchased an additional Bordeaux estate, Château Mauvesin in Moulis. The family plans on changing the name to reflect their new ownership; they renamed the estate, Château Mauvesin Barton.
The 47 hectare St. Julien vineyard of Leoville Barton has a terroir of mostly gravel with a subsoil of clay. The vineyard is planted to 72% Cabernet Sauvignon, 20% Merlot and 8% Cabernet Franc. This varietal blend shows an increase in Merlot plantings, from what was planted in the vineyard in previous decades. The vines average 30 years of age. However, there are some parcels with much older vines. The vineyard of Chateau Leoville Barton is planted to a vine density of 9,000 vines per hectare, typical of the Left Bank. Vinification takes place at Chateau Langoa Barton, which is located just across the street from Chateau Leoville Barton. The wines are traditionally made with vinification taking place in large, 200 hectoliter wooden vats. Malolactic fermentation takes place in vat. Chateau Leoville Barton is aged in an average of 50% new, French oak barrels for about 20 months. On average, Chateau Leoville Barton releases close to 20,000 cases of Bordeaux wine per year. There is a second wine, La Reserve de Leoville Barton.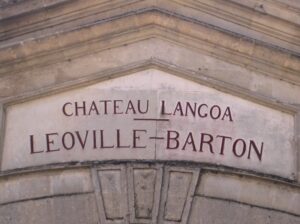 This is a sturdy, structured Bordeaux wine with tannin that requires time to develop.  Traditional, masculine and beefy in style, this property is popular with some collectors because of the reasonable prices the estate charged for their wines. Due to the high tannin levels and style of the wine, the best vintages often require decades of age, before drinking well.
Wine Tasting Notes
Displaying 17 vintages | 133596 Views Sorted by vintage
2012 Château Léoville Barton

Reticent aromas of oak, forest and cassis opened to a soft, medium/full-bodied wine dominated by fresh black cherries and cassis. Produced from a blend of 80% Cabernet Sauvignon, 15% Merlot and 5% Cabernet Franc, the wine will be aged in 60% new French oak. Tannic, but refined, this will need time to come together. 91-93 Pts

91

points - Tasted

Apr 23, 2013

1051 Views

2011 Château Léoville Barton

From an assemblage of 80% Cabernet Sauvignon, 15% Merlot and 5% Cabernet Franc, the wine will be aged in 80% new oak. The wine reached 12.5% alcohol. According to Anthony Barton, with a little more rain, the wines could have been as good as 2009 or 2010. Deep color with lead pencil, earth, flint, cassis and truffle scents in the nose. Tannic, fresh, bright, crisp cassis is found in the finish. 91-93 Pts

91

points - Tasted

Apr 13, 2012

2295 Views

2010 Château Léoville Barton

Powerful, concentrated, tannic and intense, there is good volume, mouth searing tannins and a richness of vibrant, ripe, crisp fruit that create a long lived wine. From a blend of 77% Cabernet Sauvignon, 21% Merlot and 2% Cabernet Franc, fans of this estate, with patience and the funds should definitely be on the lookout for it.

95

points - Tasted

Feb 8, 2013

2669 Views

Leoville Barton – Deep ruby with purple accents, cassis, earth and spice aromas open to a big mouthful of juicy, chewy, tannic, cabernet sauvignon. While tannic and broad shouldered, the tannins are soft and round. This is one of my favorite vintages of Leoville Barton. Like all the estates wines, this will age well, but it should be accessible earlier than 2005. 94-96 Pts

95

points - Tasted

Apr 23, 2011

5156 Views

2009 Château Léoville Barton

Blending 77% Cabernet Sauvignon, 22.5% Merlot and a pinch of Cabernet Franc, this powerful, full bodied, concentrated fresh wine is packed with cedar wood, oak, cassis, minerals and fresh, juicy blackberries. Tannic and refined, buyers will need to forget about this wine for two decades before it's ready to drink.

93

points - Tasted

Feb 5, 2012

8653 Views

2008 Château Léoville Barton

Big, powerful, tight and tannic, this masculine, chewy wine fills your mouth with cassis and tannin. This was one of the more backward wines from the tasting.

90

points - Tasted

Jan 27, 2011

10403 Views

08 Château Leoville Barton is deeply colored. With black fruits and hints of cherry, the fragrance was a pleasure. In the mouth, while the flavors were concentrated, the tannins were slightly rustic, leaving a dry sensation in the finish. 90-92 Pts

90

points - Tasted

Aug 31, 2009

6927 Views

2006 Château Léoville Barton

With an earthy, tobacco, cassis, spice, black raspberry, herb and smoky nose, this structured, masculine, tannic, young, St. Julien wine demands another 10 years before the ample tannins soften and begin to meld into the wine. It will probably always be brawny and classic in style.

90

points - Tasted

Sep 6, 2011

10385 Views

2005 Château Léoville Barton

There is a lot going on in this masculine, styled, full bodied wine. Filled with tannin and fruit, this demands up to two decades before becoming civilized.

92

points - Tasted

Jan 20, 2008

13022 Views

2003 Château Léoville Barton

Time has been good to 2003 Leoville Barton. It was a good wine when last tasted a few years ago and it's only gotten better. Secondary notes of tobacco, earth, cassis, cedar chest and cigar box are poking through. Silky tannins, purity of fruit and a long, rich, round palate are perfected by the long, lush, fleshy finish. Drink now, or wait another decade before popping a cork. I'm happy to own it in my cellar, which at the end of the day is strongest comment a taster can make.

95

points - Tasted

Feb 20, 2013

5294 Views

Normally, this wine is very rustic and masculine. But in 2003, I find the ripeness of the fruit helped produce a great style of wine for this traditionally styled St. Julien. Cassis, coffee and licorice entice your nose. The serious fruit, ripe tannins and pure cassis that pours over your palate lets you know this will be a very special wine for Leoville Barton when it matures.

94

points - Tasted

Jun 1, 2009

2446 Views

2002 Château Léoville Barton

The wine opens with cedar, cassis and earth and forest floor scents are found with time and animated coaxing. Austere and tannic, the wine demands at least another decade before the wall of tannins begin to be resolved.

90

points - Tasted

Feb 17, 2012

6646 Views

2001 Château Léoville Barton

Tobacco, cedar, forest floor, cassis, and blackberry scents open to a concentrated wine. Leoville Barton is usually a wine demanding at least one or two decades before it's fun to drink. Every rule has an exception and 2001 breaks that rule with its forward, soft, approachable, black fruit and earthy profile.

92

points - Tasted

Sep 4, 2011

8334 Views

2000 Château Léoville Barton

This young, primary wine, expresses an elegant style of Leoville Barton. Blackberry, cassis, earth and tobacco scents open up what seems like an early maturing wine for this chateau. The tannins have more softeners and polish that I usually detect in their wine. Give it another couple of years to develop complexities.

92

points - Tasted

Jan 20, 2011

12458 Views

Black fruit, truffles and spice in the perfume. Normally, this is a big, brooding, old school wine that takes decades to shed its ample tannin. 2000 is a refined vintage for this Chateau. The wine is already showing well.

92

points - Tasted

Mar 5, 2010

9783 Views

1995 Château Léoville Barton

Still backwards at 17, this soild, masculine, tannic, brawny wine demands at least another decade before coming together.

90

points - Tasted

Nov 27, 2011

7939 Views

1990 Château Léoville Barton

Still backwards and with boatloads of tannin, this traditionally styled, masculine, tannic wine demands another decade of sleep

90

points - Tasted

Dec 20, 2009

1705 Views

Beffy, chewy and masculine in style with a big, tannic backbone. Tight. Lacks charm and elegance.

90

points - Tasted

Jun 15, 2007

1681 Views

1989 Château Léoville Barton

Spice, cassis, tobacco and cherries on the nose. The wine finishes with roasted black and red fruit. This is an elegant style of wine for the Chateau. All the tannin is resolved, and the wine is ready for prime time drinking. Owner Lillian Barton thinks the 89 and 90 are the same level of quality, but feels the 90 needs more time before it is mature.

88

points - Tasted

Jun 18, 2009

2353 Views

Traditionally made, rustic, austere and hard in style. Not my cup of tea.

86

points - Tasted

Feb 27, 2006

896 Views

1986 Château Léoville Barton

Scents of black fruit emerge with coaxing. Event though this 21 year old Bordeaux was decanted 2 hours, it remained brutally tannic reminding me of a 5 year old wine. Masculine in temperament, beefy, almost hard, daring you to take a bite out of it, or a sip. Layers of ripe black fruit could be sensed under the huge, tannic cloud, but will this be any fun to drink before it hits 30 years old? I doubt it.

89

points - Tasted

Jan 15, 2007

875 Views

1982 Château Léoville Barton

Tobacco, cassis, earth, green pepper, tobacco and forest scents were easy to find. At close to 30, this wine remains beefy, brawny and tannic. With its hard, austere, tannic personality, it's truly a wine for fans of real, old school Bordeaux. The wine ends with a cassis, green herbal, and cranberry finish. This will probably improve with more time, but it's always going to have a masculine character.

89

points - Tasted

Nov 23, 2011

5471 Views

Traditional, masculine and austere style. Smoke, cedar, cassis, toffee, earth and black fruit on the nose. This hard, charmless wine does not offer much pleasure in the mouth, as the tannins were hard and searing. This wine lacks charm and elegance.

88

points - Tasted

Jun 30, 2009

5115 Views

Earthy, forest scents were made better with notes of truffles, tobacco and cassis. Rustic and masculine in style, the wine finishes with red and black fruits with austere textures. Very old school style of wine.

90

points - Tasted

Nov 14, 2004

959 Views

1929 Château Léoville Barton

Poured from a bottle featuring a beautiful, art deco inspired label, the wine was filled with smoke, earth, cigar box, tobacco leaf, mineral, cassis, baked cherry pie, ash and vanilla bean. Full bodied, rich and packed with flavor, the wine finished with, rich, plush, sweet plums, earth and cocoa. This was a perfect example of why 1929 remains my favorite mature Bordeaux vintage. They can be incredibly seductive.

94

points - Tasted

Mar 29, 2012

1080 Views