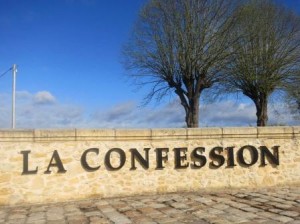 Chateau La Confession St. Emilion, Bordeaux wine producer profile, with wine tasting notes, wine ratings, a history of the property, information on wine making and terroir, along with wine tasting reviews. If you want to read about other important, Bordeaux Chateaux: Links to all Bordeaux Wine Producer Profiles
2001 was the debut vintage for Chateau La Confession in St. Emilion and it's new, young owner, Bordeaux wine maker, Jean-Philippe Janoueix. It only took a few years until Chateau La Confession started showing what it was capable of. 2005 was the first vintage expressing the quality of wine Chateau La Confession.
Some of this has to do with the novel ideas Janoueix began experimenting with. This was the first vintage where Janoueix warmed the barrels before placing the wine in them. According to Janoueix, this technique allows for a more gentle extraction with no shock to the Bordeaux grapes.
The 7.5 hectare St. Emilion vineyard of Chateau La Confession is planted on clay, chalk and siliceous soils. On average, the vines are 43 years old. In the vineyard, Janoueix practices double cane pruning for the Merlot and single can pruning for the Cabernet Franc. At Chateau La Confession, Jannoueix thins the leaves in June on the East side and does the same for the Cabernet on the westside. They perform the first green harvest in June.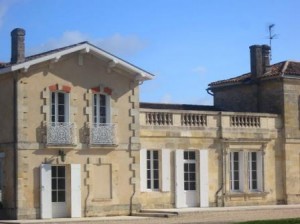 Chateau La Confession is fermented in open wood tanks come from Taransaud with no added yeasts. Punching of the cap and pumping overs alternate night and day until 70% of the alcoholic fermentation has been completed. The total vatting time is between 5 and 6 weeks.
Malolactic fermentation occurs in oak barrels from Allier. Stirring of the lees takes place during fermentation. At Chateau La Confession, Jannoueix uses a combination of different shaped, oak barrels. 50% of the barrels are in the traditional shape and the other 50% are in the shape of a cigar. Janoueix likes the cigar shaped barrels because they offer a better digestion of the lees by the wine, owing to a wider surface of exchange brought by their shape. The wine remains in barrel for between 15 and 19 months, depending on the vintage. On average, the production of Chateau La Confession is 2,500 cases per year.
Wine Tasting Notes
Displaying 10 vintages | 29860 Views Sorted by vintage
2012 Château La Confession

76% Merlot with 24% Cabernet Franc produced a wine packed with jammy plums, earth and spice with and lush textures with a bit of chalk in the finish. 88-91 Pts

91

points - Tasted

Apr 26, 2013

427 Views

2011 Château La Confession

From 69% Merlot and 31% Cabernet Franc, the wine offers coffee, licorice, cherry and oak. Supple and round, ripe black raspberry, vanilla, licorice and coffee can be found in the finish. 90-91 Pts

90

points - Tasted

Apr 24, 2012

1324 Views

2010 Château La Confession

Smoke, licorice, chocolate and black cherry notes make up the perfume. On the palate the wine is lush, forward and fleshy, ending with round, polished, sweet black fruits and cocoa.

93

points - Tasted

May 7, 2013

523 Views

La Confession 71% Merlot and 29% Cabernet Franc form the assemblage that came in at 14.7% alcohol that will be aged in 40% cigar shaped barrels. Deep ruby in color, the wine offers oak, blackberry, licorice and stone aromas. Fleshy in texture, this soft, ripe wine is filled with licorice, black cherry, spice and mocha. 91-93 Pts

92

points - Tasted

Apr 22, 2011

3389 Views

2009 Château La Confession

Smoke, coffee, licorice, stone, blackberry and earth, ripe, round, modern in style, this needs a few more years before it's ready to enjoy.

92

points - Tasted

May 1, 2012

2724 Views

2009 La Confession, 68% merlot and 32% cabernet franc, is dense, rich, fat, and mouth filling. The wine finishes with licorice coated plums and blackberries. 91-93 Pts

92

points - Tasted

Jun 28, 2010

2697 Views

2008 Château La Confession

Deep ruby in color, with lightening around the edges, licorice, black cherry, truffle, coffee and smoke aromas are easy to find. Soft, voluptuous textures and a sweet, candied, black cherry and plum liqueur finish distinguish the wine. It should drink well young.

92

points - Tasted

Oct 23, 2011

3382 Views

08 Château La Confession could end up being better than their 2005. From limestone, clay, and sandy soils, the large amount of cabernet franc, 34%, with the rest merlot, makes a stylish, rich, complex wine. Licorice, black fruit, minerals, and oak bring on the perfume. Fleshy in the mouth, full bodied and filled with fruit, this complex wine finishes with a big load of ripe, round black fruits. 92-94 Pts

93

points - Tasted

Jul 1, 2009

4088 Views

2005 Château La Confession

This was the first vintage where Jean-Philippe Janoueix warmed the barrels before placing the wine in them, allowing for a more gentle extraction with no shock to the grapes. That technique paid off as this is a stellar bottle of Bordeaux wine. Great color, a rich palate, ample concentration, elegance and complex aromatics make up the recipe for this wine. The wine ends with a long silky, dark berry finish

94

points - Tasted

Jun 9, 2010

4568 Views

2004 Château La Confession

This offers ripe fruit, freshness and an array of plum, licorice and dark berry flavors. The elegant finish makes this wine a pleasure to drink. I would probably enjoy this on the young side to preserve the freshness.

90

points - Tasted

Jun 9, 2008

1735 Views

2003 Château La Confession

The roasted, smoky flavors, herbs, black fruit, stone are licorice get you wanting to know more about this elegant, round wine that is drinking great today. There is no need to wait to try it, if you own any.

92

points - Tasted

Jun 9, 2008

1207 Views

2002 Château La Confession

Already fully mature, this medium bodied wine lacks the levels of ripeness and depth found in later vintages

88

points - Tasted

Jun 9, 2008

1856 Views

2001 Château La Confession

This is the debut vintage for the new owner, Jean-Philippe Janoueix. Already showing signs of full maturity with developed aromatics. Herbs, spice, earth and red fruit are the characteristics of this wine. This property did not start producing outstanding wines until the sublime 2005. Drink up as it's not going to improve.

89

points - Tasted

Jun 9, 2008

1940 Views