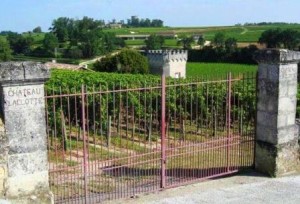 Chateau La Clotte St. Emilion, Bordeaux wine producer profile, with wine tasting notes, wine ratings, a history of the property, information on wine making and terroir, along with wine tasting reviews. If you want to read about other important, Bordeaux Chateaux: Links to all Bordeaux Wine Producer Profiles
Château La Clotte is one of the oldest Bordeaux wine vineyards in the Right Bank. The estate has been a working vineyard since the late 14th century. Chateau La Clotte, which is located inside the walls of the St. Emilion village belongs to the Grailly family. They are related to the Becot family, who own Chateau Beau-Sejour Becot. Today, Nelly Moulierac is in charge of managing Chateau La Clotte.
Chateau La Clotte covers 20 hectares of St. Emilion vineyard land. Over the years, a large amount of vines was split off into other parcels. In 1913, the Chailleau family bought the last remaining plot of Chateau La Clotte. At that time, the name of the estate was changed from Chateau de Grailly to Chateau La Clotte.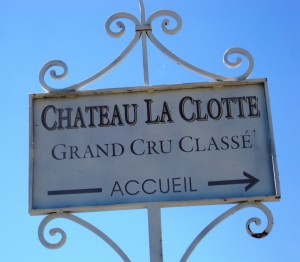 Chateau La Clotte is a true, St. Emilion's insiders secret, Bordeaux wine.  Due to its high quality, fair price and mineral driven, opulent style, this is a wine many of the local St. Emilion winery owners purchase for their own cellars. The jump in quality is now well established. Things started turning around for Chateau La Clotte after their contract with Ets. Moueix, who was responsible for managing and farming the property expired in 1999.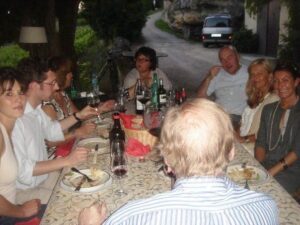 Located just behind the St. Emilion village, not far from Chateau Ausone the 4 hectare Bordeaux vineyard of Chateau La Clotte is situated on clay with limestone terroir. The vines are planted to 80% Merlot, 15% Cabernet Franc and 5% Cabernet Sauvignon. The vines are old. On average, they are close to 40 years of age. The vines are planted to a density of 6,500 vines per hectare. the vineyard is divided into 12 separate parcels.
For the vinification, Chateau La Clotte is fermented in temperature controlled Inox vats. There are enough vats to allow for parcel by parcel vinification of Chateau La Clotte. in 2012, Chateau La Clotte purchased a new thermoregulation system for the vats, which allows for the first time the ability to truly vinify on a more precise basis.
The wine sees a selection of the must and goes through a cold pre-fermentation maceration, vinification at 32 Celsius. During the alcoholic fermentation, the Bordeaux wine receives 4 pump-overs per day, punching down and delestage(rack and return). Malolactic fermentation takes place in 50% new oak. Chateau La Clotte is then aged in 50% new, French oak barrels for close to 15 months, depending on the quality and character of the vintage. On average, Chateau La Clotte produces 1,200 cases of Bordeaux wine per year.
http://www.chateaulaclotte.com/
Wine Tasting Notes
Displaying 8 vintages | 12201 Views Sorted by vintage
2012 Château La Clotte

A nice perfume of licorice, cocoa, flowers and cherries opens to a medium-bodied, fresh wine with a focus on peppy, dark, red berries. 88-90 Pts

90

points - Tasted

Apr 26, 2013

303 Views

2011 Château La Clotte

From limestone, sand and clay terroir, this round-textured wine has notes of mineral and black raspberry with some dryness in the finish. 88-90 Pts

89

points - Tasted

Apr 24, 2012

509 Views

2010 Château La Clotte

Earthy, mineral scents with truffles and plums, soft tannins and a polished, stone and fresh berry finish, create this stylish, easy to like, well priced St. Emilion.

91

points - Tasted

May 8, 2013

310 Views

La Clotte from limestone, sand and clay terroir, this is the first vintage that the owner included Cabernet Sauvignon in the blend which consists of 85% Merlot, 10% Cabernet Franc and the remainder, Cabernet Sauvignon. Licorice, minerality, chocolate mint and plum aromas with soft textures, medium/full bodied and a fresh black cherry finish. Due to its high quality, great style and low price, this wine is often purchased by many of St. Emilion's most famous wine makers. 91-93 Pts

92

points - Tasted

Apr 22, 2011

963 Views

2009 Château La Clotte

With minerality, blackberry, black cherry and licorice, this ripe, round, open style of St. Emilion offers a lot of pleasure and remains one of the top values for St. Emilion

92

points - Tasted

May 1, 2012

1125 Views

2009 La Clotte, from limestone, sand, and clay terroir, offers dark fruit, minerality, and freshness along with opulent textures. This wine remains one of the insider's secrets of St. Emilion. Because of its high quality, great style, and low price, this insiders wine is often purchased by many of St. Emilion's most famous wine makers. 91-93 Pts

92

points - Tasted

Jun 28, 2010

1368 Views

2008 Château La Clotte

08 Château La Clotte. This château, which takes its name from ancient caves and the troglodytes who used to inhabit them, is only a stone's throw from Ausone. It shares the same as Ausone's elevation, and has similar, limestone packed soils. The vineyards are planted with 80% merlot, 17% cabernet franc, and 3% cabernet franc. The wine is deep ruby with mineral and black fruit aromatics. Aged 18 months in 50% new oak, the wine offers suave sensations of black fruit, licorice, coffee, and minerals in the long finish. Slightly more than 1,000 cases of this insiders' wine were produced in 2008. 91-93 Pts

92

points - Tasted

Jul 1, 2009

1326 Views

2006 Château La Clotte

Medium ruby in color. With a tight nose that needed swirling to display aromas of jammy black fruits, minerals and fennel. The wine offers a plush entry and ends with a berry and mineral infused finish.

90

points - Tasted

Jun 14, 2008

1347 Views

2005 Château La Clotte

Licorice, blackberry, blueberry, minerality, coffee, smoked herbs make up the perfume. Supple, rich and opulent in texture, the wine finishes with spicy chocolate covered, black cherries. Still young, 3-5 years in the bottle will add a lot to the wine.

93

points - Tasted

Aug 20, 2011

1978 Views

If you are seeking a flashy, fleshy, rich textured Bordeaux wine that flows from the glass like lava from a volcano, you came to the right place. While offering great concentration and a decadent mouthfeel, the wine is not ponderous or heavy. Everything is in perfect balance. The oak, mineral, coffee and blackberry infused aromatics make the wine a pleasure to sniff, swirl and sip. The best thing is, this wine sells for a song in America. This is well worth buying by the case.

93

points - Tasted

Jun 24, 2007

2235 Views

1999 Château La Clotte

This mediumn bodied, pleasant but simple wine is fully mature and should be drunk up.

88

points - Tasted

Jun 14, 2008

737 Views