Chateau Gracia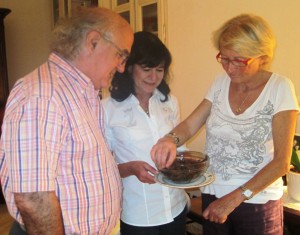 Chateau Gracia St. Emilion, Bordeaux wine producer profile, with wine tasting notes, wine ratings, a history of the property, information on wine making and terroir, along with wine tasting reviews. If you want to read about other important, Bordeaux Chateaux: Links to all Bordeaux Wine Producer Profiles
Gracia is a true Garage wine!  It is produced inside the village of St. Emilion in a small space, located on a tiny back alley that is next to a working garage.
Owned by Michel Gracia, the 2.84 hectare St. Emilion vineyard Gracia is planted in clay and limestone soils with vines averaging close to 40 years of age. This Right Bank, Bordeaux wine vineyard is planted with 80% Merlot, 15% Cabernet Franc and 5% Cabernet Sauvignon. The vineyard is planted to a vine density of 5,500 vines per hectare.
The amount of effort expended to produce the wine of Chateau Gracia is extraordinary. The fruit is hand harvested and hand destemmed before being fermented in a combination of temperature controlled, stainless steel vats and Taransaud oak tanks. Yields are always low. On average, they are often only 25 hectoliters per hectare and at times, they are even lower!
The amount of effort required to produce this small is extensive. Chateau Gracia sees a 28 to 30-day maceration period. Malolactic fermentation takes place in 100% new, French oak barrels. The wine of Chateau Gracia is aged in 100% new oak barrels. The property on average produces about 4,500 bottles of St. Emilion wine per vintage. Michel Gracia also produces Les Angelots du Gracia. Les Angelots du Gracia is not a second wine, it's a unique St. Emilion wine produced from its own fruit sources. The wine of Les Angelots du Gracia experiences the same care and technique required to make Chateau Gracia.
Wine Tasting Notes
Displaying 9 vintages | 11163 Views Sorted by vintage
2012 Les Angelots du Gracia

Incense, coffee and blackberry notes open to spicy, dark berries and a saline, dark chocolate and blackberry, round finish. 88-90 Pts

90

points - Tasted

Apr 26, 2013

268 Views

2012 Château Gracia

Sandalwood, licorice, blackberry and cocoa notes, fleshy, sweet, ripe, sof textured, blackberries with cocoa are found in the finish. 91-93 Pts

0

points - Tasted

Apr 26, 2013

256 Views

2011 Château Gracia

80% Merlot, 15% Cabernet Franc and 5% Cabernet Sauvignon is aged in 100% new oak. Chocolate, licorice, black cherry and truffle scents, lush textures and a polished black cherry, raspberry and chocolate-filled finish are found in this wine. 91-93 Pts

92

points - Tasted

Apr 24, 2012

757 Views

2011 Les Angelots du Gracia

With oak, truffle, smoke and dark berry scents, this ripe, jammy wine ends with coffee and sweet blackberries. 90-91 Pts

90

points - Tasted

Apr 24, 2012

493 Views

2010 Les Angelots du Gracia

2010 Les Angelots Gracia 80 % Merlot 20% Cabernet Franc combined to produce a wine that 14.5% alcohol. The nose offers a perfume of oak, licorice, plums and jammy blackberries. Supple in texture, the round, ripe wine finishes with anise and sweet blackberry jam. 90-92 Pts

91

points - Tasted

Apr 22, 2011

702 Views

2010 Château Gracia

Gracia 80 % Merlot 20% Cabernet Franc came in at 15% alcohol. Oak, spicy berry, licorice and chocolate covered blackberry nose. Round texture, full bodied and concentrated with a long dark cherry, fennel and jammy blackberry finish. 91-93

92

points - Tasted

Apr 22, 2011

1262 Views

2008 Château Gracia

08 Gracia starts off with a spicy, licorice infused, blackberry liquor nose that is made even better by the large dose of chocolate covered black fruit in the mouth. A rich, opulent, full bodied style of wine for buyers seeking a lot of pleasure. The last of the garage wines? Gracia is probably the only wine that was, and still is, made in an actual garage in the heart of St. Emilion. 92-95 Pts

93

points - Tasted

Jul 1, 2009

1392 Views

2000 Château Gracia

From a blend of 90% Merlot and 10% Cabernet Franc, the wine offers licorice, stone, blackberry, coffee, smoke and black cherry aromas. Full bodied, rich and round in texture, aged in 100% new oak, this plum filled St. Emilion is drinking well today.

92

points - Tasted

Mar 18, 2012

1163 Views

1998 Château Gracia

Licorice, black cherry and mocha are the predominant aromatics. Full bodied with a slight rusticity to the tannins, the wine ends with spicy, black raspberry flavors. However, a touch of green is noted in the finish. This was probably better a few years ago. If I had any remaining bottles, I'd rather drink it sooner than later.

90

points - Tasted

Aug 21, 2010

1601 Views

Elegant, sophisticated and opulent with good concentration. Lots of ripe chocolate covered blackberries, plums and spice. Gracia, made from 90% Merlot and 10% Cabernet Franc, produced a whopping 400 cases of wine. Gracia is truly a garage wine. While that term has fallen from favor, the wine is still produced in a garage in the heart of St. Emilion! I think the wine is better enjoyed on the young side and should be opened sooner rather than later.

91

points - Tasted

Oct 12, 2008

1614 Views

The wine has no faults, but it lost the excitement and sexy, plush quality it previously sported. This was a better wine a few years ago.

91

points - Tasted

May 29, 2008

1655 Views