Chateau Fleur Cardinale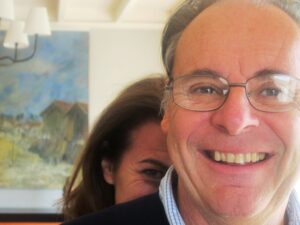 Chateau Fleur Cardinale St. Emilion, Bordeaux wine producer phttp://www.thewinecellarinsider.com/bordeaux-wine-producer-profiles/bordeaux/st-emilion/fleur-cardinale/rofile, with wine tasting notes, wine ratings, a history of the property, information on wine making and terroir, along with wine tasting reviews. If you want to read about other important, Bordeaux Chateaux: Links to all Bordeaux Wine Producer Profiles
Chateau Fleur Cardinale was purchased by Dominique and Florence Decoster in 2001. Prior to buying their first Bordeaux wine estate, they were in the fine China business in the Limoges region of France. The 18.5-hectare St. Emilion vineyard of Fleur Cardinale is planted to 70% Merlot, 15% Cabernet Sauvignon and 15% Cabernet Franc at a density of 6,000 vines vines per hectare. The vines are old, with an average age of 40 years. The terroir is clay over limestone in the sector of St. Etienne-de-Lisse. They are located next door to Valandraud and Rol Valentin. Chateau Faugeres is only a stones throw away as well.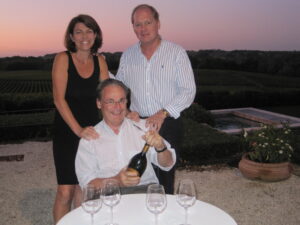 The vineyard management of Fleur Cardinale is traditional, as is the wine making. De-leafing and crop thinning are handled with no chemical products. After a first selection on the vine, the grapes are harvested manually and put in small boxes so that the ripe grapes are not crushed. The grapes are sorted twice by hand, before and after the destemmer.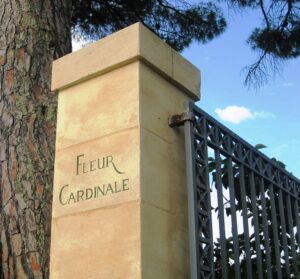 Once in the vats, cold maceration at 5°Celsius takes place over 5 or 6 days. This is followed by alcoholic fermentation then warm maceration for 2 to 3 weeks. All the pumping over is done by gravity, which avoids "stirring up" the musts and "stressing" the yeasts. Fermentation takes place in 22 small, thermo regulated, stainless steel vats allowing the vinification to be done by on a parcel by parcel basis. Malolactic fermentation takes place in 100% new oak barrels. The wine of Chateau Fleur Cardinale is aged in 100% new, French oak barrels for an average of 15 months.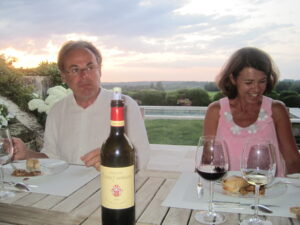 In 2011 the Decoster's added Croix Cardinale to their Fleur Cardinale portfolio of St. Emilion wine. With the name Croix Cardinale, are you sensing there is a pattern here with the Cardinale theme? Purchased April 2011, the terroir is similar to Fleur Cardinale with its clay and limestone 7.5 hectare vineyard. With 70% Merlot, 15% Cabernet Franc, and 15% Cabernet Sauvignon, it shares the same St. Emilion vineyard cepage as well. However at an average 40 years of age, the vines are a little older.
The Decosters produce a second Bordeaux wine for Fleur Cardinale, Bois de Cardinale as well as Secret de Cardinal. Secret de Cardinale comes from vines located on a 1.20 hectare plot bordering Chateau Fleur Cardinale. This 100% merlot wine is made using the same growing and wine making techniques as Château Fleur Cardinale. The 100 % Merlot vines for Secret de Cardinale are on average, 35 years old. The terroir is clay and limestone. The wine is aged in 100% new French oak for an average of 13 months.
http://www.chateau-fleurcardinale.com/
Wine Tasting Notes
Displaying 17 vintages | 72407 Views Sorted by vintage
2012 Secret de Cardinale

From 100% Merlot, the wine is supple textured, soft, round and filled with jammy, chocolate covered cherries. This is perfect for early drinking. 89-91 Pts

90

points - Tasted

Apr 26, 2013

293 Views

2012 Château Fleur Cardinale

Truffle, earth, spice, blackberry, plum and cocoa scents open to a full bodied, sweet, round wine with character and ripeness. 92-94 Pts

93

points - Tasted

Apr 26, 2013

522 Views

2012 Château Croix Cardinale

Lush, sweet, fleshy, ripe and over ripe berries, with licorice, dark chocolate and black cherry liqueur. 90-92 Pts

91

points - Tasted

Apr 26, 2013

301 Views

2011 Secret de Cardinale

From a parcel that is separate and distinctive from Fleur Cardinale and planted with 100% Merlot, the vines are 35 years of age. Deep in color with purple accents, vanilla, chocolate, plum and black raspberry scents, this plush, supple-textured wine opens into a long, ripe and pure dark chocolate-, black cherry- and blue fruit-filled finish. 91-93 Pts

92

points - Tasted

Apr 24, 2012

811 Views

2011 Château Fleur Cardinale

Packed with black licorice, floral, stone, blackberry and chocolate, this blend of 70% Merlot, 20% Cabernet Franc and 10% Cabernet Sauvignon produced a lush, round, St. Emilion that ended with chocolate covered black cherries. This is a very successful wine for the vintage. 90-93 Pts

91

points - Tasted

Mar 16, 2012

1643 Views

2011 Château Croix Cardinale

2011 is the debut vintage for the Decosters, the owners of Fleur Cardinale and Secret de Cardinale. With the name Croix Cardinale, are you sensing a pattern here? Truffle, chocolate, licorice and jammy black berries are found in the perfume. Rich, polished, sexy and long, the plush finish is filled with chocolate-covered plums. From a blend of 70% Merlot, 20% Cabernet Franc and 10% Cabernet Sauvignon, the wine reached 15% alcohol and will be aged in 100% new oak. 91-93 Pts

92

points - Tasted

Apr 24, 2012

484 Views

2010 Château Fleur Cardinale

If there is a better in St. Emilion, I'd like to hear about. The remarkable level of consistency displayed in the wines of Fleur Cardinale is also tough to beat. Packed with black and blue fruits, licorice, dark cherry jam, earth and chocolate, the wine is intense, dense and opulent in texture, finishing with layers of sweet, ripe, rich, fresh, polished fruits.

94

points - Tasted

May 7, 2013

998 Views

Fleur Cardinale From an 18 hectare, clay and limestone vineyard, located next to Valandraud, Florence and Dominique Decoster put a lot of effort into their 2010, starting with reducing their yields to 36 hectoliters per hectare. With its deep color, cassis, blackberry, licorice and jammy liqueur aromas exude from the glass. This full-bodied wine offers layers of opulent dark fruit ending with a fresh, licorice, blackberry, dark cherry and chocolate finish. From an assemblage of 78% Merlot, 15% Cabernet Sauvignon and 7% Merlot, the wine reached 14.5% alcohol. This is the best wine from the estate since their outstanding 2005. For consumers not yet familiar with this estate, Fleur Cardinale is one of the most consistent Bordeaux producers making wines that combine price and quality. 93-95 Pts

94

points - Tasted

Apr 22, 2011

5935 Views

2009 Secret de Cardinale

From 100% Merlot, black licorice, smoke, coffee, black cherry liqueur and vanilla scents lead to an intense, full bodied, concentrated wine packed with fat layers of sweet chocolate, boysenberry, blueberry, licorice and cocoa. Lusty, thick and opulent, this will drink well young. This is my favorite vintage of Secret de Cardinale produced by the Decosters yet! For people that appreciate details, 2009 Secret de Cardinale could win the title for making wine from the lowest yields of the vintage. The wine was produced from an amazing 7 hectoliters per hectare!

93

points - Tasted

Mar 9, 2012

1361 Views

2009 Château Fleur Cardinale

From a blend of 70% Merlot, 20% Cabernet Franc and 10% Cabernet Sauvignon, fennel, dark chocolate covered boysenberry, plum and spice aromas, full bodied, silky, round and rich in texture, the wine ends with sweet, fleshy, juicy, licorice, spice and plums.

94

points - Tasted

Mar 12, 2012

5474 Views

2009 Fleur Cardinale, 70% merlot, 20% cabernet franc, and 10% cabernet sauvignon, offers a nose of kirsch, black raspberry, espresso, and jammy blackberries. Full bodied, rich, and ripe, this wine finishes with sweet black cherries, licorice, mocha, and spice. 91-94 Pts

92

points - Tasted

Jun 28, 2010

6239 Views

2008 Château Fleur Cardinale

Chocolate, licorice and jammy black raspberry notes work well with the soft, lush, round, inviting textures. The wine ends with sweet plums and cocoa. This tasty wine is already offering pleasure.

91

points - Tasted

Mar 12, 2012

3689 Views

08 Château Fleur Cardinale, from 70% merlot, 20% cabernet franc, and 10% cabernet sauvignon, is dark with purple accents. Filled with jammy black fruit, oak, and fennel, this fat, concentrated, plush wine offers ample quantities of licorice coated black fruit in the long, opulent finish. 91-94 Pts

92

points - Tasted

Jul 1, 2009

3232 Views

2008 Secret de Cardinale

08 Secret de Cardinale, from 100% merlot, is deep ruby, with oak, licorice, and ripe black fruit in the nose. The wine shows a sweet, opulent character, but seems lighter than its better known relative, Fleur Cardinale. 88-91 Pts

91

points - Tasted

Jul 1, 2009

1125 Views

2006 Château Fleur Cardinale

Licorice, spice and gobs of black cherries in the nose, supple textures and a round, fennel, blackberry filled finish. This is drinking great today.

90

points - Tasted

Oct 3, 2011

3032 Views

With licorice coated black and blue fruit, this is a more structured, firm style of Fleur Cardinal. Full bodied and rich, the wine ends with a blend of cassis and spicy blackberries.

90

points - Tasted

Mar 6, 2010

3642 Views

2005 Château Fleur Cardinale

Deep in color with a perfume that pops from the glass with notes of licorice, chocolate, blackberry liqueur, stone, smoke, espresso and plums. Rich, opulent, concentrated and flamboyant in texture, this sexy St. Emilion is offering a lot of pleasure today. Still primary, because the tannins are ripe and plush, it's worth opening a bottle today to experience its lush qualities.

94

points - Tasted

Sep 20, 2011

7627 Views

With swirling and coaxing, juicy black plums, jammy blackberries, coco, licorice and kirsch greet your nose. This concentrated wine fills your mouth with pleasure ending with a long opulent, sensation of rich, chocolate covered dark pit fruits, cassis and fennel. Another 5-7 years will add a lot of complexity and texture to this wine.

94

points - Tasted

Mar 6, 2010

9638 Views

Already approachable due to its sexy style, this concentrated wine is filled with dark berries, blue fruit, licorice, chocolate and spice. With the structure to age, this will add complexities with a few more years of bottle age.

94

points - Tasted

Jul 2, 2008

1685 Views

2004 Château Fleur Cardinale

Better on the nose than the palate with its licorice, earth and black cherry perfume. This medium bodied, easy to like, round wine seems to be less interesting than it was a few years ago. I'd opt for drinking this over the next few years before it drops more of its fruit.

88

points - Tasted

Dec 23, 2012

1444 Views

Black raspberries, espresso bean, licorice and cassis get you going. Opulent in texture and concentrated with sweet ripe, jammy berries, this delicious wine is already drinking well.

92

points - Tasted

Mar 6, 2010

3511 Views

2003 Château Fleur Cardinale

Licorice, blackberry jam, smoke, chocolate and earthy scents offer their charm with little effort. Lush textures, medium body and a ripe, mocha, cherry tinged sensation are found in the finish. There is no reason to hold this wine any longer. It's close or at full maturity.

91

points - Tasted

May 14, 2012

2567 Views

This is the first vintage that showed real promise to Florence and Dominique Decoster. Ripe Jammy plums, licorice and black cherries make up the perfume. This round and lushly textured wine offers ample jammy black raspberries, chocolate, spice and hints of fennel. This is drinking perfect today. I've tasted this wine numerous times with consistent results. I'd drink this over the next 5-7 years

92

points - Tasted

Mar 6, 2010

4181 Views

2002 Château Fleur Cardinale

This fully mature wine shows coffee, cassis and truffle aromas. There is some green flavors in the plummy finish. Drink up.

87

points - Tasted

Mar 6, 2010

1035 Views

2001 Château Fleur Cardinale

This slightly past fully mature wine is medium bodied and displays dark berries and earthy flavors. The tannins do not feel fully ripe. This is the debut vintage of this wine for Dominique and Florence Decoster.

85

points - Tasted

Mar 6, 2010

1938 Views