Chateau Faugeres
Chateau Faugeres St. Emilion, Bordeaux wine producer profile, with wine tasting notes, wine ratings, a history of the property, information on wine making and terroir, along with wine tasting reviews. If you want to read about other important, Bordeaux Chateaux: Links to all Bordeaux Wine Producer Profiles
Chateau Faugeres as well as Peby Faugeres and Cap de Faugeres are all owned by Silvio Denz. Denz continues adding to holdings in Bordeaux with purchases in Lalande de Pomerol. While Chateau Faugeres has a long history in St. Emilion dating all the way back to the early 1800′s, when it was owned by the Guisez family, it did not become well known until Silvio Denz purchased Chateau Faugeres in 2005 from Corinne Guisez, (a direct family descendent) with the help and advice of Stephan von Neipperg, who also consults on the wine making at Chateau Faugeres along with Michel Rolland.
Before Denz decided to produce Bordeaux wine, he was in the perfume business, which is where he made his fortune. He also owns Lalique as well as other wineries in Bordeaux, Spain and Italy.  In 2009, Silvio Denz finished a complete renovation of the his St. Emilion wine making facilities at Chateau Faugeres. The architecturally stunning, state of the art winery, designed by Mario Botta, is one the most modern, Bordeaux wine making facilites in the Right Bank.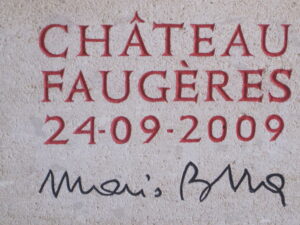 Chateau Faugeres has a total of 49 hectares in St. Emilion, of which a portion is also devoted to the production of Chateau Peby Faugeres. Chateau Faugeres is located on the St. Emilion, Castillon plateau, not far from Valandraud, Chateau Fleur Cardinal and Rol Valentin, due east of the St. Emilion village. Essentially three wines are produced here; Chateau Faugeres, Cuvee Speciale Peby and Haut Faugeres.
The terroir of Chateau Faugeres is mostly clay and limestone soils. The vineyard is planted to 85% Merlot, 10% Cabernet Franc and 5% Cabernet Sauvignon. The vines are old, with an average age of 35 years. A lot of work in the vines takes place to produce Chateau Faugeres, which includes debudding, crop-thinning, and leaf pulling. Vineyard management is focused on sustainable farming techniques at Chateau Faugeres. The vineyard recently earned ISO, 14001 ranking. This is done with an effort to reduce yields.
For the vinification of Chateau Faugeres, following the picking at Chateau Faugeres, the whole berry grapes undergo a 5-day cold soak at 12° Celsius. Alcoholic fermentation takes place in new, temperature controlled, gleaming, stainless steel tanks that vary in size from 80 hectoliters up to 152 hectoliters. Everything in the cellar is fed by gravity flow. Cuvaison lasts 40 days. Malolactic fermentation takes place in barrel. The wine of Chateau Faugeres is aged in 50% new, French oak barrels for 14 months. During that time, the wine is aged on its post-malo lees for four months.
Close to 4,500 cases of Chateau Faugeres are produced each vintage.  There is a second wine, Haut Faugeres.
Wine Tasting Notes
Displaying 10 vintages | 11182 Views Sorted by vintage
2012 Château Faugères Cuvée Spéciale Péby

Fleshy, rich, chocolate-covered black and blue fruits with espresso, jam and licorice notes lead to a sensuous, plush, fat wine with a sweet, opulent, ripe, fruit-driven finish. Produced from 100% old vine Merlot. 93-95 Pts

94

points - Tasted

Apr 26, 2013

362 Views

2011 Château Faugères

From 85% Merlot, 10% Cabernet Franc and 5% Cabernet Franc, the wine is aged in 50% new oak. This medium-bodied wine displays floral, red plum , licorice and earthy aromas and ends with a light red berry finish. 89-90 Pts

89

points - Tasted

Apr 24, 2012

835 Views

2010 Château Faugères

Faugeres From a blend of 85% merlot, 10% cabernet franc and 5% cabernet sauvignon, the wine will be aged in 50% new oak for about 14 months. Licorice, bitter chocolate, boysenberry aromatics, plush, soft, round textures and a ripe, chocolate and black cherry finish are found in this wine. 90-91 Pts

91

points - Tasted

Apr 22, 2011

1717 Views

2010 Château Faugères Cuvée Spéciale Péby

2010 Peby Faugeres is produced from 100% Merlot and aged in 100% new oak for 18 months. Production hovers close to 1,000 cases. Deep purple in color, jammy black fruit, espresso, licorice and spice, this thick, powerful, dense, dark wine is stuffed to the brim with decadent ripe fruit, licorice and chocolate that defines voluptuous in a wine. Unctuous and long, the wine ends with licorice, chocolate, spicy plum and jammy berry liqueur. 95-97 Pts

96

points - Tasted

Apr 22, 2011

1878 Views

2009 Château Faugères Cuvée Spéciale Péby

From 100% old vine Merlot, this is a serious contender for the sexiest wine of the vintage. In other words, this decadent wine is made for hedonists! Lush, opulent, sensuous textures, boatloads of chocolate covered boysenberries, truffle, licorice and espresso and a lusty, velvet finish are found in this wine. This is already drinking great. Age it, or pop a bottle tonight. Either way, it's a treat.

96

points - Tasted

May 19, 2013

164 Views

2009 Château Faugères

Lush textures, licorice, espresso, black cherries, plum, cocoa and truffle scents and an opulent, forward, sensuous finish are already on full display.

92

points - Tasted

May 19, 2013

241 Views

2008 Château Faugères

08 Château Faugeres starts off with a truffle nose intermingled with oak and black fruits. This medium/full bodied, elegantly styled wine will offer pleasure at a young age. The wine finishes with silky, jammy black berry flavors. Owner Silvio Denz unveiled his new, show stopping wine making facilities in September 2009. 89-91 Pts

90

points - Tasted

Jul 1, 2009

1343 Views

2008 Château Faugères Cuvée Spéciale Péby

08 Château Peby Faugeres is the 100% luxury merlot from the top plots at Faugeres, produced in 100% new oak from mostly 40 year old vines from clay and limestone soils. This licorice accented wine offers a plush mouth that ends with notes of chocolate covered, jammy black fruits. 92-94 Pts

93

points - Tasted

Jul 1, 2009

1186 Views

2005 Château Faugères

The power trio of Michel Rolland, Stephan von Neipperg and Silvio Denz produced a solid wine in 2005. Still deep in color, with licorice, coffee, blackberry, blueberry, stone and chocolate covered cherries, this is a sensuous, deep, rich, opulent, lush, modern style of St. Emilion wine that has offered pleasure from the moment it was bottled. There is a lot to like here and it's still fairly priced.

92

points - Tasted

Nov 1, 2011

3278 Views

2000 Château Faugères

Drinking perfectly today, the wine offers all its soft, round textured charms with layers of licorice, coffee bean, black cherries, earth, anise and spice. There is no need to age this wine any longer.

90

points - Tasted

May 19, 2013

178 Views