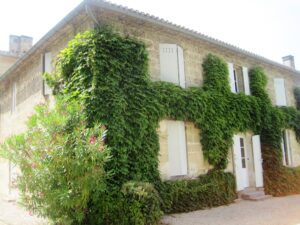 Chateau Clos Fourtet St. Emilion, Premier Grand Cru Classe B, Bordeaux wine producer profile, with wine tasting notes, wine ratings, a history of the property, information on wine making and terroir, along with wine tasting reviews. If you want to read about other important, Bordeaux Chateaux: Links to all Bordeaux Wine Producer Profiles
Clos Fourtet did not start out as Bordeaux wine estate. Even with its picture perfect terroir, Clos Fourtet, due to its proximity to the St. Emilion village was built for use as a defensive fort called Camfourtet during the middle ages. Camfourtet can be loosely translated to Camp Fort. The chateau on the property today was constructed by the Rulleau family. The Rulleau's were also responsible for evolving the name from Camfourtet to Clos Fourtet in 1868.
The modern era of Clos Fourtet begins in 1919, when it was purchased by Fernand Ginestet. The Ginestet family eventually sold Clos Fourtet to raise money for their purchase of Chateau Margaux in 1949. In a convoluted, three way transaction, Clos Fourtet passed to the Lurton family who sold Clos Fourtet in 2001 to the current owners, the Cuvelier family. Before Philippe Cuvelier became a full time Bordeaux wine producer, he made his career in office stationery in Lille. Cuvelier ran the Guilbert stationery trade untill 1999. That was the year he sold his company to the Pinault Printemps Redoute (PPR) group. The Cuvelier family also own Chateau Poujeaux in Moulis, located in the Haut-Medoc appellation. In March, 2013, the Cuvelier family once again added to their holdings with the purchase of additional estates in St. Emilion, Chateau Les Grandes Murailles, Chateau Clos St. Martin and Chateau Cote de Baleau.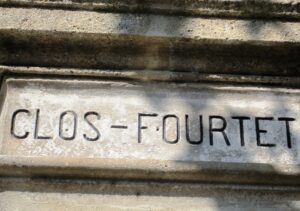 Thanks to the spare no expense attitude of the new owners, Clos Fourtet is doing what it takes to make the best wine possible. This effort begins in the vineyards. They practice sustainable, vine-growing methods. Grass is seeded between the rows to help reduce excess water. The soil between the vine plants is ploughed. The vines are pruned keeping two long canes, which are later de-budded to the required number of buds. De-leafing is done on the east-facing side at the end of June, and on the south-facing side at the end of August. Crop thinning is carried out at the beginning of the grape color change. As a result, the bunches are evenly spread out and well ventilated for good ripening. More of the Right Bank vineyard is being farmed on a sustainable, bio dynamic approach on a yearly basis, as that technique is proving to be quite favorable to the wines of Chateau Clos Fourtet.
The 20 hectare St. Emilion Bordeaux vineyard of Clos Fourtet, situated a stones throw from the village of St. Emilion right on top of the limestone plateau. The terroir is limestone and clay. The vines are planted to 85% Merlot, 10% Cabernet Franc and 5% Cabernet Sauvignon with vines that average 30 years of age. The vineyard of Clos Fourtet is planted to a density of 6,000 vines per hectare. The wine of Chateau Clos Fourtet undergoes whole berry fermentation. Vinification of Chateau Clos Fourtet takes place in temperature controlled, stainless steel vats. Malolcatic fermentation is performed in barrel. The wine of Chateau Clos Fourtet is aged for 18 months in between 60% to 80% new, French oak barrels. Close to 4,500 cases per year are produced of Chateau Clos Fourtet in an average vintage. There is a second wine, Closerie de Fourtet.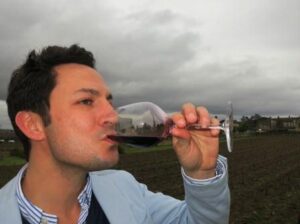 Chateau Clos Fourtet is an exciting Bordeaux wine. Located just outside the villiage of St. Emilion, over a series of deep, limestone caves, this mineral driven, dark berried, fresh, ripe, opulent, flamboyant wine offers intense, pure flavors, rich textures and spicy aromatics with hints of licorice.
Clos Fourtet is consulted by Stephane Derenoncourt and Jean Claude Berrouet, who make an odd pair, as Derenoncourt is known for picking ripe fruit while Berrouet, who earned fame for his multiple decades as the wine maker for Petrus. Clos Fourtet is managed by Mathieu Cuvelier. Step by step, Clos Fourtet continues experimenting with biodynamic techniques and striving to be more natural in their Bordeaux wine making approach. According to Mathieu Cuvelier, they are impressed by the work and progress that Alfred Tesseron is employing at Chateau Pontet Canet and they want to use some of those methods at Clos Fourtet in St. Emilion.
Wine Tasting Notes
Displaying 11 vintages | 71527 Views Sorted by vintage
2012 Clos Fourtet

With 86% Merlot, 10% Cabernet Sauvignon and 4% Cabernet Franc, the wine reached 14% alcohol with a pH of 3.7. The wine will be aged in 60%, new French oak barrels for 18 months. Deep in color with floral, licorice, dark red berries and earth in the nose, the wine is rich, lush and deep with soft tannins. The wine ends with sweet licorice and chocolate-covered berries. To produce the wine in this difficult vintage, Chateau Clos Fourtet performed 3 green harvests during the growing season. 92-94 Pts

94

points - Tasted

Apr 26, 2013

487 Views

2011 Clos Fourtet

Coffee, black cherry, minerality, black raspberry liqueur with rich, silky, opulent textures, deep color and a long sensuous mouth feel are found in the wine. From a blend of 85% Merlot, 10% Cabernet Sauvignon and 5% Cabernet Franc, the wine will be aged in 60% new oak. Licorice, sweet blackberry, jam, truffle, chocolate, floral and black cherry aromas are found in the aromatics. Very rich for the vintage, the wine is packed with sweet, ripe, juicy and luscious dark berries. Balanced and supple, there is a lot to like about this wine. 94-96 Pts

95

points - Tasted

Apr 24, 2012

1976 Views

2010 Clos Fourtet

Deep in color, the wine pops with black licorice, truffle, earth, dark berries, silky textures, velvety tannins and a long, polished, sexy finish that builds in intensity.

97

points - Tasted

May 7, 2013

655 Views

Packed with minerality, licorice, flowers, jammy blackberry, dark cherry, kirsch, smoke, vanilla bean and coffee scents, the wine is thick, luxurious, rich, powerful and concentrated. On the palate, the wine offers the unique combination of mouth filling and freshness ending with a boatload of sweet black licorice coated blackberries, plums and jam. The finish remains in your mouth for over 40 seconds. This St. Emilion wine has improved since last tasted in April. 96-97 Pts

96

points - Tasted

Jul 30, 2011

2780 Views

2010 Clos Fourtet With a clay and limestone terroir, the vineyards are located close to the center of the St. Emilion village abutting Chateau Beau-Sejour Becot. From an assemblage of 87% Merlot, 10% Cabernet Franc and 3% Cabernet Franc, the wine reached 14.5 alcohol. Intense aromas of jammy dark berries, black licorice, minerality and plum liqueur lead the way to a sexy, opulent and multi-layered Bordeaux wine with waves of sweet, rich, juicy fruit. The long finish ends with a mouthful of rich, licorice coated dark berries and cassis. 95-96 Pts

96

points - Tasted

Apr 22, 2011

2796 Views

2009 Clos Fourtet

Minerality, espresso beans, truffles, licorice and sweet, ripe boysenberry aromas combine with mouth filling, plush textures and silky tannins. Fresh, ripe and pure, this is a delicious St. Emilion wine

95

points - Tasted

Feb 10, 2012

4069 Views

Aromas of crushed stone, licorice, black raspberry and coffee bean are easy to find. This St. Emilion wine is deep, concentrated and powerful with layers of sweet, opulently textured jammy berries and licorice.

96

points - Tasted

Jul 30, 2011

4366 Views

2009 Clos Fourtet is dark ruby. Filled with jammy blackberry and licorice scents, this powerful, fleshy wine ends with a silky, black fruit finish. 94-96 Pts

95

points - Tasted

Jun 28, 2010

4599 Views

2008 Clos Fourtet

The intense perfume is filled with minerality, black cherry, coca powder, espresso, licorice and truffles, The concentrated, powerful, full bodied, rich wine offers depth and length, ending in a polished blackberry and cherry filled finish.

94

points - Tasted

Jan 25, 2011

3975 Views

2008 Clos Fourtet starts with a complex licorice filled nose coupled with chocolate, black raspberry jam, and concentrated, ripe plums. Combining freshness and lush textures, this potent wine ends with a mouthful of spicy blackberries and anise. 94 Pts

94

points - Tasted

Jul 18, 2010

4114 Views

08 Château Clos Fourtet is deep ruby. Black fruit, flowers, licorice, coffee, and minerals in the nose. Full bodied with soft tannins, this ample wine shows a long, fresh finish marked with licorice and ripe blackberries. 92-95 Pts

94

points - Tasted

Jul 1, 2009

4203 Views

2006 Clos Fourtet

Light for Clos Fourtet, this medium bodied St. Emilion produced from 80% Merlot, 10% Cabernet Franc and 10% Cabernet Sauvignon offers licorice, blackberry, plum, coffee and earthy scents. The wine ends with a tannic, espresso bean, red and dark berry finish. Give it another 4-5 years to allow it to come together.

92

points - Tasted

Dec 26, 2011

2432 Views

2005 Clos Fourtet

Intense aromas of licorice, jammy black fruit, truffle, spice, cocoa and earth, rich, succulent, plush, sexy, opulent textures, length, purity and palate presence. If you missed the 2009 Clos Fourtet and want a wine that is not that far off quality for less, this is the wine to buy!

97

points - Tasted

May 1, 2012

4603 Views

Still deep in color, sporting licorice, coffee bean, blackberry, black cherry, mineral and spicy aromatics, this powerful, full bodied, opulently styled, ripe, silky wine ends with a long, dark cherry liqueur, vanilla and licorice sensation. Lush and seductive, give this 3-5 years to come together.

96

points - Tasted

Mar 11, 2012

3725 Views

This is intense, complex and concentrated. Deep levels of fat, ripe, polished dark fruits. Massive, dense and sexy. Multiple layers of licorice tinged black fruit and plums are all over the place. This is a thrill a sip wine. This is a wine for pleasure seekers.

95

points - Tasted

Jan 20, 2008

7007 Views

Inky colored and packed with incredibly rich, ripe black fruit, licorice and minerals, this full bodied, intense, powerful wine fills your mouth with gobs of prefectly ripe berries, plums and spice.

96

points - Tasted

Jun 24, 2007

6533 Views

2004 Clos Fourtet

Medium/full bodied, round, supple, soft textured, with chocolate, red plums and blackberries. This is already starting to open and show well.

90

points - Tasted

Jan 17, 2013

1322 Views

2003 Clos Fourtet

I tasted this wine twice in Bordeaux a few weeks ago, and now with a pristine bottle from my cellar. Each of the three bottles showed consistent results. This is not quite the sexed up, potent treat from its opulent youth. Fully mature, the wine is soft, silky, plush, ripe and packed with a melange of ripe and over ripe, plum and cherry notes, this should be consumed sooner than later. I'd opt for drinking this over the next 5 years.

92

points - Tasted

May 4, 2013

605 Views

Licorice, chocolate, black and blue fruit, cherries and stone scents, fat, rich, plush textures and a silky, opulent finish. This is a lot of fun to drink today and it's only going to get better and develop additional layers of complexity as it starts to improve. This is a very lusty, sexy style of St. Emilion.

94

points - Tasted

Jun 17, 2012

3144 Views

Filled with licorice, stone, blackberry jam, cocoa and black cherry liqueur, while not mature, this St. Emilion is starting to drink well. Full bodied, lush and concentrated with ripe, dark berries and minerality, the wine ends with rich sensations of fennel, chocolate and plum.

94

points - Tasted

Aug 11, 2011

4933 Views

2001 Clos Fourtet

The mature wine opens with truffle, earth, forest, dark berry and cedar notes. The soft textured wine ends with spicy dark plums, coco and hint of green in the finish.

90

points - Tasted

Jul 9, 2010

2271 Views

1920 Clos Fourtet

From a bottle that was never moved from its cold Bordeaux cellar, tea in color with earth, cigar box, tobacco, ash and light cherries. Light on the palate, with a tart, cherry finish, it was still a treat drinking a wine close to 100 years old.

73

points - Tasted

May 1, 2012

932 Views