Chateau Gilette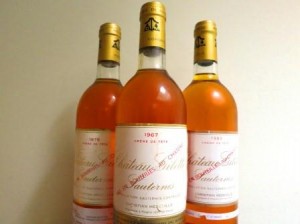 Chateau Gilette Sauternes, Bordeaux wine producer profile, with wine tasting notes, wine ratings, a history of the property, information on wine making and terroir, along with wine tasting reviews. If you want to read about other important, Bordeaux Chateaux: Links to all Bordeaux Wine Producer Profiles
Chateau Gilette dates back to 1710, when the two, well-known Sauternes familes got together through marriage. The Numa Médeville married family Marie Despujols, the daughter of another famous family in the region, Lamothe Despujols. The couple was given the estate as a wedding gift from Lamothe Despujols. vineyards, Gilette and Les Justices.
The estate has remained in the hands of the Médevile family for generations. Chateau Gilette is perhaps the most unique Bordeaux wine produced in the Sauternes appellation. The wines of Chateau Gilette are released on average, between 20 and 25 years after the vintage!  The wine remains in tank for close for almost 20 years before it's even bottled! At that point, Chateau Gilette ages the bottled Sauternes wine for an additional 3-5 years!
The 4.5 hectare Sauternes vineyard of Chateau Gilette is located in the commune of Preignac on gravel based soils. The vineyard is planted with 85% Semillon, 10% Sauvignon and 5% Muscadelle. The wine is fermented and stored in tanks and does not see any oak during its long aging. Chateau Gilette is only made in select vintages. In fact, Chateau Gilette has gone years without producing a wine. For example, no wine was made in 1991, 1992, 1993, 1994 or 1995. Currently, Chateau Gilette is managed by Julie Gonet-Médeville and her husband Xavier Gonet, who is known for Gonet Champagne. The family also own Chateau Les Justices in Sauternes as well as other Bordeaux properties.
Chateau Gilette at its best is filled with tropical, honey drenched fruit and spices.  But it lacks vanilla, coconut or custard scents found in many Sauternes as it was not aged in oak.  Depending on the vintage, this Bordeaux wine gains complexities with additional bottle age, which is amazing, considering it's already close to 25 years old by the time it's realeased! However, in some vintages, the fruit drops with age and it's not as much fun to drink with time.
Wine Tasting Notes
Displaying 6 vintages | 9343 Views Sorted by vintage
1983 Château Gilette Crème de Tête

This light copper colored wine offered apricots, honeyed orange rind, sweet tropical and apricot flavors, soft, rich textures and a fully mature, pineapple, orange and citrus finish. There is ample sweetness and freshness. I did not know it at the time, but this was my last bottle. Gilette is an interesting Sauternes as it does not see ageing in oak. It's aged in cement vats for 20-25 years before bottling, so you do not find the typical, vanilla or custard sensations that are found in most sweet Bordeaux wines.

92

points - Tasted

Sep 1, 2012

1320 Views

Sweet, honeyed tropical fruits greet your nose, while ripe honey drenched. pineapple, pear, apricot and orange fruit grace your palate. For lovers of sweet wines, this was very nice. It's improved over the past year. I liked this bottle a lot more than the last bottle I opened. It's hard not to love a winery that their most recent releasewas the 1983, and that came out in 2006!

93

points - Tasted

Nov 15, 2009

922 Views

1976 Château Gilette Crème de Tête

1976 Château Gilette Crème de Tête opens with an orange, Christmas spice, nectarine, cinnamon, peach, honey and floral perfume. If that was all there was supposed to be the wine, that would have been fine. But wines need to offer pleasure on the palate too and this wine stopped short of that. Semi tart, lacking sweetness and freshness, while not great, this was average at best. Based on this bottle, the wine is slowly starting to dry out and drop its fruit. Perhaps it was the specific bottle. I'll try to open another in the moderate future. 86 Pts

86

points - Tasted

Dec 9, 2010

1268 Views

1975 Château Gilette Crème de Tête

Light copper in color and filled with apricot, pineapple, orange blossom and honey accents. It had the weight of a Climens instead of Rieussec. This is ready to drink.

92

points - Tasted

May 1, 2008

732 Views

The wine is all ripe fruit. As it sees no oak, there are none of the vanilla or honeyed tones you normally find in Sauternes. The deep, orange hued wine with its elegant, ripe, tropical fruit was very rich, had good concentration and complexity and made a perfect paring with the Foies Gras

95

points - Tasted

Dec 18, 2005

809 Views

Thick, rich, concentrated, opulent flavors exploded from glass. This wine is best described as a boatload of dense, extremely ripe, honeyed fruit accompanied by a healthy dose of unique spices.

95

points - Tasted

May 3, 2005

823 Views

1971 Château Gilette Crème de Tête

Getting tired and starting to become oxidized. The wine was dull and lacked a lot of fragrance or fruit showing. I hope this was an off bottle. However, I think it's just old age setting in.

83

points - Tasted

Oct 6, 2011

1027 Views

1967 Château Gilette Crème de Tête

This deep orange, copperish colored wine was vibrant and alive. Full of ripe, sexy honeyed tropical fruit and the lift of acidity. Thick, rich and concentrated, this will deliver pleasure for years.

96

points - Tasted

Mar 12, 2006

776 Views

1950 Château Gilette Crème de Tête

Dark as molasses. It had an interesting burnt caramel nose. Lots of depth, but lacking finesse. Some sweetnees and fruit remained, but the majority of sensations came from the burnt qualities. Still, it was quite an adventure to taste a Sauternes close to 60 years old.

90

points - Tasted

Dec 1, 2007

774 Views