Chateau Feytit Clinet profile…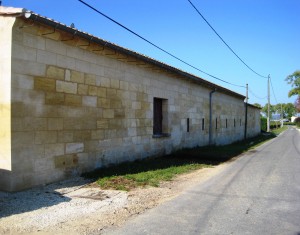 Chateau Feytit Clinet Pomerol Bordeaux wine producer profile, with wine tasting notes, wine ratings, a history of the property, information on wine making and terroir, along with wine tasting reviews. If you want to read about other important, Bordeaux Chateaux: Links to all Bordeaux Wine Producer Profiles
Chateau Feytit Clinet is located close to Chateau Clinet, Latour a' Pomerol and Clos L'Eglise. The earliest mentions of Chateau Feytit Clinet date all the way back to 1825, when it was owned by a member of the de Gombault family. By 1964, the estate entered into a lease and management agreement with Ets. Moueix that lasted until 2000. At that point in time the Chasseuil family once again took control of Chateau Feytit Clinet and began to change things for the better at this Right Bank property and their wines.
The duties for wine making and managing their Pomerol vineyards were given to the oenologist, and son of the owner, Jeremy Chasseuil. Jeremy learned about the Bordeaux wine trade from his time at La Dominique. The father of Jeremy, who previously managed Chateau Feytit Clinet, Michel Jack Chasseuil has one of the largest, and most interesting wine collections in France, if not the world. Michel Jack Chasseuil wrote a book based on his collection, "100 Vintage Treasures".
As soon as Jeremy Chasseuil began to take charge of Chateau Feytit Clinet, his first changes were in the vineyards. He reduced the yields from as high as 60 hectoliters per hectare down to between 32 and 40 hectoliters per hectare. He began green harvesting for the first time. Other vineyard practices taking place at Chateau Feytit Clinet include
removing a portion of the buds, the leaves and the early ripening grapes. These are decisive factors in limiting the production at Chateau Feytit Clinet. This controls and insures the best degree of maturity in each grape bunch. Picking is carried out entirely by hand. The grapes are sorted twice before and after destemming on two successive tables.
The Feytit Clinet 6.5 hectare, Pomerol vineyard is planted on gravel, sand and clay soils. The cepage of the Right Bank vineyard is 90% Merlot and 10% Cabernet Franc. The traditional wine making at Chateau Feytit Clinet takes place in seven, small, 46 hectoliter, concrete fermentation vats whose temperatures are set between 28° Celsius and 29° Celsius and a pair of smaller, stainless steel fermentation tanks. Pumping the juice over the skins and making pigeage provide for the gentle extraction of color and tannin for the Pomerol wines of Feytit Clinet.
The wine of Feytit Clinet spends 4-5 weeks in vat following the alcoholic fermentation. Malolactic fermentation takes place in 70% to 80% new French oak barrels. The Pomerol wine remains on its lees for several months. The wine is aged for 16 to 18 months in 70% to 80% new French oak barrels.
Production of Chateau Feytit Clinet on average ranges from 1,200 to 1,500 cases per vintage. There is a second wine, Les Colombiers de Feytit Clinet.
Prior to 2005, the wines of Feytit Clinet were not distinguished. Starting in 2006, Feytit Clinet brought up their level of quality to a new level.  2008 was even better and 2010 could be the finest wine this Pomerol estate has ever produced. Prices remain low for the property as their quality is not yet known to many Bordeaux wine loving consumers.
Wine Tasting Notes
Displaying 7 vintages | 9271 Views Sorted by vintage
2012 Château Feytit Clinet

Chocolate-covered cherries, spice and truffle with kirsch liqueur, fresh black raspberries, supple, sensuous textures and generous amounts of ripe, jammy berries make this wine a hit. This the best value in Pomerol today. 91-93 Pts

92

points - Tasted

Apr 26, 2013

496 Views

2011 Château Feytit Clinet

Located across the road from Chateau Clinet, this Pomerol has been on a roll since 2006. Blending 93% Merlot and 7% Cabernet Franc, the wine opens with chocolate, truffle, black raspberry and plum. Very supple, rich and plush, this Pomerol finishes with lush chocolate-covered plums. 92-93 Pts

92

points - Tasted

Apr 21, 2012

975 Views

2010 Château Feytit Clinet

Feytit Clinet - Dense in color, chocolate covered black fruit, blueberry, plum and truffles make up the perfume. Dense, rich, fat, suave and polished, this rich wine offers length, persistence, balance and purity of flavor. 92-94 Pts

93

points - Tasted

Apr 21, 2011

1364 Views

2008 Château Feytit Clinet

08 Château Feytit Clinet. This château, with its clay and gravel soils, is near Latour a Pomerol. The 08 is deep ruby. Black fruit, oak, earth, and plums make up the perfume. With round tannins and a fleshy personality, this opulently textured wine ends with a rich, chocolate covered plum finish. I like this vintage better than their 06 and 05. The 08 offers a lot of wine for the money. 91-93 Pts

92

points - Tasted

Jul 30, 2009

1340 Views

2006 Château Feytit Clinet

Solid, masculine style of Pomerol, which is correct for the vintage. With floral, cocoa, black cherry, licorice and earthy scents, with time, this could flesh out and become a softer, rounder, more elegant style of wine. But I prefer the 2008, 2009 and 2010.

90

points - Tasted

Nov 14, 2011

2045 Views

2005 Château Feytit Clinet

Bitter chocolate, plums, earth and spice aromas, medium bodied with a black cherry finish. There is a hint of green in the finish. This wine will not make old bones. I'd drink it over the next 7-10 years. Starting the following year, 2006, the wines from Feytit Clinet showed marked improvement. 2009 and 2010 are both outstanding Pomerol's.

89

points - Tasted

Jul 1, 2011

1677 Views

2001 Château Feytit Clinet

Medium bodied with soft textures, soft plum notes were easy to find in this elegantly styled wine. There was a a light green tint to the fruit and a hint of bitterness in the finish marred the wine. However this property, located next to Client and near Latour a Pomerol is a property to watch as they are sparing no expense in striving to make the best wine possible.

88

points - Tasted

Mar 17, 2008

1374 Views