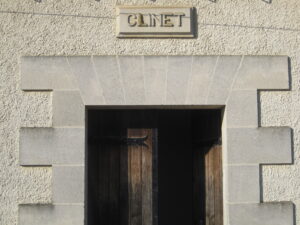 Chateau Clinet Pomerol, Bordeaux wine producer profile, with wine tasting notes, wine ratings, a history of the property, information on wine making and terroir, along with wine tasting reviews. If you want to read about other important, Bordeaux Chateaux: Links to all Bordeaux Wine Producer Profiles
Chateau Clinet is situated on great terroir. Their Bordeaux wine vineyards are located at the highest point on the Pomerol Plateau. Chateau Clinet has good company on the plateau. It's closest neighbors are only a stones throw away, L'Eglise Clinet, Clos L'Eglise, Feytit Clinet and Trotanoy.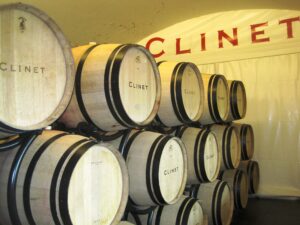 Chateau Clinet once belonged to the Constant Family, before it passed to the Arnaud family. The Arnaud's had good taste in wine. At the same time, they were also owners of the famed Bordeaux wine property, Petrus!  Following the Arnaud's involvement, from 1900 to 1991, Chateau Clinet became the property of the Audy family. They were best known as Bordeaux negociant's.  When the managing director Jean Michel Arcaute arrived in the late 1970′s, Chateau Clinet began producing some of the best wine in their history within a few short years.
Jean Michel Arcaute's desire was to bring Chateau Clinet to the top level of the best producers of Pomerol wine, which is where Chateau Clinet was in the early 19th century. Arcaute began to change everything about the vineyard management technique of the day being practiced at Chateau Clinet. He instigated leaf thinning, green harvesting while striving to harvest fruit that was fully ripe, with ripe skins, seeds and even stems if possible. More importantly for the wines of Chateau Clinet, they also reduced the amount of Cabernet Sauvignon vines planted in the vineyards. For harvest, the discontinued the use of machine harvesting and quickly moved to picking by hand, to insure that only the best grapes were picked at placed in Chateau Clinet.
The also made changes in the varietals planted in their vineyards. Chateau Clinet is one of the few Pomerol properties with a large percentage, (Large for Pomerol) of Cabernet Sauvignon in their vineyards. He brought in Michel Rolland as the consultant and they set out to make wine that challenged the best estates of Pomerol. They increased the amount of new, French oak barrels the wine was aging in, as well as increasing the time the wine spent in oak. To prove they were serious, they declassified the entire 1984 crop at Chateau Clinet.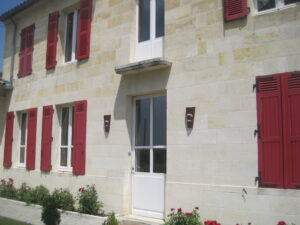 In 1991, Chateau Clinet was sold to Gan insurance. Arcaute remained the director of the estate. Clinet was bought by Jean-Louis Laborde in late 1998. Tragically, Arcaute died in a boating accident in 2001. Today, Chateau Clinet is managed by the son of Jean Louis Laborde, the young, hard working and talented, Ronan Laborde.
Ronan Laborde could have been a competitive marathon runner if he was not a wine maker with times close to the 2 hour and 27 minute mark! When told he could train with the best, all he had to do was give up eating great dinners and drinking even better wine, he declined and placed all his focus on turning Chateau Clinet into one of the top wines of Pomerol. Michel Rolland consults this Bordeaux wine property.  Chateau Clinet has been improving slowly but steadily since the Laborde famlily purchased the Right Bank estate. 2008 was a big jump in quality and their 2009 Bordeaux wine is even better! 2009 Chateau Clinet is clearly one of the top wines of entire, legendary vintage. 2010 is not that far behind.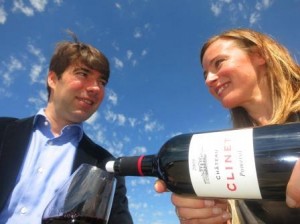 Chateau Clinet also produces a second wine, Fleur de Clinet which is made from declassified wine from Clinet and purchased fruit from other growers in the Pomerol appellation.
The 11.27 hectare, Pomerol vineyard of Chateau Clinet consists of 45 year old vines planted to 85% Merlot, 10% Cabernet Franc and 5% Cabernet Sauvignon. The vineyard is planted to a vine density ranging from 6,77 vine per hectare to 7,200 vines per hectare. However Clinet also has some of the oldest vines in Pomerol. Located close to the church, Clinet has a parcel of Merlot that is close to 75 years of age, "Grand Vigne." This special section of the Chateau Clinet vineyards represents almost 20% of their vines. This is the heart and soul of Clinet. This delicate section of vines requires special treatment. Horses are used to work the soils.
The soils of Chateau Clinet are gravel, clay and iron rich sand. The vines are located in three main parcels. In 2010 and again in 2012, Ronan Laborde purchased more property in Pomerol increasing the size of Chateau Clinet. About 50% of the new vines will be used in Clinet. The remaining vines will be used in their second wine, Fleur de Clinet.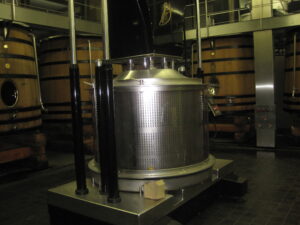 At Chateau Clinet, after harvest, the grapes are gently moved by gravity flow into 11 different, underground, wooden vats. 9 of the vats are 60 hectoliters, the remaining two vats are 40 hectoliters. This allows for the fermentation to be conducted in a much more precise manner allowing each plot to be vinified to its needs. Malolactic fermentation takes place in French oak barrels. The wine of Chateau Clinet is aged in 60% new, French oak barrels for between 18 to 22 months. The wine is blended after the oak aging is completed. The press wine is aged separately. If it's determined the wine requires more structure, the press wine is added during the final blending.  Production is close to 3,200 cases of Chateau Clinet per year. There is a second wine, Fleur de Clinet which is produced from a blend of declassified Clinet and purchased fruit. The estate also produces a lesser priced wine sold under the name of Ronan by Clinet, which is produced from 100% Merlot and is sold as a generic, value priced, Bordeaux wine. The family also owns one of the top estates in the Tokaji region.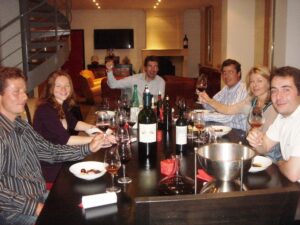 The wines of Clinet are rich, supple, sensuous, powerful and in the best vintages, offer floral, chocolate and spicy flavors. The wine ages well, developing sensous textures and aromatic complexities. Because this Bordeaux wine estate has been in a rebuilding process, (Since purchasing it in 1999) the property has not been producing wines at the level of the terroir. Chateau Clinet is winning a lot of friends with it's new high quality and their very friendly pricing policy due to a desire to build long term relationships with customers. For the time being prices remain low for a Pomerol of this level of quality, making Chateau Clinet a property to keep an eye on.
Wine Tasting Notes
Displaying 18 vintages | 191959 Views Sorted by vintage
2012 Château Clinet

Blending 90% Merlot, 9% Cabernet Sauvignon and 1% Cabernet Franc, reaching 13.2% alcohol, the wine will be aged in 50% new French oak. From low yields of 34 hectoliters per hectare, the wine opens with licorice, earth, plums and herbal scents, followed by sensuous, fresh and spicy fennel, black raspberry and cherry. Lighter in style than 2008, 2009 and 2010, the wine ends with layers of sweet kirsch, cocoa and plum notes. 91-93 Pts

92

points - Tasted

Apr 26, 2013

1461 Views

2011 Château Clinet

Coffee, chocolate, plum earth and cherry jam aromas open to soft, sweet, fresh, cherry filled wine that will be perfect for near term drinking for consumers waiting for their 2009 and 2010 to mature. Bottling took place over three days, May 13, 14 and 15.

92

points - Tasted

Aug 1, 2013

1506 Views

From 85% Merlot, 12% Cabernet Sauvignon and 3% Caberent Franc, the wine reached 13.5% alcohol and will be aged in 55% new oak, which is slightly less than the property used in recent previous vintages. Deep purple in color, truffle, chocolate, boysenberry, spice box and black cherry liqueur come alive with little effort. Sexy, rich, opulent and concentrated with pure chocolate-covered dark berries, this is a wine of pleasure and elegance. 95-96 Pts

95

points - Tasted

Apr 21, 2012

2898 Views

2010 Château Clinet

Tight at the moment, effort is required to find the aromas. You can sense the volume, purity of fruit and quality of the tannins with some work, but this is not the best time to be tasting this wine. With time, the wine could score even higher. I'm letting my bottles rest for at least 5-8 years.

97

points - Tasted

Aug 2, 2013

2623 Views

Licorice, smoke, coffee, chocolate, jammy berries, liqueur and truffle scents open to a powerful, concentrated, opulent, fleshy, exciting Pomerol that is destined to improve for decades.

97

points - Tasted

May 7, 2013

2947 Views

Deep in color, with layers of ripe, juicy, dark red berries, plums, licorice and chocolate, the wine is lush, sensuous, powerful and in balance. Silky fruits and velvet tannins give this blend of 85% Merlot, 12% Cabernet Sauvignon and 3% Cabernet Franc a long, rich, expansive, opulent finish.

97

points - Tasted

Feb 7, 2013

2977 Views

Flowers, licorice, spicy plums, cocoa, blackberry liqueur, black raspberry jam and fresh mint aromas come alive with little effort. Full bodied, powerful and intense, this chocolate, blackberry, blueberry and dark cherry fleshy wine fills your mouth with luscious Pomerol sensations. This has filled out and softened since tasted in April. 96-97 Pts.

97

points - Tasted

Jul 30, 2011

4844 Views

Clinet owner, Ronan Laborde, used what he called a classic Pomerol blend of 85% Merlot, 12% Cabernet Sauvignon and 3% Cabernet Franc. At 14.6 % alcohol, than they achieved in 2009. Effective yields are also lower than in 2009. In fact, they are close to 25% less, which means there will be a lot less wine in the marketplace from this outstanding vintage. Opaque in color, explosive, floral, plum, black fruit, jammy berry, oak, chocolate and black raspberry scents create a beguiling perfume. This complex, spicy wine coats your palate with layers of pure, sweet, ripe plums. This is a hedonistic, sensuous style of Pomerol that blends intensity with pleasure and chocolate covered ripe fruit. 95-97 Pts.

96

points - Tasted

Apr 21, 2011

4731 Views

2009 Château Clinet

Espresso bean, flowers, orange rind, truffle, spice, boysenberry, blue fruit and cocoa aromas open the wine. Thick, rich, lush, powerful and mouth filling, the wine coats your palate with sensuous layers of perfectly, ripe, polished, silky, pure berries. In just a few months the wine has morphed from its baby fat stage to a very sophisticated, decadent Pomerol.

99

points - Tasted

Aug 2, 2013

3793 Views

Opaque in color, with licorice, chocolate, plum liqueur, truffle, black raspberry jam and espresso notes in the perfume, there is a delicious, opulent sensation on the palate. Thick, rich and intense, with cashmere tannins and plush textured, perfectly ripe blackberries and cherries dipped in chocolate, this delivers decadent sensations on the palate. This sublime vintage of Clinet should age gracefully for decades.

98

points - Tasted

May 1, 2012

5648 Views

It's fitting that the 2009 turned out to be the best wine from Ronan Laborde, since he began managing the estate ten years ago. This beautiful Pomerol is packed with flowers, licorice, black cherry, plums and spice box aromas. Decadent in textures, with a wonderful purity of fruit and silky tannins, this blend of 85% Merlot, 12% Cabernet Franc and 3% Cabernet Sauvignon is the best wine produced from Clinet since their dynamic duo of 1989 and 1990.

97

points - Tasted

Jan 31, 2012

7082 Views

2009 Clinet is deep ruby. Produced from 85% merlot, 12% cabernet sauvignon, and 3% cabernet franc, the wine opens with an explosive perfume of jammy strawberry, blackberry, caramel, spice, and flowers that seems to pop from the glass. With an intense concentration of dark berries and licorice, this full bodied wine fills your mouth with fruit and freshness. Although this robust, decadent Pomerol comes in at a whopping 14.5%, it has so much ripe fruit and freshness that you never notice the high alcohol. 96-98 Pts

97

points - Tasted

Aug 27, 2010

7606 Views

2008 Château Clinet

With little effort, cocoa, roses, cherries, plum, fennel and coffee bean scents are found front and center. Round, but not flashy, this is a more structured style of Clinet that demands to remain in the bottle for at least 5 years. 2008 remains the latest harvest in the history of the estate. Although it remains to be seen if that record for lateness remains intact, with the soon to be harvested 2013.

93

points - Tasted

Aug 2, 2013

2718 Views

Ruby in color, floral, cinnamon, earth, coffee, black raspberry scents lead to a round, plummy, spicy expression of Clinet, that while not as opulent as subsequent vintages, this is a polished example of a more traditional styled, Pomerol wine that is not displaying the same level of sensuous fruit. I'd let it rest for a few more yeaefore popping another bottle.

93

points - Tasted

May 1, 2012

6758 Views

Chocolate covered plums, licorice, herbs and floral scents open to a rich, concentrated, thick, opulent wine with a long, fresh blackberry and chocolate finish. Clinet achieved a balance of ripe fruit, purity and freshness in 2008. This is a much better wine than they produced in 2005, or 2006. But as good as this is, 2009 is even better! Buy this wine now as it's only going to get more expensive.

95

points - Tasted

Jan 24, 2011

7575 Views

08 Château Clinet grabs your attention with its showy display of ripe, intense blackberry, plum, jam, floral and mocha scents. Plush, rich, opulent and bordering on decadence, this is the best wine yet produced by the young Ronan Laborde. This is miles ahead of 2005 & 2006. 94-97 Pts

96

points - Tasted

Jul 30, 2009

7873 Views

2006 Château Clinet

This is another 2006 Pomerol that is better than their 2005. It shows a more expressive nose with chocolate covered, raspberries, a longer mid palate and more riper tannins. This will take a few more years than the 05 to fully develop.

92

points - Tasted

Jun 27, 2009

4378 Views

2005 Château Clinet

Plums, flowers, chocolate and boysenberry, soft textures, medium body and a plush finish. This has improved since bottling.

91

points - Tasted

May 1, 2012

3206 Views

With plums, earth, dates, black cherry and hints of flowers in the perfume, this medium/full bodied Pomerol wine is soft textured and filled with fresh, juicy, black and red plums, cocoa and licorice. Give it another 2-3 years and drink over the next 10-15 years.

91

points - Tasted

Aug 1, 2011

4572 Views

The perfume displays smoke, spice and jammy black fruit. With round tannins, this ends with a plush, dark fruit filled finish. The only downside to the wine is a slightly short middle. This is the first vintage where the new, young owner, Ronan Laborde started kicking things into high gear. This estate is one of the key Pomerol properties to watch!

90

points - Tasted

Jun 27, 2009

6774 Views

With its purity of fruit and freshness, the plum, chocolate, blackberry and coffee scented nose are a pleasure. The palate texture is dense and lush. This will age well. There is some Cabernet Sauvignon in the blend giving the wine good structure.

90

points - Tasted

Jan 20, 2008

6317 Views

This offers a dense, sexy mouthful of decadent Pomerol. Opulent, stylish with elegant tannins, but lacking the concentration found in the best years.

91

points - Tasted

Jun 21, 2007

5107 Views

2001 Château Clinet

The final vintage from the chateau produced from 100% Merlot. With a nose of licorice, truffle, smoke and spicy plums, the wine features soft, silky textures and a medium/full body. Close to fully mature, this Pomerol ends with a plush mouthful of fennel, chocolate, black raspberries and plums.

91

points - Tasted

Aug 1, 2011

2690 Views

1998 Château Clinet

This is a chunky style of Pomerol. Bordering on lean, this masculine wine seems, simple ending with a moderate, short finish and bright fruit profile. Fans of more old-school, traditionally made wines might enjoy this more than I did.

89

points - Tasted

Oct 11, 2008

4459 Views

1995 Château Clinet

Not as seductive or charming as previous bottles, perhaps the toughness of the 1995 vintage is starting to show through. The wine was much more interesting on the nose than the palate. The finish displayed some hardness to the tannins and was a bit drying in the finish. Decanting for 2 hours helped, but this wine might be slowly drying out.

90

points - Tasted

Jun 11, 2013

2336 Views

One of the top wines from a vintage better known for its rustic, tannic, nature. Juicy chocolate covered plums, truffles and floral aromas, round, soft textures and a long, opulent, fresh, black cherry finish are found in this wine. As it creeps closer to its 20th birthday, this has moved into the prime time drinking stage.

93

points - Tasted

Dec 3, 2012

2779 Views

In a year filled with numerous hard, austere wines, 1995 Clinet is one of the top wines that overcomes the style of the vintage. With its chocoalte, floral, truffle, earth, black cherry, smoke and plum nose, the wine is pure silk and velvet, ending in a lush, sensuous, sweet, cocoa, earth and black raspberry finish. There is no hurry to drink this as it has the stuffing to age and develop for another 15-20 years. The wine was not decanted, just popped, poured and enjoyed!

94

points - Tasted

Jul 22, 2012

3427 Views

This is a sexy style of Pomerol. With a bouquet of chocolate covered flowers, plum liqueur, truffle, fennel, spice and black cherries, the wine coats your palate with opulently textured black plums and black raspberry jam. Packed and stacked with layers of ripe fruit, Clinet was able to avoid the harsh style of tannins that plagued so many wines from this difficult vintage. The delicious Bordeaux could still improve, but it is drinking so well now, if you have more than a few bottles, it's time to open one and see for yourself. This is the last great Clinet of the Arcaute regime. It was a long 13 year wait until 2008, when the new owner, Ronan Laborde produced another stellar wine at this level of quality.

94

points - Tasted

Aug 31, 2011

5032 Views

1994 Château Clinet

A fully developed nose of truffle, blackberry, earth, tobacco and dark chocolate. Soft, round and a little chunky. this was a good showing for a Pomerol from this semi difficult vintage

90

points - Tasted

May 19, 2011

2823 Views

Chateau Clinet opened with chocolate, trufffle, smoke, earth, cherry and black raspberry scents. Some greeness is noted in the mouth with drying tannins. This was not apparent at first, but with an hour of air, some of the initial fruit sensations dropped off and the dryness became more apparent. Chocolate covered cherry was noted in the finish

91

points - Tasted

Aug 31, 2010

3506 Views

1990 Château Clinet

When the cork, I feared there might be a problem. Fortunately, the Durand came to rescue and flawlessly removed the cork. While the cork was in bad shape, the wine was a stunner! Chocolate covered black cherry, coconut, truffle and plums were all over the place. The wine is dense, intense, thick, rich and silky, ending in lush waves of juicy, ripe, sweet, pure, plums. Popped into a decanted and poured, the wine got better in the glass. If you are a Pomerol fan, if you can find a bottle, grab it. This is a treat.

97

points - Tasted

Dec 28, 2013

1075 Views

Rich, chocolate coated plums, truffles, spice, flowers, licorice, coffee bean and black cherry aromas couple with decadent, silk and velvet textures that end in multiple waves of opulent, plush, ripe, voluptuous, sweet fruit. This wine seems to improve every year and is not far off from the legendary 1989.

97

points - Tasted

Apr 29, 2011

3970 Views

This wine offers a beautiful bouquet filled with flowers, licorice, plums, currants, spice and oak. Dense, silky, voluptuous, rich and full bodied. This wine is so decadent. It stains your palate, mouth and senses with satiny black fruit.

96

points - Tasted

Sep 25, 2010

3137 Views

Good color, earthy, spice driven smells with mocha, plums, caramel, licorice and smoke. The palate enjoys a bath of big, rich, dense, ripe, chocolate covered cherries, ending in a wonderful, long, opulent finish.

95

points - Tasted

Feb 11, 2009

3940 Views

Plummy, spicy, floral aromas float from the glass. A decadent mouthful of rich, deep, concentrated fruit liqueur slides over your palate. The texture is extremely lush.

96

points - Tasted

Dec 4, 2006

3851 Views

Darkly colored with black fruit, plum and forest aromas, this is a full bodied, ripe, round and also tannic wine. The finish shows a blackberry, bitter chocolate quality.

93

points - Tasted

Jun 15, 2005

3241 Views

1989 Château Clinet

Tobacco, plum, chocolate, violets and cherry liqueur sensations are all over the place. 1989 Clinet has been variable, with many bottles showing well, but not at the same level of promise they displayed in their youth. Finally, a bottle that rocked the house with its ostentatious display of silky, exotic fruit and rich velvety textures. I wish every bottle of this wine was at this level. Sadly, there seem to be a lot of bottle variation that could be attributed to the wine, corks or storage.

97

points - Tasted

Dec 9, 2013

1084 Views

I've had better bottles of this wine in the past. It's always important to remember, tasting notes are about the bottle, not the wine. The nose, with its cocoa, black raspberry, truffle, caramel, smoke and earthy character was the best part of the experience. On the palate, with air, the soft, round textures lost some of their lush qualities as more of the Cabernet Sauvignon became evident. A touch of herbal character became more noticeable with time. I hope I was just catching this at an opportune moment.

96

points - Tasted

Sep 2, 2013

1742 Views

Filled with fresh, ripe, juicy black and red plums, smoke, coconut, truffle, floral and dark chocolate in the nose, the wine feels like crushed silk and velvet on your palate. This sensuous, rich, opulent deep plummy wine is drinking perfectly today.

97

points - Tasted

May 26, 2011

4487 Views

1989 Clinet is filled with floral notes made more interesting with scents of truffle, chocolate, jammy berries, black cherry, coffee bean and exotic spices. Rich, full bodied and concentrated with ripe, sweet fruit, the wine ends with sensations of fresh, black cherries and unsweetened chocolate. I've tasted from better bottles with more freshness and opulent qualities. At 21 years of age, it's one bottle at a time.

96

points - Tasted

Dec 7, 2010

4318 Views

The intriguing perfume kicks off with plums, over ripe blackberry, spice and chocolate and is further complicated with hints of orange, floral and peach aromatics. Robust, full bodied and still young, this is an intense, concentrated wine. This silky, powerful Clinet ends with a long, exotic, black, red and citrus filled finish that takes up a lot of room in your mouth.

97

points - Tasted

Nov 15, 2009

4782 Views

This was poured from an unusual shaped bottle. The previous owner produced about 1,000 of these special, Veronique shaped, taller bottles as an experiment. The wine is exactly the same, but it was great seeing this unique bottle on the table. From 100% Merlot, this wine has it all. The complex nose of black cherry, spice, figs, and flowers is exciting to sniff. Full bodied with endless depth of concentrated ripe, decadent fruit, this powerful wine delivers layer upon layer of hedonism. Close to fully mature, this Clinet is a thrilling wine to taste. It finishes with an explosion of ripe plums, cherries, chocolate, and an exotic peach note.

98

points - Tasted

Jun 16, 2009

4831 Views

This amazingly rich, sexy and plush. Massive layers of velvety, opulent, lush, ripe fruit coats your senses while complex aromas keep you involved. This stunning wine mixes hedonism with intellect in every sip. Wow! This wine has a long, positive future ahead of it. Compelling is a great descriptor. I've had this wine a lot of the years and this is the best it has ever showed. Owners of this wine are sitting on an epic Pomerol! And, it's only now begining to show it's magic.

97

points - Tasted

Mar 22, 2007

4658 Views

Thick, dense, lush and very sexy with layers of deep, dark, ripe, plumy fruit, jam and chocolate. Concentrated and filled with ripe tannin.

95

points - Tasted

Feb 27, 2006

4579 Views

Cherry and blackberry liqueur with hints of ripe black plums bathed your nose. Surreal concentration accompanied with superb balance. The finish was as perfectly balanced, elegant and seamless.

97

points - Tasted

Feb 17, 2005

4419 Views

1988 Château Clinet

Lush, opulent and rich in the mouth. Aromas of chocolate covered plums, earth and ripe black cherries. It is decadence in a bottle.

93

points - Tasted

Nov 30, 2008

3141 Views

1985 Château Clinet

Medium bodied, with earthy, spicy, red berries and a slight rustic quality to the red fruit dominated finish, this wine requires drinking.

85

points - Tasted

Jul 10, 2013

1005 Views

1970 Château Clinet

Much better than expected, in part this was due to perfect storage, truffle, earth, wet forest floor, spicy pipe tobacco and cherries created the perfume. Medium bodied, soft, short and sweet, this is a wine for drinking, not for cellaring.

88

points - Tasted

May 18, 2013

779 Views

1945 Château Clinet

In a beautifil, Burgundian shaped, war years bottle, the fully mature Pomerol was filled with tobacco, smoke, cigar box, ash, cherry, truffle spice and earth. Tea in color, the wine offered some earth, spice and chart cherry, before fading. Still, it was an incredible honor to taste history, especially when you consider this was the year World War 2 ended.

85

points - Tasted

Mar 27, 2012

1194 Views

1943 Château Clinet

1943 Clinet was almost black in color. With a war year bottle that was intended for use in Burgundy, it looked great on the table. Very dark brown in color. Wines that dark at this age, are not a positive sign. Tart, drying, smoke, ash, cranberry, and herbs could be found. There was not much life left in the old girl. Regardless of the shape and condition of the wine, it was an honor and treat to share and taste the wine together.

70

points - Tasted

Mar 26, 2012

1280 Views