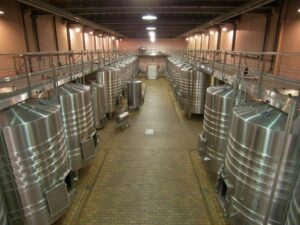 Chateau d'Armailhac, Pauillac, Bordeaux wine, Fifth Growth, producer profile, with wine tasting notes, wine ratings, a history of the property, information on wine making and terroir, along with wine tasting reviews. If you want to read about other important, Bordeaux Chateaux: Links to all Bordeaux Wine Producer Profiles
Chateau d'Armailhac was previously part of the the massive vineyards that know of today as Mouton Rothschild. The name came from one of the first owners of the estate, Dominique d'Armailhacq. By 1740, the wine was sold under the name of Mouton d'Armailhacq. While it was known for making Pauillac, it was not as popular or as well known as its neighbors, Chateau Pontet Canet or Chateau Brane Mouton. The d'Armailhacq family continued to own the estate until 1843, when the family had fallen deeply into debt and was forced to sell a portion of their property to satisfy their debt.
It is thought that Chateau d'Armailhac was one of the first produces to begin planting large portions of Cabernet Sauvignon and Merlot in their Left Bank vineyards. Eventually the d'Armailhacq family sold the estate to the Ferrand family who in turn sold it to the young, and soon to be famous Baron Rothschild. For the Baron, this was an important purchase as Chateau d'Armailhac was located right next to Chateau Mouton Rothschild. This purchase allowed Mouton Rothschild to expand their holdings in Pauillac. Plus, as part of the deal, Count Ferrand was allowed to remain in residence at Chateau d'Armailhac for the rest of life, rent free, and in reciprocity, the Baron also took over the Bordeaux trading arm of Chateau d'Armailhac, which allowed the Baron to begin producing and marketing Mouton Cadet.
When the Medoc property was purchased by the Baron in 1934, it was known as Château Mouton d'Armailhacq. It was the the Baron who changed the name to Château d'Armailhac. In fact, this Bordeaux wine property has gone through numerous name changes over the years including; Château Mouton-Baron Philippe, (1956–1973), Mouton Baronne (1974–1978) and even Château Mouton-Baronne-Philippe from 1979 until 1988. To honor his recently deceased wife Pauline, in 1976, the label included "En hommage a Pauline", for that single vintage. In 1989, the label was changed to the name we know the wine as today, Château d'Armailhac.
This Bordeaux wine vineyard of Chateau d'Armailhac covers 126 acres and is planted with 56% Cabernet Sauvignon, 22% Merlot, 20% Cabernet Franc and 2% Petit Verdot. The vineyard is planted to a vine density of 8,500 vines per hectare. The soils are mostly gravel with sand, clay and limestone. The wine is vinified in temperature controlled, stainless steel tanks. Malolactic fermentation takes place in tank. The wine of Chateau d'Armailhac is aged in 30% new, French oak for an average of 16 months. The production of Chateau d'Armailhac is on average close to 18,000 cases. Chateau d'Armailhac offers good value, drinks well young and shows good, solid, Pauillac character. The original porcelain artwork the logo is based on, resides in the museum at Chateau Mouton Rothschild.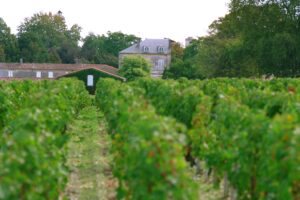 2009 is the finest young vintage of Chateau d'Armailhac I've ever tasted. This normally lighter styled, early drinking Bordeaux wine now expresses ample Pauillac character with good concentration of flavors and supple textures. Hopefully, this trend to producing better Bordeaux wine at this property will continue.
Wine Tasting Notes
Displaying 12 vintages | 82037 Views Sorted by vintage
2012 Château d'Armailhac

From a blend of 54% Cabernet Sauvignon, 29% Merlot, 14% Cabernet Franc and 3% Petit Verdot, the wine reached 13.4% alcohol. Tobacco, stone, pepper and black cherry notes open to a soft, forward, medium-bodied Pauillac that ends with fresh black plums. 89-91 Pts

90

points - Tasted

Apr 23, 2013

1659 Views

2011 Château d'Armailhac

From a blend of 57% Cabernet Sauvignon, 28% Merlot, 13% Cabernet Franc and 2% Petit Verdot, the wine opens with espresso and blackberry scents. Medium-bodied, fresh, charming and easy to like, the wine ends with fresh cassis. 89-91 Pts

90

points - Tasted

Apr 10, 2012

2534 Views

2010 Château d'Armailhac

Smoke, blackberry, tobacco leaf and spicy cassis notes pop with little effort. Tannic, refined and concentrated, the wine is structured to age, ending with fresh, pure, crunchy cassis.

92

points - Tasted

May 7, 2013

3802 Views

Jammy dark berries, plum, coffee and mushroom scents open this sweet, fresh, plummy, full bodied wine. The finish ends with sweet, roasted blackberries. 91-93 Pts

92

points - Tasted

Jul 30, 2011

4064 Views

d'Armailhac 60% Cabernet Sauvignon, 23% Merlot, 15% Cabernet Franc and 2% Petit Verdot produced a wine that opens with cedar, 5 spice, gravel and cassis scents. Filled with chocolate covered blackberries and sweet cassis, this wine offers depth and purity of flavor. This is the second strong vintage in a row for this Pauillac. 92-94 Pts

93

points - Tasted

Apr 20, 2011

4526 Views

2009 Château d'Armailhac

Mineral, smoke, tobacco and blackberry scents lead to an elegant Pauillac with a lush, soft, forward, black plum filled finish. Give this a few years before popping a bottle, it will add complexity and more finesse.

92

points - Tasted

May 1, 2012

5712 Views

Pure cassis, gravel, dark berries and earthy aromas lead to a plush, fresh, chewy Pauillac. From an assemblage of 60% Cabernet Sauvignon, 24% Merlot, 14% Cabernet Franc and 2% Petit Verdot, the wine is medium/full bodied with plush textures and ripe tannins. Graceful and elegant, the wine ends with good concentration of fruit and sweet cassis flavors.

93

points - Tasted

Feb 7, 2012

6783 Views

2009 d'Armahillac shows ample fresh blackberry, oak, cassis, and boysenberry notes. The long, ripe finish is concentrated with dark berries. This is the finest wine I have ever tasted from this property. 90/93 Pts

92

points - Tasted

Aug 26, 2010

7404 Views

2008 Château d'Armailhac

Produced in a light and polite style, with cassis, cranberry and spice in the nose, this medium bodied Pauillac does not have the level of concentration found in the beautiful 2009 or 2010. It's a correctly made Pauillac, it's just a little light. It should drink well young.

89

points - Tasted

Oct 3, 2011

3650 Views

This medium bodied Bordeaux wine offers tobacco, earth and cherry notes in the perfume. Light in style, the wine shows some green flavors in the finish. Similar to Clerc Milon, the strong 2009 d'Armahillac remains the wine to buy. It's probably the best wine the property has ever produced. It's also one of the best values from the Medoc in an expensive vintage.

88

points - Tasted

Jan 28, 2011

4644 Views

08 Château D'Armailhac offered hints of licorice with black fruit on the nose. Medium bodied with soft tannins and an easy going personality, it's a wine to drink young. 87-89 Pts

89

points - Tasted

Aug 31, 2009

4591 Views

2006 Château d'Armailhac

Chocolate mint, cassis, tobacco and fresh cherries open to a medium bodied Pauillac that is rapidly approaching maturity.

89

points - Tasted

May 1, 2012

6353 Views

2005 Château d'Armailhac

This is developing nicely. With a nose filled with cedar wood, cassis, oak, lead pencil and hints of tobacco, this is all about Pauillac. Soft and round in texture, while this lacks the density found in the top wines, it also lacks the high price tag. Produced from a blend of 60% Cabernet Sauvignon, 29% Merlot, 10% Cabernet Franc and 1% Petit Verdot, this is a Left Bank Bordeaux wine that you can drink now and over the next 12-15 years.

91

points - Tasted

Dec 21, 2011

7147 Views

2004 Château d'Armailhac

Light in color, with advanced aromatics, this lighter style of Pauillac offers spicy cassis, cranberry, earth and tobacco. Already close to mature, this wine is best enjoyed over the next 6-10 years.

88

points - Tasted

May 1, 2012

2919 Views

2003 Château d'Armailhac

From a blend of 65% Cabernet Sauvignon, 20% Merlot, 13% Cabernet Franc and 2%Petit Verdot, this medium bodied, round, ripe, blackberry, cedar wood, tobacco and earth infused wine is ready to drink.

90

points - Tasted

Feb 6, 2013

2425 Views

2000 Château d'Armailhac

Offering secondary notes of tobacco, earth and truffle. This medium bodied wine did not seem fully ripe. The flavors in the finish edged to the red fruit side.

88

points - Tasted

Mar 5, 2010

6565 Views

1996 Château d'Armailhac

Dark red tea in color, with strawberry and earthy aromas, this medium bodied Pauillac ends with green peppercorn and cherry flavors. This lighter style of Bordeaux wine is past fully mature.

84

points - Tasted

Jul 21, 2011

3841 Views

1989 Château d'Armailhac

Displays a spicy, cedar nose. Medium bodied with a short blackberry finish that already has some dry sensations. Since this wine is past full maturity, it should be drunk up

86

points - Tasted

Jun 20, 2009

3418 Views