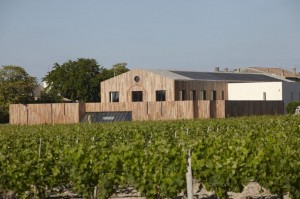 Chateau Clerc Milon, Pauillac, Bordeaux wine, 1855 Fifth Growth, producer profile, with wine tasting notes, wine ratings, a history of the property, information on wine making and terroir, along with wine tasting reviews. If you want to read about other important, Bordeaux Chateaux: Links to all Bordeaux Wine Producer Profiles
During the early 1800′s, numerous small Bordeaux wine vineyards were located in the appellation of Pauillac. One of the better small estates was owned by M. Mandavy. That chateau later became Chateau Duhart Milon. Next to their vineyards sat a Bordeaux wine vineyard belonging to Mr. Jean-Baptiste Clerc. Clerc sold part of his estate to Mr. Lamena before he passed away in 1863. The remaining portion of his holdings were passed onto his widow.
That part which had been purchased by Lamena was sold to Jacques Mondon, who mounted a legal challenge for the right to use the estate name of Clerc Milon. Despite owning the smaller part of the original estate, he won the case. The Bordeaux wine property became known as Clerc Milon-Mondon.
In 1868, the estate passed to the Clerc and Germain widows. It was broken up from 1877 during the widows' successions and finally reduced to half its original size. Jacques Mondon, a notary in Pauillac, bought the estate and sold the wine as Clerc Milon Mondon.
In the 1960s, the chateau passed into the hands of Jacques Vialard, another Pauillac notary, and then on his death to his sisters Marie and Marguerite Vialard. Baron Philippe de Rothschild, the owner of Chateau Mouton Rothschild acquired Clerc Milon in 1970. The Baron described it as, "a pretty estate in a high-quality terroir, currently in poor condition". He was right.
A series of different owners and sales had completely fragmented Clerc Milon to the point where the original vineyard was divided into several hundred parcels, with almost as many title deeds. Poorly maintained, Clerc Milon had only 10.5 hectares of vines in production and was little known outside of Pauillac.
Knowing something about image, after all the Baron in part, recreated Mouton Rothschild in his own flamboyant image, he decided Clerc Milon also needed its own identity to stand out in the Medoc. He chose a representation of a Jungfraubecher, a German marriage cup dating from 1609 which belongs to the Museum of Wine in Art at Château Mouton Rothschild.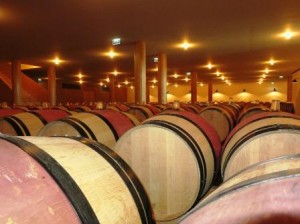 In 1983, the illustration for the Château Clerc Milon label was changed to a pair of dancing clowns made of precious stones. The original art was created by a 16th century German goldsmith, also displayed in the Museum at Mouton.
In 2007, Clerc Milon renovated the Left Bank estate and constructed a new vat house. Entirely gravity-fed, it completely eliminates the need for pump overs. The estate is based on a green philosophy. Energy is produced due to the 300 square meters of photovoltaic cells on the roof top. Chateau Clerc Milon lays claim to being the first vat house with HQE (High Environmental Quality) certification in the Bordeaux wine making region. The estate added a new barrel cellar and work continues on replanting the vineyards.
The 45 hectare vineyard of Clerc Milon in Pauillac is planted to 49% Cabernet Sauvignon, 37% Merlot, 11% Cabernet Franc, 2% Petit Verdot and 1% Carmenere. Clerc Milon adjoins two of the finest growths in the Medoc, Chateau Mouton Rothschild and Chateau Lafite Rothschild. The average age of the vines are old at close to 53 years of age. The vine density is the same as what is planted at Mouton Rothschild with 10,000 vines per hectare.
The wine of Chateau Clerc Milon is vinified in 40 stainless steel temperature vats which allow for very precise vinification of the vineyards 45 hectares of vines. Malolactic fermentation takes place in tank. The wine of Chateau Clerc Milon is aged in an average of 30% new, French oak barrels for between 14 and 18 months. The amount of oak and time in barrel depends on the character of the vintage.
To commemorate the properties newly reconstructed chai, starting with the 2010 vintage, the wine featured a new label designed by Richard Peduzzi. Peduzzi is best known as the interior set designer for the Louvre and d'Orsay museums in Paris.
The estate is managed by Jean-Emmanuel Danjoy. Under the direction of Jean Emmanuel Danjoy, Chateau Clerc Milon is making the best wines in the history of the estate. Much of that success is due to work in the vineyards, selection and in picking riper fruit accoring to Danjoy. "At Clerc Milon we look for complete phenolic ripeness when harvesting. Ideally, that means melting skins with no tannic astringency, good color extraction and brown seeds. Luckily, that level of ripeness can be achieved in our climate with potential alcohol below 13.5% and with good acidity. Those qualities are important to us, especially since Cabernet Sauvignon is the backbone of Clerc Milon."
Clerc Milon produces a charming style of Pauillac. In the best vintages, this classically styled Bordeaux wine offers ample concentration of currants, blackberry and spice. This property has recently undergone major renovations in the cellars and in the vineyards. Management has changed as well. 2009 and 2010 are the finest young vintages of Clerc Milon I've ever tasted. It expresses ample Pauillac character with good concentration of flavors paired with supple textures. Hopefully, this trend to producing better wine at this property will continue as I expect good things to come from this estate over the next several years.
Wine Tasting Notes
Displaying 12 vintages | 92272 Views Sorted by vintage
2012 Château Clerc Milon

This vintage represents the highest percentage of Cabernet Sauvignon used in the blend over the past several decades at 60% . The rest of the blend includes 29% Merlot, 9% Cabernet Franc, 1% Petit Verdot and 1% Carmenere. The wine reached 13.6% alcohol. Graphite, jammy black cherries, licorice and coffee bean scents open to a soft, fresh black raspberry-filled wine that should drink well with just a few years of bottle age. 90-92 Pts

91

points - Tasted

Apr 23, 2013

1550 Views

2011 Château Clerc Milon

Blending 54% Cabernet Sauvignon, 37% Merlot, 7% Cabernet Franc and even amounts of Petit Verdot and Carmemere. Lead pencil, earth and cassis, this polished Pauillac ends with a long, fresh, bright cassis and mineral sensation. 90-91 Pts

90

points - Tasted

Apr 10, 2012

1659 Views

2010 Château Clerc Milon

Earthy, coffee bean, vanilla, spicy black raspberry, cedar chest, and fresh cassis notes create the bouquet. Concentrated with cassis, fresh, spicy black cherries, ripe, but powerful tannins, balance and freshness, this is still a baby. Give it at least 5 years of age, if you can keep your hands off it.

93

points - Tasted

May 7, 2013

2218 Views

Deeply colored, the wine opens with cassis, earth, forest floor and plum aromas. Round and elegant in nature, this Pauillac ends with polished black and red fruits. 91-93 Pts

92

points - Tasted

Jul 30, 2011

3807 Views

Clerc Milon 50% Cabernet Sauvignon, 36% Merlot ,11% Cabernet Franc, 2% Petit Verdot and 1% Carmenere make up the blend for the darkest color I recall seeing in Clerc Milon. Complex aromas of fresh herbs, cassis, forest scents, cedar wood and mocha open to smooth tannins, fleshy textures, brightness and a clean, cassis filled finish. 91-93 Pts

92

points - Tasted

Apr 20, 2011

3490 Views

2009 Château Clerc Milon

Coffee, licorice, truffle, blackberry and tobacco scents lead to a lush, sweet, round and ripe wine that delivers sweet black cherries and spice and soft, plush textures.

93

points - Tasted

May 1, 2012

5395 Views

Cedar, cassis, tobacco, blackberry, earth and spice aromas were all over the place. This blend of 50% Cabernet Sauvignon, 44% Merlot, 4% Cabernet Franc, 1% Petit Verdot and 1% Carmenère creates a wine that combines freshness, clean fruit, cassis and round tannins. There is ample concentration of raw materials to allow the wine and evolve, yet it will drink well young.

92

points - Tasted

Feb 7, 2012

6408 Views

2009 Clerc Milon, with its cassis, oak, caramel, and dark berry scented perfume, is inviting. This full bodied wine ends with boysenberries, cassis, and spice. This lighter style of Pauillac has not always been my favorite because of lack of concentration. 2009 is a big step forward. This is a very nice wine. 91/93 Pts

93

points - Tasted

Aug 26, 2010

6998 Views

2008 Château Clerc Milon

Scents of chocolate, licorice, cassis, cherry, mint, coffee and stone open to a medium/full bodied, soft textured wine, ending with a tart, black cherry filled finish.

90

points - Tasted

Feb 16, 2012

5523 Views

Clerc Milon was already closing down. With coaxing, earth, tobacco, cedar and cassis aromas could be found. This lighter style of Pauillac wine ends with a chocolate covered, cherry finish. The vintage of Clerc Milon to buy remains the 2009.

90

points - Tasted

Jan 28, 2011

5707 Views

08 Château Clerc Milon was deep ruby. Black fruit with a hint of oak on the nose. The finish showed great purity with its red and black fruit profile. An elegantly styled wine. 89-91 Pts

90

points - Tasted

Aug 31, 2009

5394 Views

2006 Château Clerc Milon

Earth, tobacco, cassis, spice and blackberry scents, soft, polished tannins and a fresh, spicy cassis finish are found in this charming Pauillac. Drink this now, or give it a few more years to develop.

92

points - Tasted

May 1, 2012

4022 Views

From an assemblage of 50% Cabernet Sauvignon, 44% Merlot and 6% Cabernet Franc, the wine opens with tobacco, smoke, blackberries, cedar chest and floral aromas. The wine offers good concentration of flavor and is more powerful as well as tannic than many vintages of Clerc Milon. Although the tannins are polished, this is young and needs another 5 years before the tannins fade, the wine softens and begins to truly open up. This is a stylish Pauillac that still sells for a reasonable price for a classified Bordeaux wine.

91

points - Tasted

Dec 21, 2011

5897 Views

2005 Château Clerc Milon

Medium bodied and loaded with cassis and dark berries, this Pauillac will probably drink well young.

90

points - Tasted

Jan 20, 2008

2310 Views

2004 Château Clerc Milon

Cedar wood, spice, earth and dark cherry aromas, medium body and an open, ready to drink, soft, red berry personality.

90

points - Tasted

May 1, 2012

3466 Views

2003 Château Clerc Milon

Tobacco, cedar, smoke, cassis, s[ice and wet earth. Soft and round in texture, with a juicy mouthful of fresh cassis, this medium/full bodied wine is maturing at a rapid pace.

91

points - Tasted

May 15, 2011

7039 Views

2000 Château Clerc Milon

Following the 2009 Clerc Milon, this is my favorite vintage, and it's drinking perfect today with its earthy, tobacco, cassis and cedar chest aromas. More of a finesse Pauillac in style, the medium bodied wine offers pure, ripe, soft cassis and spice in the finish.

92

points - Tasted

Jun 21, 2012

3782 Views

1996 Château Clerc Milon

From a blend of 51% Cabernet Sauvignon, 37% Merlot, and 12% Cabernet Franc, this fully mature Pauillac displayed cassis, tobacco and truffle in the aromas. With a medium body, this Pauillac ended with with sweet, black cherries and spice flavors. . This Bordeaux wine is fully mature. There is no reason to age it any longer as it will not improve.

89

points - Tasted

Jul 16, 2011

4527 Views

Cassis, plum and hints of earth make up the perfume. Medium bodied and uncomplicated, the wine finishes with fresh strawberry and plum flavors.

87

points - Tasted

Jul 15, 2011

4494 Views

Cassis, blackberry, olives and herbal notes made up the perfume. Already mature, this easy drinking Pauillac ended with bitter chocolate and backberry flavors.

89

points - Tasted

Jul 1, 2010

6143 Views

1989 Château Clerc Milon

This has slipped past its prime time window. Light in the palate and nose, this easy drinking style of wine is not bad, it's just simple, lacks excitement and requires immediate drinking.

87

points - Tasted

Nov 15, 2009

1584 Views

This starts with black fruit, licorice, camphor and coffee notes on the nose. Full bodied with a nice finish of licorice tinged cassis. This wine is fully mature and should be enjoyed sooner than later. The fruit has already started fading.

88

points - Tasted

Jun 19, 2009

859 Views